| | |
| --- | --- |
| Scrimmage Insider: Venables not pleased after offense has strong day | |
---
CLEMSON – The offense finally had some success during a scrimmage, and defensive coordinator Brent Venables held his shortest interview session during his time at Clemson.
The Tigers scrimmaged for over two hours in Death Valley Saturday morning, and several offensive players had good days. Venables was the first coach off the field, and it took all of one minute and 39 seconds to answer six or seven questions. Many of his answers were of the one-word variety, and the one word he kept throwing out was "tough."
"We weren't really good today," Venables said. "We held a few guys out and I don't think guys seized the opportunity. I didn't like the effort and I didn't think we were physical. I can't be tough for them. You either are or you aren't."
Venables then took it a step further.
"You guys have been coming to interview us, you know there have been much better days," he said. "Today was not one of those. If you are going to be good, not great, but just be good you have to have some toughness to you. I'm not sure if we have that or not. We will see. We've got two weeks, we will see if we can get them ready."
Dorian O'Daniel said that at one point Venables pulled the first team off the field.
"To be honest, they kicked our ass today," O'Daniel said of the offense. "There's playmakers all over the field."
*In last Saturday's scrimmage the offense couldn't seem to find a rhythm or any consistency against a dominant Clemson defense, but this weekend was the exact opposite.
The Clemson offense pushed the defense around and essentially did whatever they wanted, according to head coach Dabo Swinney.
When asked if anyone had any big plays, Swinney started naming names – Tavien Feaster, Travis Etienne, Diondre Overton, Deon Cain, Ray-Ray McCloud, Tee Higgins, Amari Rodgers, Cornell Powell, T.J. Chase and even Will Swinney.
*Saturday's scrimmage was so good for the offense, Swinney said it did nothing to separate any of the quarterbacks. If anything, it made it a tighter race. Kelly Bryant, Zerrick Cooper and Hunter Johnson all three had good days. Chase Brice continues to impress, although he has the furthest to go after not coming in until June.
All of the quarterbacks made some good plays, but they all had plays they wished they had back.
*McCloud, Rodgers and Hunter Renfrow are working at punt return, Feaster, Powell, Etienne, Rodgers and McCloud are working at kick return
*Jabril Robinson has come a long way during his time at Clemson, and Swinney said that right now Robinson is 1A behind Christian Wilkins and Dexter Lawerence at defensive tackle.
*Swinney said the staff will meet this weekend to start making personnel decisions because the time has come to figure out who is going to run out with the first team and who is going to get second and third-team snaps.
*Swinney said today was punter Will Spiers' best day, calling his performance tremendous.
*The secondary has really stressed pass interference and how to avoid getting flagged.
During much of camp, the cornerbacks and safeties have worn boxing gloves during the one-on-one periods to help teach them technique and how to defend without grabbing or holding.
Swinney said the work has paid off because there was only one pass interference called in the scrimmage that was officiated by an ACC crew and that was on Ray-Ray McCloud, who was in for his 10 or so snaps.
*Tanner Muse told me the secondary is going to be just fine, especially the safeties. He said that Denzel Johnson, Nolan Turner and Isaiah Simmons are all cross-training, and that there isn't a lot of drop-off when any of them are on the field.
*O'Daniel said he's happy that the team will break camp early next week, start classes Wednesday and begin working on Kent St. and Auburn.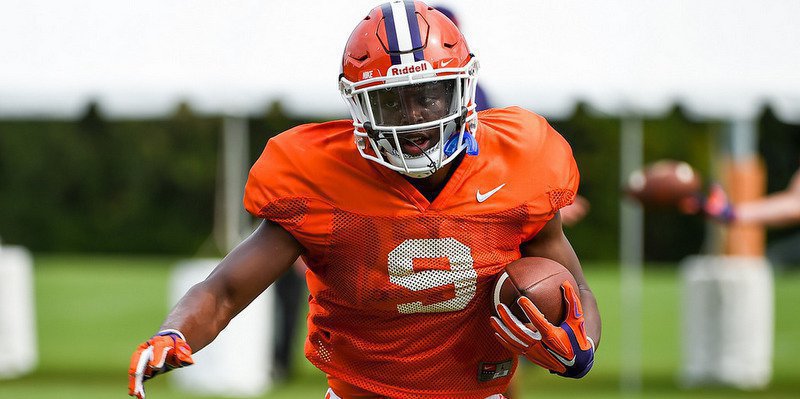 "It's been a long camp, and you can finally see the light at the end of the tunnel," he said. "You get tired of hitting the same guys."
*Quarterback Kelly Bryant said the offense had a good day because the tempo was good. He said the offense was able to move the chains and kept getting first downs.
"I felt like I had a good day today," Bryant said. "We had good tempo, and I got the ball out to the receivers. It was a good day for the offense. We all had a good day. We've bonded and we've come together. We can be special."
*Tight end Milan Richard said he doesn't like to say the offense had a good day, instead focusing on the fact that both the defense and offense are getting better.
"Iron sharpens iron. Once we got in the groove today, things started flowing," Richard said. "You never like to have a down day, but when you have a day like today and get the flow it makes a difference. I just think we were focused today and we knew it was a big day for a lot of guys. It showed today."

Upgrade Your Account
Unlock premium boards and exclusive features (e.g. ad-free) by upgrading your account today.
Upgrade Now

Tags: Clemson Football
,
Travis Etienne
,
Tavien Feaster
,
Diondre Overton
,
Deon Cain
,
Ray-Ray McCloud
,
Tee Higgins
,
Amari Rodgers
,
Cornell Powell
,
TJ Chase
,
Will Swinney
,
Kelly Bryant
,
Zerrick Cooper
,
Hunter Johnson
,
Chase Brice
,
Will Spiers
,
Tanner Muse
,
Denzel Johnson
,
Nolan Turner
,
Isaiah Simmons
,
Milan Richard
,
Brent Venables