TigerNet

is the oldest and largest Clemson Community online with 152,561 members, 58,159 news articles and 29M forum posts.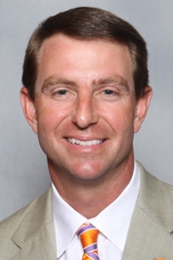 Dabo Swinney
Position:
Head Coach
Born:
1969 in Birmingham, Alabama
As a Player:
WR for Alabama 1989-1992, Natl. champions 1992, SEC champions 1989,1992, Academic All-SEC
College:
Graduated from Alabama in 1993, MBA in 1995
Coaching:

2009-Present:

Clemson Head Coach

Oct.13-Dec.1, 2008:

Clemson Interim Head Coach / Offensive Coordinator

2007-2008:

Clemson Assistant Head Coach / Wide Receivers

2003-2006:

Clemson Wide Receivers Coach

1998-2000:

Alabama Wide Receivers Coach

1997:

Alabama tight end coach

1996:

Alabama wide receiver and tight end coach

1993-1995:

Alabama graduate assistant
B I O
PLAYING EXPERIENCE

Lettered three years at Alabama (1990-92); also a member of the 1989 team … member of the 1992 National Championship team … Academic All-SEC and SEC Scholar-Athlete Honor Roll member in 1990,92.
BOWL PARTICIPATION AS A PLAYER
1990 Sugar Bowl … 1991 Blockbuster Bowl … 1991 Fiesta Bowl … 1993 Sugar Bowl.

EDUCATION
B.S. degree in commerce & business administration from Alabama in 1993 … master of business administration from Alabama in 1995.

COACHING EXPERIENCE
Graduate assistant coach at Alabama (1993-95) … wide receivers/tight ends at Alabama (1996) … tight ends at Alabama (1997) … wide receivers at Alabama (1998-00) … wide receivers at Clemson (2003-06) … assistant head coach/wide receivers at Clemson (2007 – Oct. 13, 2008) … interim head coach/offensive coordinator at Clemson (Oct. 13 – Dec. 1, 2008) … head coach at Clemson (2009-present).

BOWL SEASONS AS AN ASSISTANT COACH
1994 Gator Bowl … 1995 Citrus Bowl … 1997 Outback Bowl … 1998 Music City Bowl … 2000 Orange Bowl … 2004 Peach Bowl … 2005 Champs Sports Bowl … 2006 Music City Bowl … 2007 Chick-fil-A Bowl.

BOWL SEASONS AS A HEAD COACH
2009 Gator Bowl … 2009 Music City Bowl … 2010 Meineke Car Care Bowl … 2012 Orange Bowl … 2012 Chick-fil-A Bowl … 2014 Orange Bowl … 2014 Russell Athletic Bowl … 2015 Orange Bowl … 2015 CFP National Championship Game … 2016 Fiesta Bowl … 2016 CFP National Championship Game … 2018 Sugar Bowl … 2018 Cotton Bowl … 2018 CFP National Championship Game … 2019 Fiesta Bowl … 2019 CFP National Championship Game.

HEAD COACHING RECORD
130-31 (.807) in 12 seasons (11 full seasons) at Clemson … 76-16 (.826) in ACC regular-season games at Clemson … 6-1 (.857) in ACC Championship Games at Clemson … 10-6 (.625) in bowl games at Clemson.

PERSONAL DATA
Born Nov. 20, 1969 in Birmingham, Ala. … married to the former Kathleen Bassett … the couple has three sons (Will, Drew, Clay).


An illustrious coaching heritage is embedded in the foundation of Clemson football. At the dawn of the 20th century, the Tigers were led by future College Football Hall of Famer John Heisman. Hall of Famers Jess Neely, Frank Howard and Danny Ford followed in Heisman's winning tradition.

Now entering his 13th season (and 12th full season) as Clemson's head coach, Dabo Swinney has already carved his name into that foundation, elevating himself amid a pantheon of Clemson greats by becoming the first coach in program history to lead Clemson to multiple national championships.

Clemson enters the third decade of the 21st century after Swinney helped author one of the most prolific 10-year periods in the history of the sport. Clemson posted a 117-23 record under Swinney's leadership in the 2010s, and the program's 117 wins trailed only Penn (124 in the 1890s) and Alabama (124 in the 2010s) to tie for the third-most in a decade in major college football since 1890.

After a 6-7 campaign to open the decade in 2010, Swinney's Tigers responded with nine consecutive 10-win seasons, tied with the 2001-09 Texas Longhorns for the third-longest streak in FBS history. Clemson won at least 12 games in each of the last five seasons, tied for the longest such streak in the modern era and only two seasons shy of Penn's record seven-season streak from 1892-98. Clemson won 69 games in that five-year span from 2015-19, the most in a five-year span in the AP Poll era.

Clemson secured its record-tying fifth College Football Playoff berth in 2019, matching the five collected by Alabama from 2014-18, and extended its mark in CFP contests to 6-3 (including a 4-1 mark in semifinal games). The Tigers earned the berth following their fifth-consecutive ACC championship, becoming the first team in college football history to win five straight conference championship games since conference title games were created in 1992.

Clemson posted a 14-1 season under Swinney in 2019, earning its fourth appearance in the College Football Playoff National Championship Game in five years. Prior to the season finale, Clemson extended its school-record winning streak to 29 games, tied with Florida State (2012-14) for the longest streak in ACC history and for the 12th-longest in FBS history.

Clemson dominated the vast majority of its 2019 opponents, including posting an eight-game streak of wins by 30 or more points to break the longest streak in the AP Poll era, surpassing the previous mark of seven games set by 2011 Houston and 1976 Michigan. During the campaign, Swinney recorded his 125th win in his 155th career game, becoming the 10th-fastest coach to reach 125 career wins in terms of games coached.

At 130-31, Swinney (.807) enters the 2020 season as the winningest active coach by percentage in the FBS among coaches with at least five seasons of head coaching experience. With the addition of the 2019 ACC Championship, all 11 of Swinney's recruiting classes have won at least one ACC title in their careers, and every recruiting class since 2012 has played in at least one national championship game.

From 2011-19, Clemson compiled an 111-16 record, the most wins in a nine-year period in school history. Including 2010, Clemson's 117 wins in 2010s represented the first 100-win decade in Clemson history, a mark it reached in the 2018 season finale with more than a full season left to play in the decade.

Clemson's success on the gridiron has been matched by its prowess in the classroom, as Clemson is one of only three programs to earn Top 10 percent APR recognition from the NCAA in at least eight of the last nine years, joining Duke and Northwestern. Clemson was in the top 10 of APR scores and the final top 25 of the AP and USA Today polls from 2011-15, the only FBS program that could make that claim. In 2017, Clemson became the first school to reach the College Football Playoff and finish in the top five of APR scores in the same year.

Clemson also produced the 2018 William V. Campbell Trophy winner (known colloquially as the "Academic Heisman") in Christian Wilkins and won the program's first AFCA Academic Achievement Award. Clemson repeated as AFCA Academic Achievement Award recipients in 2019, becoming the only school in the country to repeat and doing so while appearing in the national championship game in both seasons.

Swinney and Clemson's 2018 season was one for which statistics and superlatives accumulated in historic fashion. The Tigers became the first major college football team in the modern era (and the first since Penn in 1897) to finish a season with a 15-0 record.

The list of "firsts" was long and distinguished. Clemson became the first program to win four consecutive Atlantic Division titles, and with a 42-10 win against Pitt in the ACC Championship Game, the Tigers became the first program to win four consecutive ACC titles outright.

Clemson's 15 wins included a school-record 12 against teams who finished with winning records. Clemson won by an average margin of 31.1 points per game, the best in the nation and the second-largest in school history, trailing only a 35.3-point average margin in 1900. Among the seasons it passed was a 30.4-point average margin in 1901, a season in which Clemson won one of its five games by a score of 122-0.

Clemson set school records in points (664) and total offense (7,718, also an ACC record). Conversely, the defense held opponents to 13.1 points per game, leading the country in scoring defense for the first time in school history.

A critical point in the season came four games into the campaign. Following a 49-21 win at Georgia Tech in which true freshman quarterback Trevor Lawrence threw for four touchdowns in reserve, Swinney and the coaching staff elected to name Lawrence the starter, supplanting senior Kelly Bryant, who had led the Tigers to a 16-2 career record as a starter.

With Lawrence leading Swinney's Tigers, Clemson took flight. After a dramatic come-from-behind 27-23 win against Syracuse after Lawrence exited the game with an injury, Clemson rattled off 10 consecutive wins of 20 points or more to conclude the season, including blowout wins of No. 3 Notre Dame in the Cotton Bowl and No. 1 Alabama in the College Football Playoff National Championship.

Seven players earned first- or second-team All-America honors, including a school-record three players who collected consensus honors. The 2018 Tigers produced a team-record 18 All-ACC selections and became the first team to produce the ACC Player-of-the-Year, ACC Offensive Player-of-the-Year, ACC Defensive Player-of-the-Year, ACC Offensive Rookie-of-the-Year and ACC Coach of the Year in a single season since Florida State in 1997.

Accolades also accumulated for Swinney, who earned his second career ACC Coach of the Year selection and brought home the Woody Hayes Award as national Coach of the Year. Less than a week after winning the national title, he also won the Paul "Bear" Bryant Award, becoming the first three-time winner in the award's history. The 2018 Bryant and Hayes Awards gave Swinney at least one national Coach of the Year honor for the fifth time in a seven-year span.

The 2018 season was preceded by a 2017 campaign in which Clemson was on a mission to prove that it was built to last. Swinney guided the team to a 12-2 record, an ACC title and a College Football Playoff berth despite having only six scholarship seniors and losing players who accounted for 77 percent of the offense during the 2016 national championship season.

While Clemson was ranked No. 5 in the preseason AP poll, few expected the Tigers to be ranked No. 1 in both polls and the College Football Playoff ranking entering the bowl season. In fact, Clemson was not even the preseason choice to win the ACC Atlantic Division.

Despite a setback in the Sugar Bowl to the eventual national champion, Alabama, Clemson finished ranked No. 4 in both polls. Swinney joined Bobby Bowden as the only ACC head coaches to lead a program to a final top-five ranking three straight seasons, a streak he pushed to five in 2019. He was inducted into the Alabama Sports Hall of Fame following the season.

Clemson's school-record six wins over top-25 teams in 2017, also a national best, included a school-record four on opponents' home fields and five away from home. The defense, including three defensive linemen, featured four players who were named All-American, helping Clemson rank in the top four in the nation in scoring defense (No. 2) and total defense (No. 4). Clemson led the ACC in the four major defensive categories (scoring, total, rushing, passing), a first in program history.

The 2016 Tigers lived up to their hype after compiling a 14-1 record and earning a spot in the College Football Playoff for the second-straight year. Along the way, Clemson knocked off five top-25 foes.

Clemson defeated the top two teams in the national polls in consecutive games in the College Football Playoff at the end of the season. The Tigers blanked Ohio State, 31-0, in the Fiesta Bowl, the first shutout suffered by head coach Urban Meyer in his career and the first for Ohio State since 1993.

The Tigers then earned a rematch with No. 1 Alabama, and for the first time in school history, took down the top-ranked team in a second epic battle with the storied Crimson Tide program. Quarterback Deshaun Watson's touchdown pass to Hunter Renfrow with one second left on the clock gave Clemson a dramatic 35-31 victory in Tampa, Fla. Swinney received the Bear Bryant Award as national Coach of the Year for the second consecutive season.

Swinney coached Watson to two record-setting seasons in 2015 and 2016. The two-time Heisman Trophy finalist became the first player in FBS history to total 4,000 passing yards and 1,000 rushing yards in a season in 2015, and he followed by setting an ACC record with 41 passing touchdowns in 2016. Watson won the Davey O'Brien Award and Manning Award in back-to-back seasons.

Swinney guided Clemson to the No. 1 national ranking in every College Football Playoff poll in 2015 and led the Tigers to their first national championship game appearance under the new format after his team defeated Oklahoma, 37-17, in the 2015 Orange Bowl. The Tigers led Alabama in the fourth quarter of the championship contest, but came up just short (45-40) in an epic game in Glendale, Ariz.

Following the team's 14-1 record and No. 2 final ranking, he was the recipient of 10 national and two ACC Coach of the Year honors.

In 2015, a then-Tiger-record 17 players were named to one of three All-ACC teams, including all five starting offensive linemen for the first time in school history. In 2016, 15 players were honored, including a school-record three first-team All-ACC offensive line selections.

The 2012, 2013 and 2014 seasons were also noteworthy, with three top-15 final rankings. With a 2014 Russell Athletic Bowl victory (40-6) over Oklahoma, Swinney became the first and only coach in history to win three bowl games in consecutive seasons over teams whose head coaches had previously won the national title. He upped that mark to five years in a row in 2016.

Clemson capped off the 2013 season with a thrilling 40-35 victory over No. 6 Ohio State in the Orange Bowl. Clemson had an 11-2 record after finishing 7-1 in ACC regular-season games. It marked Clemson's first back-to-back 11-win seasons in school history. For the fourth time in his first five full seasons as head coach, Swinney was a finalist for the Liberty Mutual National Coach of the Year in 2013.

The 2012 season (11-2) was a groundbreaking year for Swinney's Tigers when looking at the overall consistency of the program. The seven conference wins in the regular season were then a school record, while Clemson was co-champion of the ACC Atlantic Division.

With Clemson's thrilling 25-24 win over No. 7 LSU in the 2012 Chick-fil-A Bowl, the Tigers finished the season ranked No. 9 in the USA Today poll. It was Clemson's first top-10 finish in one of the two major polls since 1990. Clemson also reached the 11-win mark for the first time since its 1981 national championship season.

Swinney's 2011 squad, which ended the season ranked No. 22 in the nation, captured Clemson's first ACC title since 1991 when it beat No. 3 Virginia Tech, 38-10, in the ACC Championship Game in Charlotte, N.C. It gave Clemson its first 10-win season since 1990. For his efforts, Swinney was named Bobby Dodd National Coach of the Year in 2011 to become the first Tiger head coach to win a national Coach of the Year award since Ford in 1981.

In 2010, Swinney became just the second Tiger coach to lead Clemson to a bowl game in his first two full years as head coach, joining his predecessor, Tommy Bowden. The 2010 schedule was one of the most challenging in school history, as nine bowl teams were on the regular-season slate and two of the four non-conference opponents were ranked in the top 25.

In 2009, Swinney's first full season as head coach at Clemson, he led the Tigers to their first championship of the ACC Atlantic Division. The Tigers came just six points short of winning their first ACC title in 18 years. Swinney was named ACC Coach of the Year by Sporting News and was a finalist for the Liberty Mutual Coach of the Year.

In October 2008, Swinney was named Clemson's interim head coach, replacing Bowden, who had been his position coach as a player at Alabama and was Clemson's head coach since 1999. He led the Tigers to a 4-2 record during the remainder of the 2008 regular season, including a win over South Carolina in the regular-season finale to earn a Gator Bowl bid against Nebraska.

On Dec. 1, 2008, Swinney's interim tag was removed and he was named the program's head coach. At the time, there had been 28 interim head coaches at the FBS level since 1970, and those coaches had combined for a record of 26-86-2. Only one of those 28 interim coaches posted a winning record, and that was Swinney. When he was hired as head coach, he became just the second interim coach to be elevated to the head coach position at the same school during that time period.

Swinney hit the ground running in his first week as interim head coach, as he prepared for a 5-1 Georgia Tech team. He had to reorganize his staff and regroup his team and the fanbase in just five days. While the Tigers lost by four points, he accomplished many goals in that first week through his outstanding leadership. One of the most impressive demonstrations of unity came during the team's "Tiger Walk," which has since become a staple of Clemson's game day routine for both the team and fans.

Swinney has demonstrated his dedication to the community through Dabo's All In Team Foundation. Since 2009, the Swinney family and Dabo's All In Team Foundation have given more than $5 million back to communities and programs in the state. In its inaugural year, the foundation made the first contribution to the cancer fund established for former Boston College linebacker Mark Herzlich, and many schools followed its lead during the remainder of the season.

The foundation had a banner year in 2019, as it awarded more than $1,082,000 in grant funding to more than 165 deserving organizations and non-profits in South Carolina and raised $400,000 for breast cancer research and prevention during the organization's annual Ladies Clinic. Swinney was named as the honorary coach for the 2019 Allstate AFCA Good Works Team, a honor for which Watson, a former Good Works Team selection, returned to Clemson to surprise Swinney with during a team meeting.

The 1993 Alabama graduate joined the Clemson staff prior to the 2003 season. In his first 17 years as an assistant or head coach, the Tigers finished in the top 25 of the polls 13 times and totaled  43 wins over teams in the top 25 of at least one of the three major polls.

Swinney coached his wide receiver position to a level of consistency that had not been seen previously at Clemson. He had a wideout finish first or second in the ACC in catches in five of his six years as an assistant coach. In his first year, he had three of the top-10 receivers in the ACC, a first in Tiger history. He has coached a first- or second-team All-ACC wideout (Derrick Hamilton, Airese Currie, Chansi Stuckey, Aaron Kelly, Jacoby Ford, Sammy Watkins, DeAndre Hopkins, Artavis Scott, Mike Williams, Tee Higgins) in 15 of his 17 seasons in Tigertown, also unprecedented at Clemson.

The Alabama native has a reputation as one of the top recruiters in the nation. In 2006, he was listed as the No. 5 recruiter in the nation by Rivals. He signed 38 players in his five recruiting seasons as an assistant coach and was a major reason Clemson's 2008 recruiting class was rated No. 2 in the nation by ESPN when he signed 11 players. Clemson's 2020 class finished as a consensus Top 3 class, earning the top ranking from ESPN, a No. 2 rank by Rivals and a No. 3 ranking in the 247 Composite.

When Swinney accepted the interim head coaching position at Clemson on Oct. 13, 2008, he described his feelings as "bittersweet," because he was taking over for Bowden, who had been his first position coach at Alabama in the 1989 season. He had also brought Swinney back to the coaching profession in 2003 and has had a profound effect on his life. Both had followed similar paths as players, as Bowden was a walk-on at West Virginia and Swinney was a walk-on at Alabama.

Swinney received a commerce & business administration degree from Alabama in 1993 after lettering three times (1990-92). A walk-on who went on to earn a scholarship, Swinney was a wide receiver on Alabama's 1992 national championship team. He was also named Academic All-SEC along with being an SEC Scholar-Athlete Honor Roll member in 1990 and 1992.

Along with his appearance in the 1993 Sugar Bowl, his Alabama teams played in the 1990 Sugar Bowl, 1991 Fiesta Bowl and 1991 Blockbuster Bowl. Both Sugar Bowl appearances came after winning the SEC title game.

After his playing career, Swinney served as a graduate assistant at Alabama from 1993-95. In December 1995, he received a Master's degree in business administration from Alabama.

He became a full-time assistant coach at Alabama in February 1996 under head coach Gene Stallings and coached a total of five seasons there on a full-time basis. Swinney was assigned to coach the Crimson Tide's wide receivers and tight ends in 1996, a season that saw Alabama win the SEC West Division title. The following year, he solely coached the tight ends.

In 1998, he coached Alabama's wide receivers, a position he held for three years. At the end of 1999, Swinney coached the Crimson Tide in the 2000 Orange Bowl after winning the SEC Championship Game.

During his time at Alabama, Swinney was a part of six teams with double-digit wins, five top-10 finishes, one national title (1992), three SEC championships (1989,92,99) and five SEC West Division titles (1992,93,94,96,99) as a player and coach.

Swinney married the former Kathleen Bassett in 1994. They have three sons, Will, Drew and Clay. Will, a senior, and Drew, a redshirt sophomore, are both on the 2020 Tiger football team.

| Year | Record | Bowl | Championships |
| --- | --- | --- | --- |
| 2008 | 4-3 | Gator | |
| 2009 | 9-5 | Music City | |
| 2010 | 6-7 | Meineke Car Care | |
| 2011 | 10-4 | Orange | ACC |
| 2012 | 11-2 | Chick-fil-A | |
| 2013 | 11-2 | Orange | |
| 2014 | 10-3 | Russell Athletic | |
| 2015 | 14-1 | Orange, CFP NCG | ACC |
| 2016 | 14-1 | Fiesta, CFP NCG | ACC, National |
| 2017 | 12-2 | Sugar | ACC |
| 2018 | 15-0 | Cotton, CFP NCG | ACC, National |
| 2019 | 14-1 | Fiesta, CFP NCG | ACC |
| Total | 130-31 (.807) | | 6 ACC 2 National |
*Courtesy Clemson Media Guide
| | |
| --- | --- |
| | VIDEO HIGHLIGHTS |
Latest Dabo Swinney News
Click the link below to read more!