TigerNet

is the oldest and largest Clemson Community online with 152,002 members, 57,610 news articles and 28M forum posts.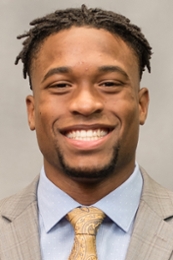 #3
Amari Rodgers
Wide Receiver
| | |
| --- | --- |
| Position: | Wide Receiver |
| Ht./Wt.: | 5-10, 210 lbs |
| Hometown: | Knoxville, TN |
| 40: | 4.49 |
| High School: | Knoxville Catholic HS |
| Class: | Senior |
| Exp: | 3VL |
| Years: | 2017 - 2020 |
| Major: | Undeclared |
B I O
Earned starting roles at receiver and punt returner in 2018 and contributed in those roles in 2019 after a remarkable comeback from injury … entered 2020 with 104 career receptions for 1,124 yards with eight receiving touchdowns in addition to six career rushing attempts for 46 yards and a touchdown in 43 games (25 starts) … also entered 2020 with 59 career punt returns for 465 yards (7.9 avg.) including a punt return touchdown … is one of only five Clemson players since 2000 to record touchdowns by rush, reception and punt return in a career.

2020: Gained a team-high 90 yards on five receptions at Wake Forest … caught a 44-yard touchdown and returned two punts for 37 yards vs. The Citadel, moving into the Top 10 in Clemson history in career punt return yardage … posted third multi-touchdown game of his career by catching two touchdowns amid his six catches for 72 yards vs. Virginia, sharing team offensive player of the game honors … caught a then-career-high seven passes for 63 yards vs. No. 7 Miami … recorded a career-high 161 receiving yards on six receptions with two touchdowns at Georgia Tech, earning ACC Receiver of the Week and sharing team offensive player of the game honors for that performance at Georgia Tech … caught a then-career-high eight passes for 91 yards and also completed an eight-yard pass to Trevor Lawrence vs. Syracuse … caught seven passes for 66 yards with a touchdown vs. Boston College, giving him a new single-season career high in receiving yardage in the seventh game of the season … recorded his second 100-yard game of the season in catching eight passes for 134 yards at No. 4 Notre Dame … recorded a career-high 10 receptions for 93 yards vs. Pitt, becoming the first player in Clemson history to catch at least six passes in seven straight games.

2019: Honorable mention All-ACC at both wide receiver and all-purpose slots … won the Brandon Streeter Award, named after the former Clemson quarterback and current quarterbacks coach, which is presented to the Clemson student-athlete across all sports who overcomes injury to excel on the field … caught 30 passes for 426 yards and four touchdowns while also rushing twice for 50 yards and a touchdown in 453 offensive snaps in 14 games (10 starts) … also contributed 18 punt returns for 151 yards (8.4 avg.) … tore his ACL in the spring but returned to action 166 days later in the second week of the season vs. No. 12 Texas A&M, catching two passes for six yards … caught four passes for 121 yards and two touchdowns at Syracuse, including an 87-yard catch-and-run for a score that tied the fourth-longest pass play in Clemson history … earned team offensive player of the week honors for the performance … caught one pass and recorded a 20-yard punt return in earning team special teams player of the week honors vs. Charlotte … gained 12 yards on three receptions at North Carolina … gained 44 yards on a team-lead-tying five receptions and scored his first rushing touchdown on a 29-yard scoring run vs. Florida State … led all players with 78 yards at Louisville on three receptions … caught a 19-yard touchdown in the midst of a two-catch, 33-yard performance vs. Boston College … recorded 71 yards and a touchdown on two receptions and earned team special teams player of the game with three punt returns for 23 yards vs. Wofford … caught three passes for seven yards at NC State … recorded a season-long 53-yard punt return among his two returns for 57 yards against Wake Forest prior to exiting the game with an injury, sharing team special teams player of the game honors … added a 21-yard reception and two catches for eight yards at South Carolina … gained 38 yards on a critical reception on Clemson's 94-yard game-winning drive against No. 2 Ohio State in the Fiesta Bowl … caught two passes for eight yards vs. No. 1 LSU.

2018: Honorable mention All-ACC as an all-purpose selection … All-ACC Academic and ACC Honor Roll selection … ranked second on the team in receptions with 55, tallying 575 yards and four touchdowns in 565 snaps in 15 games (all starts) … also returned 39 punts an average of 7.7 yards with one touchdown … made impact in season-opening win vs. Furman, averaging 43.5 yards on two returns and hauling in a 40-yard receiving touchdown for the first score of his career … earned team special teams player of the week honors for the performance … caught team-high five passes for 73 yards at Texas A&M … recorded career-high six receptions, gaining 60 yards, at Georgia Tech … also averaged 16.0 yards on two punt returns against the Yellow Jackets, earning co-special teams player of the week honors from the team … gained 27 yards on four receptions vs. Syracuse … caught two passes for nine yards at Wake Forest … earned co-offensive player of the game honors after posting career highs in receiving yards (156) and receiving touchdowns (two) on six receptions at Florida State … with touchdown receptions of 58 and 68 yards against the Seminoles, became the first Clemson player to catch two touchdowns of 50-plus yards in a single game since Artavis Scott against South Carolina in 2014, becoming the first Clemson player since 1950 to accomplish the feat on the road … caught a touchdown pass on one of his three receptions for 12 yards vs. Louisville … collected team co-special teams player of the week honors at No. 17 Boston College after recording Clemson's first punt return touchdown of the season on a 58-yard return … also recorded five catches for 73 yards in the win against the Eagles … gained 33 yards on four receptions vs. Duke … gained 18 yards on five receptions vs. South Carolina … had a team-high-tying six receptions for 26 yards vs. No. 3 Notre Dame in the Cotton Bowl … tallied 30 yards on two receptions in National Championship Game vs. No. 1 Alabama. 

2017: Had 19 receptions for 123 yards in 239 snaps over 14 games … had a team-tying-high three receptions for 19 yards and a seven-yard punt return against Kent State on Sept. 2 … had a seven-yard reception, 36-yard kickoff return and an eight-yard punt return against The Citadel on Nov. 18; named team co-special teams player-of-the-game … had three receptions for 11 yards against No. 7 Miami (Fla.) in the ACC Championship Game on Dec. 2.

Before Clemson: Played in the Under Armour All-American Game in Orlando, Fla. … .national top-100 prospect by ESPN, which rated him No. 72 overall … No. 4 in the state of Tennessee and No. 12 at his position by ESPN … rated No. 104 by 247 Sports, seventh in the state and No. 15 at the wide receiver position … named Mr. Football at the AAAA level in the state of Tennessee each of the last two years … for his career, had 3,498 receiving yards and 47 touchdowns … averaged 31 yards per reception as a senior when he had 40 catches for 1,238 yards and 18 scores … played for Steve Mathews at Knoxville Catholic … big play performer, he had 10 catches of 50 yards or more as a senior … scored a touchdown on the team's first possession of the game on either a scrimmage play or return six times as a senior … had seven 100-yard receiving games, including two with at least 200 yards as a senior … had best game as a senior on his birthday, when he had eight catches for 251 yards and four scores … the touchdown catches were 52, 35, 82 and 12 yards … team finished 10-2 and reached second round of playoffs … as a junior, had 61 receptions for 1,570 yards and 23 touchdowns, a 25.7-yard average per catch … also had three rushing touchdowns, two on punt returns, two on kickoff returns and one on an interception return for 31 total touchdowns … gained 2,511 all-purpose yards as a junior … also had 38 tackles on defense as a cornerback … had a 93-yard punt return for a score as junior … team finished with 11-3 record … as a sophomore, had 25 catches for 407 yards and six scores … ran the ball more that year, he was the team's top rusher with 93 carries for 725 yards and nine scores … had an 87-yard run on offense and 47-yard pick-six on defense … committed to Clemson and assistant coach Jeff Scott on Valentine's Day 2016 … son of former Tennessee quarterback Tee Martin, who led the Vols to the 1998 National Championship … Martin is now an assistant coach at Tennessee … from same area as fellow signee Tee Higgins … wore #3 in high school … recruited by Jeff Scott and Dan Brooks.

Personal: Born Sept. 23, 1999 … majoring in sports communication.


*Courtesy Clemson Media Guide
| | |
| --- | --- |
| | VIDEO HIGHLIGHTS |
Latest Amari Rodgers News
Big Win! -

Click the link below to read more!