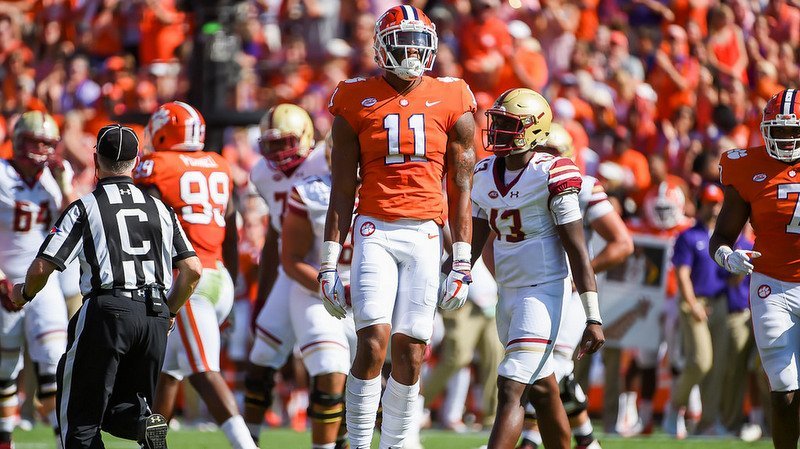 | | |
| --- | --- |
| Scrimmage Insider: Simmons makes a play, more on Xavier Thomas | |
---
| | | |
| --- | --- | --- |
| Saturday, August 10, 2019, 2:37 PM | | |
CLEMSON – The Clemson football team held its first scrimmage of August camp Saturday inside Death Valley, and linebacker Isaiah Simmons was one of the clear winners.
Simmons returned an interception 100 yards for a touchdown as the defense forced the offense to punt on 10 of the first 19 drives. The offense started off strong but the defense "punched back" and came back strong to even out the scrimmage, according to head coach Dabo Swinney.
On the second drive of the day, Trevor Lawrence found Tee Higgins for a one-play touchdown. It was apparently a timing play and was of the long variety. Jeff Scott says that play got the offense going for drives two, three, and four, which all ended with touchdowns.
However, the offense gave up too many tackles for loss and sacks.
Some quick nuggets from interviews:
There has been a lot of talk about Thomas and his possible standing on the defense, and I asked Brent Venables about Thomas after the scrimmage.
Venables said Thomas still has to be consistent but he's been pleased with Thomas' effort so far in camp. When I asked whether Logan Rudolph might be ahead at this point, Venables said, "maybe in knowledge, but Logan has been here longer."
Venables then made it a point to mention that Thomas is one of what Venables considers five co-starters at defensive end and said Thomas played first-team snaps and second-team snaps Saturday but got as many first-team snaps as anyone else. More to come on that…..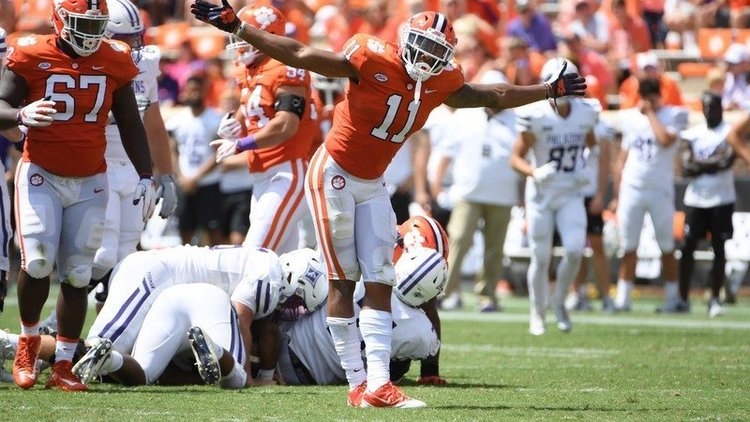 As for Simmons, Venables said he wants his senior to take his game to yet another level.
Frank Ladson injury
Wide receiver Frank Ladson had a minor knee injury and had a scope Friday and will miss the next few weeks.
"Frank (Ladson) is probably going to be out the next couple of weeks," Swinney said to the media Saturday. "He has had an awesome camp but he was having some irritation in his knee. We have some stuff we had to clean up yesterday morning. It was the same exact thing that Christian Wilkins had to have done last year before the season."
Tyler Davis and Joe Ngata
Swinney said that the most consistent freshmen so far in camp are Davis and Ngata. Venables went on to say that Davis was one of the standouts today."
Defensive backs
Derion Kendrick missed the scrimmage with an injury and Venables praised Andrew Booth and Sheridan Jones.
Kicking competition
Swinney said that the kicking competition between BT Potter and Steven Sawicki isn't much of a competition, with Potter far ahead. Potter has been the most consistent in camp – Swinney used the word "awesome" – but missed his first two kicks today and missed a 52-yarder Friday. Swinney said Potter needs to make the transition from practice to a game situation.
At punter, Will Spiers and Aidan Swanson continue to compete but have battled inconsistency throughout camp. Swinney said both will hit 50-plus yard punts and then come back and hit one from thirty yards. Swinney said he believes Swanson will be a three-tool player before he leaves Clemson – field goals, punting, and kickoffs.
Jaelyn Lay
The freshman tight end has missed time the last few days with a minor injury.
*Co-offensive coordinator Jeff Scott raved about Ngata, but said the freshman isn't perfect and used Justyn Ross as an example.
He said that whenever one of the freshmen run a wrong route, Scott yells over at Ross and says, "Hey Justyn, how many snaps did you play against Texas A&M?"
Ross will reply, "One!" Scott then cautions the young receivers that they have to be right 100 percent of the time or they won't play.
Scott said Overton has been as good or better than any other wide receiver through the first eight days.
Tee Higgins
Scott said Higgins was limited this week after someone stepped on his foot but went full speed today.

Tags: Clemson Football
,
Isaiah Simmons
,
Trevor Lawrence
,
Tee Higgins
,
Xavier Thomas
,
Logan Rudolph
,
Christian Wilkins
,
Tyler Davis
,
Derion Kendrick
,
Sheridan Jones
,
BT Potter
,
Steven Sawicki
,
Will Spiers
,
Aidan Swanson
,
Jaelyn Lay
,
Justyn Ross
,
Diondre Overton
,
Brent Venables
,
Jeff Scott