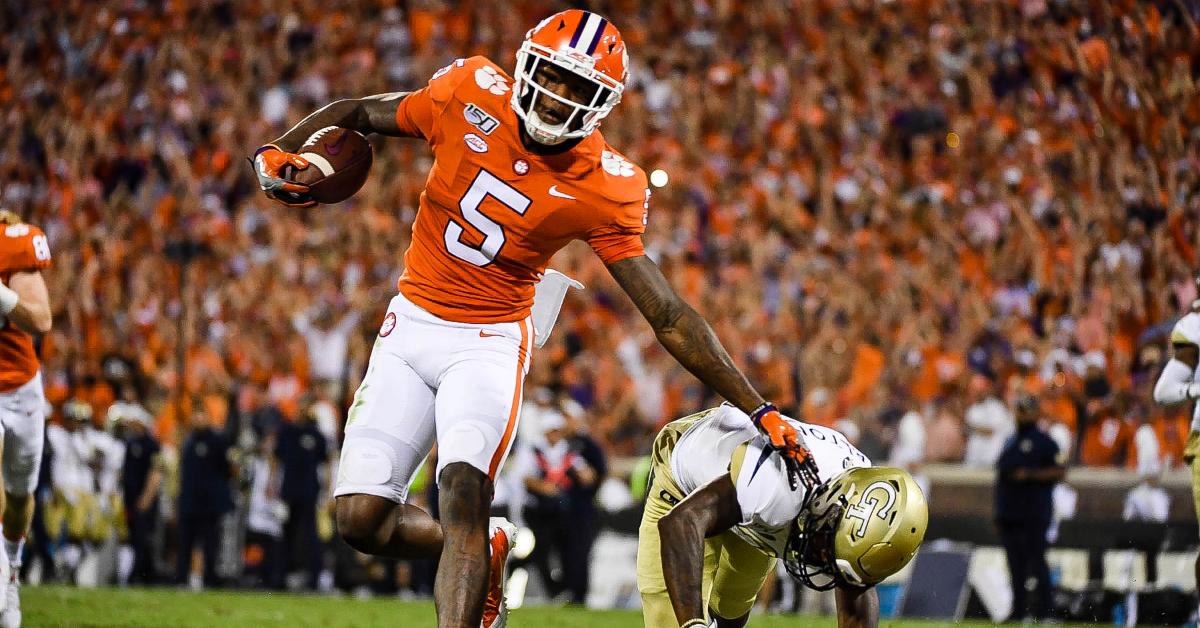 | | |
| --- | --- |
| Advanced outlook: Clemson-Charlotte projections, Tigers through three games | |
---
| | | |
| --- | --- | --- |
| Wednesday, September 18, 2019, 2:22 PM | | |
Clemson coach Dabo Swinney has said all you're supposed to in matchup like his No. 1 Tigers have this week with Charlotte.
"This is a team that could embarrass us if we do not have a great week of preparation." "This is the most explosive team we've played to this point."
They're also a team that is a 41-point underdog this week and has averaged a 41-point loss versus Power 5 programs over four seasons of playing them, giving a struggling Tennessee program the most trouble last year (14-3 loss in Tennessee).
The early profile for both teams shows top-10 units on offense (8) and defense (2) for Clemson according to the SP+ metric, while Charlotte boasts a top-50 offense (46) and one of the nation's worst defenses (128):
| Efficiency ranks | Offense | Defense | Special teams |
| --- | --- | --- | --- |
| CU SP+ ranks (No. 3 overall) | 8 | 2 | 92 |
| CLT SP+ ranks (No. 108 overall) | 46 | 128 | 37 |
| CU ESPN ranks (No. 6 overall) | 19 | 2 | 113 |
| CLT ESPN ranks (No. 83 overall) | 47 | 83 | 121 |
(SP+ is a metric from ESPN's Bill Connelly, formerly of Football Outsiders and SB Nation, that combines ratings for the five factors of efficiency, explosiveness, field position, finishing drives and turnovers. ESPN's Football Power Index-based metric has similar statistical factors weighing together).
For those reasons, the SP+ doesn't equivocate at all in its prediction, giving the Tigers a 100 percent chance at coming away with a win Saturday, calling for a 55-8 victory.
Elsewhere, Football Outsiders' FEI pegs it as an over six-TD win (45.6 projected margin) -- and TeamRankings picks the Tigers, 52-12.
This Saturday will be a showcase in the kind of focus Clemson has shown in games like this and a chance to improve on those strong metrics thus far, while gaining experience across the board.
| Metrics outlook | Prediction |
| --- | --- |
| SP+ projection | 100% Clemson (55-8 Tigers) |
| ESPN FPI | 99.5% Clemson |
| FEI | 99% Clemson (Tigers by 45.6) |
Tale of 2 targets
Same disclaimer as last week for Trevor Lawrence, it's still early -- and that's a parallel to watch with Justyn Ross and his start.
Like Lawrence, Ross wasn't in the position he is currently in the first three games last year before leading the way in receiving yards. The true sophomore paces the Tigers currently with 26 targets, after seeing just six in the first three games back then.
Why is it a story early? What he's done with those extra looks.
Despite a big game versus Texas A&M in week two, Ross is averaging only 6.57 yards per target with a 57.7 percent catch rate. He made his surge toward the end of last season to more than double his current yards per target (13.9) with a 63.9 catch rate. He hasn't always been helped by his QB at times on throws, but that hasn't been a factor for teammate Tee Higgins early.
Higgins, going into an offseason where he's eligible for the NFL draft, is averaging 15.9 yards per target with a 75 percent catch rate. He is improving upon his 2018-19 numbers so far, where he averaged 10 yards per target with a 62.8 catch rate.
Like with Lawrence, you expect Ross to turn it around, but Higgins also deserves plenty of recognition for his start.
Clemson-Syracuse advanced box notes
Bill Connelly's advanced box score numbers show that much more how dominant an effort that was from Brent Venables' group last week:
# The Orange were in the single-digits percentage-wise in success rate* throwing on passing downs (5%). It wasn't a real successful night for either side there though, with Trevor Lawrence connecting 27 percent of the time for the needed yards with 6.9 yards per pass.
# Syracuse was held below a 20 percent success rate per play in the second (11) and third quarters (19).
# The red zone success for Clemson defensively shows in just 1.2 points allowed per scoring opportunity (national average is 4.41).
# Syracuse was held to a 17 percent success rate on runs overall and were stuffed below an already low average in runs limited to the line of scrimmage or behind (26 percent; around 20 percent going in). Speaking of the running game, Lawrence continued to show his wheels with all four of his runs being successful for a total of 42 yards.
Clemson 41, Syracuse 6

* Good lord, Clemson D loses like 34 first-round picks and starts the season like *this*. Patently unfair.
* "Hey, Cuse held Ross to 64 yards on 9 targets. Not bad! [looks at Higgins/Rodgers] Oh." Also unfair. pic.twitter.com/rcaXq5dN6t

— Bill Connelly (@ESPN_BillC) September 16, 2019
* Success rate is 50 percent of needed yards on first down, 70 percent of needed yards on second down or 100 percent needed yards on third or fourth down.