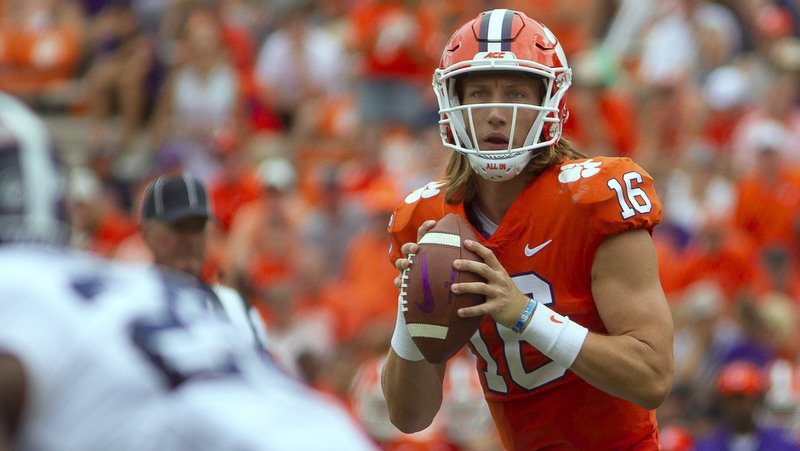 | | |
| --- | --- |
| Second Look: Grading Clemson football at midseason | |
---
| | | |
| --- | --- | --- |
| Sunday, October 14, 2018, 3:01 PM | | |
Clemson is 6-0 midway through the regular season for a fourth-straight year - an ACC first - with the Tigers once again in prime position ahead of a matchup with fellow-undefeated NC State on Saturday (3:30, ESPN).
The journey there has had its twists and turns, especially on the offensive side, but Dabo Swinney's group holds the only top-10 offense and defense six games in.
This season the 'Second Look' features the TigerNet staff grading Clemson as a group and offering some different perspectives on the action each week. Here's our breakdown halfway through the regular season:
Offense
I ran into a Clemson fan earlier this week who told me that the 2018 Clemson offense was stuck in neutral, the same as the 2017 Clemson offense. "We are just not very good on the offensive side of the ball," he said.
The numbers say he's wrong, and one of the biggest reasons? Explosive plays are back.
The Tigers are 8th nationally and have incredible balance, with 1,685 yards on the ground and 1,501 yards through the air. The offense is averaging 531 yards per game, helped by a 698-yard effort at Wake Forest last time out. Clemson has been known as a passing team since Chad Morris arrived way back in 2011, but sit fourth nationally in rushing (yes, really) behind option teams Georgia Tech, Navy, and Army. Clemson is averaging right at 280 yards per game on the ground.
When it comes to explosive plays, Clemson is sixth nationally with 24 plays over 30 yards or more. Included in that number are 17 plays of 40 yards or more. On plays of 50 yards or more, the Tigers ranks first in the nation with 12 such plays, matching last season's number through 14 games. That's right, the Tigers have the same number of 50-plus yard plays in six games as they did all of last season.
The explosion is back, thanks to playmakers like Travis Etienne, Trevor Lawrence, Justyn Ross, Tee Higgins, and Amari Rodgers. The rushing attack is among the nation's best. Right now, there isn't a lot to complain about. -- David Hood
TigerNet grade: A-
Defense
Magazine covers and national TV brought the hype all offseason for this Clemson defensive group - and through six games, the veteran-laden front-seven has helped the Tigers live up to it.
Brent Venables' Tigers exited week six in the top-10 in total defense (3; 261.2 YPG), tackles for loss (4; 9.5 per game), passing defense (7; 152.8) and scoring defense (7; 14.5), sacks (8; 3.3 per game).
Clemson leads ESPN's defensive efficiency metric and ranked second in adjusted average yards allowed after six weeks (Phil Steele).
The ultra-talented defensive line made it through the first half of the season unscathed health-wise, even in a stretch of option-style offenses faced. The group has made good on their preseason honors - Clelin Ferrell posting a team-best eight TFLs and six sacks, Christian Wilkins and Austin Bryant combining for 11 TFL and five sacks and Dexter Lawrence tallying a team-best eight QB pressures to tally a second-best havoc rate among D-lines (11.6; SB Nation).
At linebacker, Tre Lamar has cleared up any preseason confusion on his place on the depth chart, returning strong from an injury-filled 2017 campaign with a team-best 32 tackles and 7.5 run stuffs per SB Nation.
After a slow start and some lessons learned at Texas A&M, the Clemson secondary has come on and made some key plays to flip momentum in games. Sophomore AJ. Terrell has handled the extra targets his way this season with three pass breakups and an interception.
If there is a caveat for the first-half performance, it may come in the quality of offenses faced so far, with only two ranking in the top-35 in efficiency going into the weekend (Texas A&M - 33 S&P+; Georgia Tech - 20). The tests don't appear much tougher in the second half either, with one top-50 offense currently left on the schedule (NC State, 34) and two in the triple-digits (Florida State - 115; Louisville - 103). -- Brandon Rink
TigerNet grade: A
Special teams
ESPN's efficiency index is as good of an indicator as any when it comes to special teams, and right now the Tigers are trailing much of the nation in that category. Clemson sits at 108th nationally with a special teams efficiency of just 37.8.
Most of the rest of the teams ranked in the Top 25 have an efficiency well over 55. Special teams efficiency in on a 0-100 scale; based on special teams' contribution to scoring margin on per-play basis, adjusted for strength of opposing special teams faced.
A look at the national stats show Clemson isn't getting much traction at punt return (51st nationally), or kickoff return (28th nationally). The Tigers are 95th nationally in field goals, hitting five of eight attempts. The good news is that the offense has converted on 21-of-23 red zone opportunities, so the lack of field goals isn't an issue there.
When it comes to punting, the Tigers are 91st nationally at 39.96 yards per kick.
A bright spot on special teams is kickoff specialist BT Potter, who has helped the Tigers kick 37 out of 45 kickoffs out of the back of the end zone. -- Nikki Hood
TigerNet grade: C

Tags: Clemson Football
,
Travis Etienne
,
Trevor Lawrence
,
Justyn Ross
,
Tee Higgins
,
Amari Rodgers
,
Clelin Ferrell
,
Christian Wilkins
,
Austin Bryant
,
Dexter Lawrence
,
Tre Lamar
,
BT Potter
,
Chad Morris
,
Brent Venables