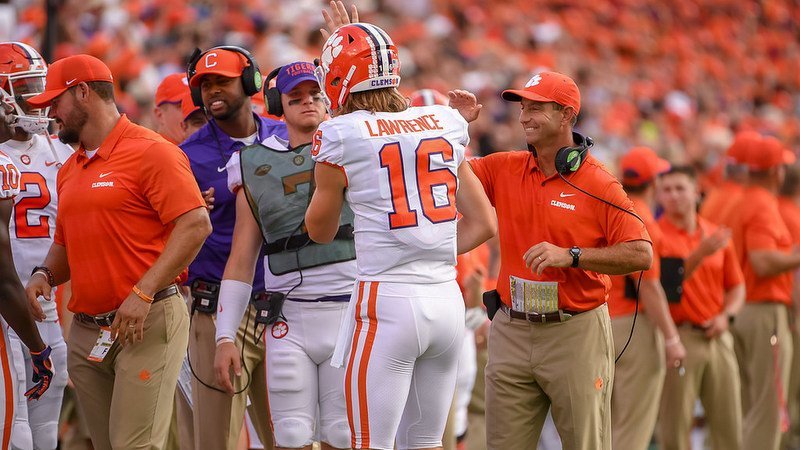 | | |
| --- | --- |
| Swinney's message to Trevor Lawrence in advance of CFB title game | |
---
| | | |
| --- | --- | --- |
| Sunday, January 6, 2019, 12:21 PM | | |
It's almost natty time as No. 1 Alabama and No. 2 Clemson will square off on Monday night for the third time in just four years.
Clemson head coach Dabo Swinney was asked what will be his message to freshman standout quarterback Trevor Lawrence before Monday's title contest.
"Well, it'll be between he and I, but the main thing is, again, just be who he is, and the same thing that won those other 14 games win this game," Swinney said. "It's just football, and he's really good at football, so he just needs to be who he is and don't make it bigger than it is.
Swinney knows that trying to relax and not make this game much bigger than the other games is vital.
"And again, there's pressure on everybody, but I think the important thing is don't allow the pressure to exceed the pleasure of the moment."
Lawrence has passed at a 65.5% clip for 2933 yards and 27 touchdowns this season.
Swinney talked about Lawrence's exceptional play during his first year of college football.
"Certainly size, the measurables, athletic ability, arm talent, accuracy, ability to process things," he said. "But I think one of the more underrated things is poise and demeanor. He's just special, you know, when it comes to that. He just is always the same, how he responds to great plays, how he responds to a bad play. He's really very special in that regard."