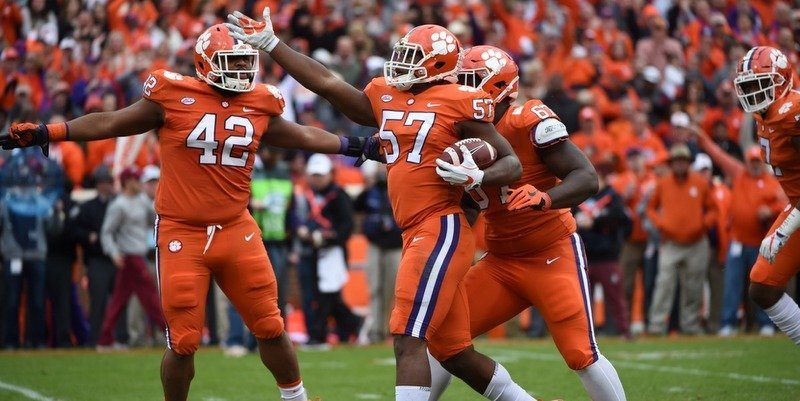 | | |
| --- | --- |
| Season outlook: All eyes on linebacker depth chart as fall camp nears | |
---
| | | |
| --- | --- | --- |
| Thursday, July 12, 2018, 8:01 AM | | |
Clemson defensive coordinator Brent Venables has plenty of options at linebacker, including All-American candidate Kendall Joseph. Where will Joseph play this season? Will Isaiah Simmons make an impact?
With the ACC Kickoff a week away, TigerNet's roundtable takes a look at Clemson's linebackers. The roundtable includes senior writer David Hood, staff writer Brandon Rink and staff writer Nikki Hood.
Three questions: Linebacker
1. The preseason depth chart had a few interesting elements at linebacker, including Kendall Joseph being moved to the top spot at MLB (from WLB) with Tre Lamar as his backup. What should we read into that development and what are your expectations for Lamar's junior campaign?
David Hood: I am not reading a lot into that. Yet. Lamar was injured during Clemson's win over Florida St. last season, and even though we were told the injury wasn't serious he missed the rest of the season. He wasn't allowed to fully participate fully during spring practice, but is expected back for fall camp.
If he's healthy, he's the best option at the middle linebacker spot. He played in 10 games and finished with 50 tackles. If he's in the middle, it allows Joseph to play the WILL with abandon. Joseph was second on the team with 87 tackles a year ago and is poised for the type of year that could earn him All-American honors.
Rink: Seems like you should read that the coaches are looking for full-participation from Lamar in fall camp before anything's set in stone with the linebacker depth chart. The former five-star prospect sat out the final four games of the season and wasn't a full go in all spring activities, although he did compete in the Orange-White game and grabbed a sack.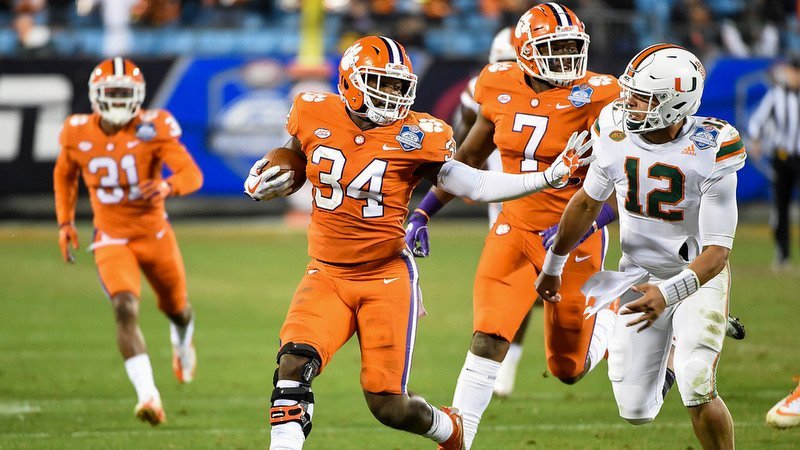 Lamar told reporters he was feeling good going into the spring, and back to form, you would expect to see him and Joseph on the field at points this season. However, even when healthy earlier in the season, Clemson nickel packages placed Joseph on the field with Dorian O'Daniel as the two linebackers. It will be interesting to see if Lamar makes his way on the field more in those scenarios, but Joseph's playmaking ability makes him near-indispensable.
The BHP product led Clemson with 15 run stuffs per Football Study Hall (tackles at or behind the line of scrimmage), also totaling 10 QB pressures. Venables knows he can Joseph in the middle or weakside depending on who steps up around the two.
And that could very well be a J.D. Davis - No. 1 on the depth chart at weakside linebacker, who posted nine run stuffs to Lamar's six with only one more snap last season.
Nikki Hood: It's a post-spring depth chart, so nobody should be reading a lot into it.
IF Tre Lamar is healthy, which he and the coaches have told us is the case, he will be the starter at MIKE linebacker. He showed everything he needed to last year to earn the right to get the start there in 2018, if he's able. He is a big, imposing, run-stuffing linebacker that needs to be on the field as much as possible.
Kendall Joseph will move back to the WILL and continue his impressive work as he closes out his Clemson career.
2. Dorian O'Daniel will be hard to replace but Brent Venables is moving some players around here, too, with rising redshirt sophomore Isaiah Simmons going from safety to strongside linebacker. How effectively will Clemson be able to replace O'Daniel this season?
David Hood: A finalist for the Butkus Award, given to the nation's top linebacker, O'Daniel was the only Clemson defender to make at least 100 tackles last season and he led the defense in snaps played with 718 in 2017.
Simmons has the size (6-3, 225) to be a linebacker or a safety but has yet to prove that he can be an every down player. Brent Venables told us towards the end of spring that if the season started now, Jalen Williams would be the starter. Williams is a fifth-year guy and has enough experience to be more than capable at the spot. There are other players at that spot that have played a lot of downs, but Simmons might be the only one that is as athletic as Dorian.
Rink: O'Daniel admittedly took his time into emerging as a special player over his last couple seasons as a Tiger. There figures to be at least some growing pains in replacing such versatile playmaker here.
Simmons moving to strongside linebacker and moving up to the top spot makes a lot of sense. He's around the same weight as O'Daniel but a couple inches taller at 6-foot-3. He wasn't used much to attack the QB last season (0 QB pressures) but still tallied three tackles for loss with one sack. He will do some on-the-job training this season and should emerge as a solid defender in O'Daniel's place.
With the new redshirt rule, I'm also intrigued by what a highly-touted freshman in IMG Academy product Mike Jones Jr. could showcase, possibly into a bigger rookie debut.
Nikki Hood: Dorian O'Daniel was good at everything he did - stopping the run, covering wide receivers, covering running backs, etc. He may be the most difficult piece of last season's defense to replace, but Brent Venables knows what he's doing.
Isaiah Simmons has all of the tools to be the next great SAM/nickel linebacker at Clemson. He's physically imposing, which will help against the run and he's played safety, so he shouldn't have any problems in coverage.
He looked good in the spring game, but how quickly will he be able to pick up all of the complexities of Venables' scheme and play at a high enough level to be the best option at that spot?
3. Joseph's production is a given and Lamar has logged some key snaps as well. Who else do you see stepping in and making an impact?
Rink: Outside of those I've mentioned so far, James Skalski staked his claim for more action down the stretch of last season, starting two games and logging 21 tackles over the final four games. He earned team special teams MVP honors with Isaiah Simmons and has been known to scuff up a helmet or two with some hard licks.
Down the depth chart, there should be opportunity for Chad and Shaq Smith and Jalen Williams brings some experience with him at the strongside spot.
David Hood: Jamie Skalski is a guy that stands out to me. He is all over the place on special teams and he filled in capably at the end of last season as the Tigers battled some injuries. Skalski and Chad Smith are both guys that have patiently waited their turn. The guy I really want to see break out, however, is Shaq Smith. He has it all - athleticism,, leadership, and smarts. He just has to put it all together.
Nikki Hood: There are two guys that I'm looking forward to seeing this season and think they can have breakout type years - Chad Smith and Shaq Smith.
Chad Smith was able to get his feet wet a little last year and has all of the mental tools to be a great linebacker, but he's got to consistently put it together on the field, which I think he'll do after gaining a little experience.
I was anxious to see how Shaq Smith would handle redshirting two years ago after coming in with such high expectation being placed upon him, but he immediately turned into a leader off the field and is now a player that the young guys look to for leadership. He played some special teams last year and now has a chance to finally see the field. Can he put it all together in 2018?
Position predictions
Breakout player:
David Hood: Jamie Skalski
Rink: Isaiah Simmons
Nikki Hood: Shaq Smith
MVP:
David Hood: Kendall Joseph
Rink: Kendall Joseph
Nikki Hood: Kendall Joseph
Accolades (All-Americans, All-ACC honors)
Nikki Hood: Joseph - first-team All-ACC, second-team All-American; Lamar - second-team All-ACC.
Rink: Joseph - First-team All-ACC, honorable mention All-America.
David Hood: Joseph - first-team All-ACC, second-team All-American; Lamar - second-team All-ACC.