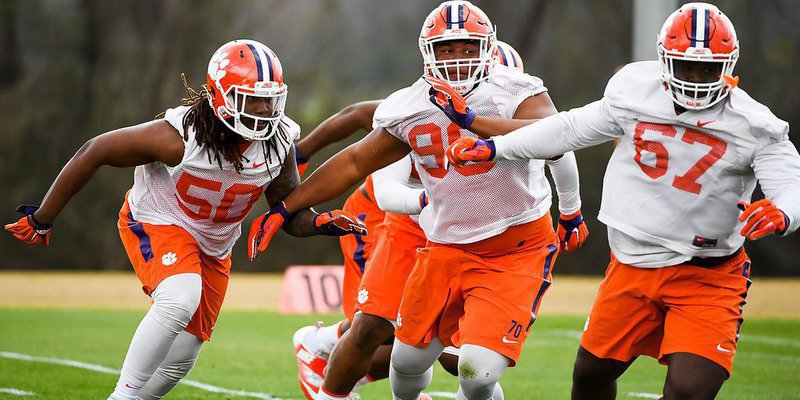 | | |
| --- | --- |
| Season outlook: Defensive tackle rotation is formidable | |
---
| | | |
| --- | --- | --- |
| Wednesday, July 11, 2018, 8:01 AM | | |
Facing one dominant player on a defensive line is tough, but opponents facing Clemson will see as many as four dominant players at one time. That includes the Tigers' vaunted defensive tackle rotation.
In this edition of our season roundtable, we look at Clemson's defensive interior linemen.
The roundtable discussion includes Senior Writer David Hood, Staff Writer Brandon Rink, and Staff Writer Nikki Hood.
Three questions: Defensive tackle
1. The coaching staff had Dexter Lawrence take it easy this offseason after playing through and sometimes sitting out with injuries last season. What impact can a healthy Lawrence have for the Clemson defense?
Rink: Lawrence is the key to an already elite defensive line being that much better this season.
How good is a healthy Dexter Lawrence? As a freshman All-American, he ranked second on the team in quarterback pressures (23) and sacks (7) - fifth and 13 clear of his next teammate in tackles (78). He led his peers with a tackle every 8.1 snaps (for reference - Carlos Watkins averaged 9.2 snaps to tackle and Christian Wilkins, 12.6, in All-American 2016 seasons).
Even a bit limited last season, Lawrence led Clemson's D-line starters in snaps-to-tackle (11.2), giving a glimpse of what he could do on a defense that was ultra-efficient in 2017 (No. 1 in adjusted sack rate; No. 2 in defensive success rate). Lawrence playing somewhere close to 100 percent this season would be a nightmare for opposing offenses.
David Hood:I spoke with one NFL scout last season who told me that Lawrence had more pro potential than Christian Wilkins. That tells you all you need to know about both guys, but especially the youngster.
The word "freak" is used a lot when we talk about special athletes, but Lawrence is the freakiest of the freaks on the Clemson roster. I can't remember a big man being able to move the way he moves. If he's healthy, opposing offensive lines won't be able to block him with just one guy.
The job of any defensive tackle is to occupy blockers so the linebackers can get to the ball carrier, and if Lawrence is drawing a double-team it opens the lanes for everybody else. It's what makes this Clemson defense so formidable.
Nikki Hood: There aren't many high school defensive tackles that you see and automatically know that they're a game changer. Dexter Lawrence is one of the few.
Two-and-a-half years later and Lawrence has been as good, if not, better than advertised.
If he has been able to nurse the foot back to health and can come into the season at 100-percent, he is the most likely to be double-teamed because he's just so big and so fast that no interior lineman is going to be able to take him one-on-one.
Add him to the trio of Christian Wilkins, Clelin Ferrell and Austin Bryant and you have recurring nightmares for opposing offensive coordinators.
2. Wilkins has already notched multiple All-American honors and was even named the defensive lineman of the year last season. What's left for him to prove and how does he wrap his Clemson career?
David Hood: I spoke with a lot of NFL guys last season, and they all said the same thing about Wilkins when it comes to a scouting report: he's a great pass rusher and he's solid against the run but has stretches of games where he's "quiet." For Wilkins to take that next step he needs to be dominant from the opening snap to the final whistle.
His versatility also helps him - he is probably best-suited as a 3-technique at the next level, but can also play defensive end. His job this season is to stay healthy, go get the quarterback and be dominant in the run game.
Rink: Wilkins is in a group with Clelin Ferrell and Austin Bryant back for one last ride to some rings at Clemson and also for improving NFL draft stock that ended up a little lower than projected by pundits going into last season.
Our panel referenced Wilkins likely seeing less time at defensive end after varying levels of snaps there the last couple seasons. What's next for him is showing how much of a playmaker he can be inside and that would only be boosted by a healthier Lawrence opposite him.
Wilkins should get back into double-digits in tackles for loss this season (8.5 in 2017) and come close to the same in sacks.
Nikki Hood: Christian Wilkins has proven that he can do it all. He can rush the passer. He is great in run support. He's a great leader. He can catch passes. He can play safety.
There's nothing left for him to prove at Clemson, but with a dominant season and maybe a few tricks on offense or another look at the defensive backfield, Wilkins may just be able to state his case for a trip to New York for the Heisman Trophy ceremony.
3. If all goes as projected, the Tigers will lose at least three players to the pros here in Lawrence, Wilkins and Albert Huggins. Substitutions early and often have been a staple of recent seasons. Will getting some experience down the depth chart here be as key as any position?
Rink: It will depend on game scenarios but the schedule seems to show some spots where Brent Venables can mix in some youth before the postseason - and that will be needed.
It's a position that's hurting a little more than expected depth-wise due to three transfers - including one Clemson was looking to the future with in five-star Josh Belk - so the veteran trio will see the vast majority of snaps, but Nyles Pinckney is an intriguing player who should also be in that mix. He led the defensive tackle group in snap-to-tackle ratio (9.7) with action in all 14 games last season (174 snaps). Jordan Williams and Darnell Jefferies are two young players also more in a position to earn snaps.
David Hood: Yes, it's time for the babies to grow up. Albert Huggins will likely be the first player off the bench, and then Nyles Pinckney. Jordan Williams was brought to Clemson as a defensive end but kept growing and turned into a tackle. He is still learning how to play inside, but he drew rave reviews during the spring.
I can't wait to see Darnell Jefferies in action. He is the next great DT at Clemson.
Nikki Hood: It's time that babies grow up and make sure they're learning all they can from the older players before they take the next step to the NFL.
Albert Huggins isn't a baby and has been around the program for four years and this is his year to shine, even if it is in a backup role. The good news for Huggins and all of the reserves is that defensive coordinator Brent Venables and company don't mind rotating players and everyone will get plenty of playing time.
Jordan Williams can Nyles Pinckney both came in with high expectation and after a year in the system, it should be fun to see what they can do.
Add in Darnell Jefferies, who should also see time and that's a group that most football coaches would love to have.
Position predictions
Breakout player:
David Hood: Nyles Pinckney
Rink: Albert Huggins
Nikki Hood: Albert Huggins
MVP:
David Hood: Christian Wilkins
Rink: Dexter Lawrence
Nikki Hood: Dexter Lawrence
Accolades (All-Americans, All-ACC honors)
Nikki Hood: Lawrence - First-team All-American, first-team All-ACC; Wilkins - first-team All-American, first-team All-ACC; Huggins - All-ACC honorable mention.
Rink: Lawrence - First-team All-American, first-team All-ACC; Wilkins - Second-team All-American, first-team All-ACC; Huggins - All-ACC honorable mention.
David Hood: Lawrence - First-team All-American, first-team All-ACC; Wilkins - first-team All-American, first-team All-ACC; Huggins - All-ACC honorable mention.

Tags: Clemson Football
,
Dexter Lawrence
,
Carlos Watkins
,
Christian Wilkins
,
Clelin Ferrell
,
Austin Bryant
,
Albert Huggins
,
Josh Belk
,
Nyles Pinckney
,
Jordan Williams
,
Darnell Jefferies
,
Brent Venables