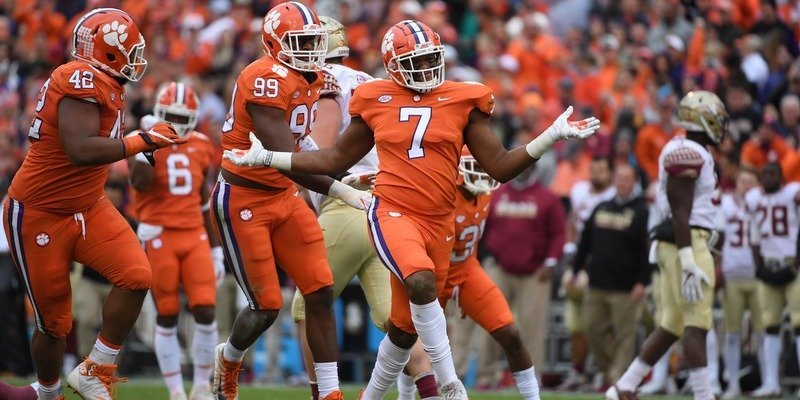 | | |
| --- | --- |
| Season outlook: Clemson has talent, depth at defensive end | |
---
| | | |
| --- | --- | --- |
| Tuesday, July 10, 2018, 8:01 AM | | |
Members of Clemson's defensive line shocked the world in January when they announced they would all return for another season in Tiger Town. That gives defensive coordinator Brent Venables what might just be the best defensive line in the nation.
In this roundtable discussion, members oF TigerNet's staff take a look at the defensive end spot.
Roundtable discussion includes Senior Writer David Hood, Staff Writer Brandon Rink, and Staff Writer Nikki Hood.
Three questions: Defensive end
1. Obviously, Clemson is in as good a spot as any team in the country with two All-American defensive ends returning. Project out their seasons, what do Bryant and Ferrell post in sacks and tackles for loss and what impact does their return have beyond the numbers for this defense?
Rink: The Tiger 'D' should have two in double-digits for sacks for the first time since Clemson and Alabama did so in 2015 (Power 5 teams). That 2015 duo of Kevin Dodd and Shaq Lawson helped anchor a Playoff bid and selections in the top-33 picks for the next NFL draft.
Projecting out, Ferrell should challenge for the nation's most sacks with 13-plus and continue his progression with 20-plus tackles for loss, with Bryant not that far behind.
The larger impact of both returning is elite playmakers helping raise the level of the whole team this season. Brent Venables and co. were able to get some playing time for the next in line but there would've been some growing pains at the position without Bryant and Ferrell. Now, they have two of the best pass-rushers in college football and a number of talented defenders around them to gain some experience and spell that top group.
David Hood: Clemson missed out on having a player with double-digit sacks last season, the first time that's happened since 2012. That won't happen again this season. Defensive coordinator Brent Venables likes to tell us that affecting the quarterback - hurries count - is just as important as sacks. But nothing can change the complexion of a drive - or even a game - like a huge sack with the crowd going wild.
I am gonna be a little different here - opposing offensive coordinators know that Ferrell is dangerous, they know that Christian Wilkins and Dexter Lawrence are freaks of nature on the inside and they will do whatever they can to stop those guys, even with double-teams and chipping with running backs and tight ends. That leaves Austin Bryant one-on-one with some poor schmuck at right tackle.
Bryant leads the team with 13 sacks, with Ferrell cracking double-digits at 11.
Nikki Hood: Opposing offensive coordinators just won't know who to block with four All-Americans coming back on the defensive line and Kendall Joseph at linebacker, and even if they do try to double team either Ferrell or Bryant, both of those players are good enough to fight through.
I was going to make a bold prediction that both Ferrell and Wilkins were going to have double-digit sacks, but David beat me to it. Both of those guys will cement their first-round draft status with stellar campaigns.
Beyond the numbers, though, their dominance, along with Christian Wilkins and Dexter Lawrence opens up the pass rush lanes for guys like Shaq Smith and Isaiah Simmons.
2. Clemson lost some depth on the interior line due to some transfers this offseason. How much less (if any) do we see of Christian Wilkins lining up outside?
David Hood: Gone are the days, I think, of Wilkins lining up at defensive end. Brent Venables has depth with veterans Logan Rudolph, Chris Register and Richard Yeargin and rookies Xavier Thomas, KJ Henry and Justin Mascoll.
It would be fun to see Wilkins at safety (like we did in the spring game) or running back or quarterback or wide receiver or wherever the big man wants to play. He's earned it.
Rink: There may be minimal effect depending on where some third-and-fourth year players like Albert Huggins and Nyles Pinckney come along this season. Another factor may just be not wanting to take Ferrell or Bryant off the field even in special packages. I imagine Wilkins plays even more inside this season but that could also rest on how he's progressed this offseason compared to Ferrell and Bryant.
Nikki Hood: Barring an injury, there just isn't a need for Christian Wilkins to line up at end this season. Clemson has built up enough depth with guys like Richard Yeargin and Xavier Kelly and it's time they show up and show why they were so highly-touted.
The only way we see Wilkins at defensive end is if Brent Venables and Dabo Swinney want to get creative and promote Wilkins' Heisman campaign.
3. Two five-star defensive ends in K.J. Henry and Xavier Thomas got their first taste of action this spring and each came out fourth on the preseason depth chart. How do you see them fitting in as first-year players?
Nikki Hood: Clemson has a ton of depth at defensive end and snaps will be spread around accordingly.
However, I expect Xavier Thomas to shoot up the depth chart once fall camp starts if he's done what he needs to this summer. Thomas came in physically ready to compete, while K.J. Henry looked like he needed some time in the weight room.
If both guys put in the work over the summer and followed in the footsteps of their elders, they both should see some playing time this season, but don't be surprised if it's less than you expect.
Rink: The preseason depth chart listed nine players between the end positions. Obviously, it's led by two stars and then the playing time will be a fight from there.
To give perspective, Ferrell and Bryant played 77 percent of the snaps last season for scholarship defensive ends - Wilkins also lining up for his share of action outside as well. Every Tiger in that group has returned, including a redshirt freshman in Logan Rudolph who had his 2017 season cut short early due to injury.
All that said, Thomas and Henry were often the talk of spring media and coach evaluations and come in ranked higher nationally than any other competitors. How they take experience from the spring and summer into August camp could determine how early that playing time comes, but it would be hard to believe the two don't make an impact here and there down the stretch in a potential Playoff run.
David Hood: Clemson loses a lot of talent and experience at defensive end after this season, which means that the coaching staff has to figure out a way to get Thomas and Henry into games and gain experience Neither player will play significant snaps early in the season - they have to earn their wings so to speak - but they will earn snaps late in games.
However, both players have plenty of talent and I think they will earn snaps as the season progresses.
Position predictions
Breakout player:
David Hood: Xavier Thomas
Rink: Xavier Thomas
Nikki Hood: Xavier Kelly
MVP:
David Hood: Austin Bryant
Rink: Clelin Ferrell
Nikki Hood: Clelin Ferrell
Accolades (All-Americans, All-ACC honors)
Nikki Hood: Ferrell - First-team All-America, Ted Hendricks Award (Top DE), first-team All-ACC; Bryant - Second -team All-America, first-team All-ACC.
Rink: Ferrell - First-team All-America, Ted Hendricks Award (Top DE), first-team All-ACC; Bryant - Third-team All-America, first-team All-ACC.
David Hood: Ferrell - First-team All-America, Ted Hendricks Award (Top DE), first-team All-ACC; Bryant - Second -team All-America, first-team All-ACC.

Tags: Clemson Football
,
Kevin Dodd
,
Shaq Lawson
,
Christian Wilkins
,
Dexter Lawrence
,
Austin Bryant
,
Kendall Joseph
,
Shaq Smith
,
Isaiah Simmons
,
Logan Rudolph
,
Chris Register
,
Richard Yeargin
,
Xavier Thomas
,
KJ Henry
,
Justin Mascoll
,
Albert Huggins
,
Nyles Pinckney
,
Xavier Kelly
,
Clelin Ferrell
,
Brent Venables