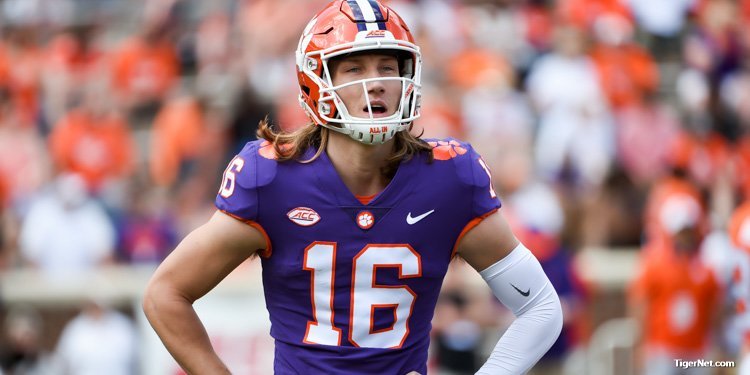 | | |
| --- | --- |
| Season outlook: Clemson faces QB question as Playoff favorite | |
---
| | | |
| --- | --- | --- |
| Tuesday, June 26, 2018, 8:17 AM | | |
Clemson head coach Dabo Swinney's annual media golf outing is three weeks from today and the ACC Kickoff follows in short order.
That means the start of the season is closer than you might think, and with that in mind, the staff at TigerNet is going to take a few weeks and look at each position on the roster and answer the questions surrounding those spots, as well as make some predictions.
The roundtable discussion includes senior writer David Hood, staff writer Brandon Rink and staff writer Nikki Hood.
We start with quarterback, where in one corner, there's returning starter Kelly Bryant, and in another, a 5-star prospect in Trevor Lawrence, in a position battle that's come into focus over the last few months with transfers and coach-speak.
Three questions: Quarterback
1. What's the next step for Bryant's progression as a senior and what changes need to be made for a Bryant-led offense in 2018-19?
Rink: Bryant managed a different kind of Clemson offense since the advent of Chad Morris' offense coming to town. The run-centered scheme saw early success for him, but in the passing game, his QB rating went down each month and he ranks sixth-best among ACC returning QBs in yards per pass attempt (7) and yards per game (200).
He knows he has to improve. Clemson's coaches know he has to improve. And you would expect a player coming off of a full season in a starting role to do just that. The real test may just be how he handles being pushed by a talent like Lawrence, as three quarterbacks have already skipped going head-to-head with him in fall camp and transferred away.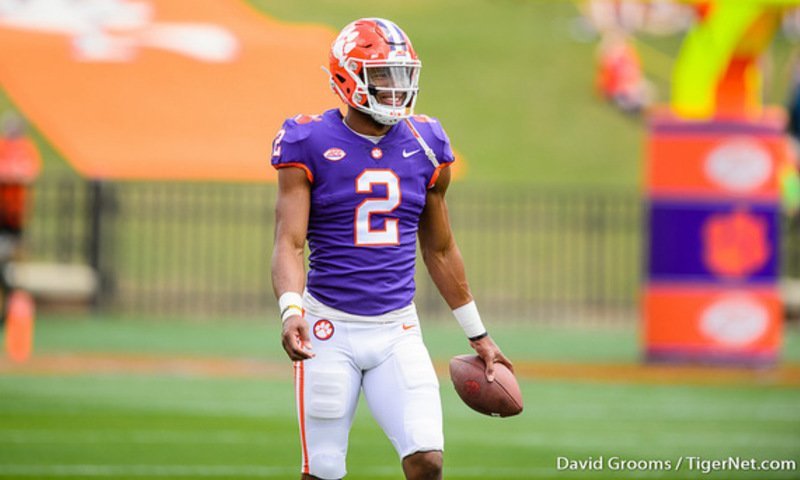 The stats aren't all bad with Bryant in the passing game, as he did register well in some advanced metrics tracked by Pro Football Focus: No. 1 in the ACC in adjusted completion percentage (73.9) and also passer rating on deep throws (115.4; 20-plus yards downfield). The problem compared to other recent offenses is the volume of big plays. From 2016 to 2017, Clemson's plays of 10-plus yards per game dropped 28.5 percent and 20-yard-plus ones dropped 27.1 percent. The only worse Clemson offense in yards per play (5.74) since 2011 was the year Deshaun Watson split snaps due to injury (5.36 in 2014).
Bryant has to get more comfortable in the pocket and/or have more play-calls designed to play to his strength in throwing on the run. Some of that responsibility falls on an improved offensive line in 2018 as well.
David Hood: The Clemson offense under Bryant was run-heavy at times. Bryant carried the ball 85 more times than Travis Etienne and Tavien Feaster (192 for Bryant to 107 for both running backs) while throwing it 398 times. For comparison, Deshaun Watson COMPLETED 388 passes in 2016.
A lot of that had to do with Clemson's defense - once the offense took the lead the game plan went conservative and predictable. A lot of that had to do with Bryant, who called his number on the RPOs (run-pass options) that are built into the Clemson offense. A lot of that also had to do with Clemson's wide receivers, who were inconsistent at times last season.
As Brandon mentioned, Bryant wasn't as bad as people thought in the vertical passing game, but the wide-open throws he missed were all memorable. When the offense isn't clicking like people are used to, all mistakes are magnified.
Bryant was good on the short throws, but struggled with throws down the field and to the sidelines.
Nikki Hood: David and Brandon hit on all of the stats and the obvious.
Kelly Bryant must be better in the vertical passing game. However, if we're going to hold Bryant to a high standard, we need to hold his receivers to the same standard. There were many times last season that Bryant would put the ball exactly where it needed to be only to have it dropped. All of those dropped passes would have certainly improved his season stats.
One area, that he needs to work on is his lateral throws. So much of what Tony Elliott wants to do with the offense is predicated on screen passes, which worked for Clemson up until last season. Some of it was that the center wasn't getting the ball out fast enough, some of it was the lack of a bigger bodied receiver (i.e. Mike Williams) blocking downfield.
However, there were many times Bryant's passes either weren't on target or took so long to get to the receiver, that the defense had plenty of time to get to the ball and make the stop.
One final note, nobody is going to run the read option game as well as Deshaun Watson did - especially during his sophomore year - but Bryant needs to trust his running backs and use them when an RPO is called. He has two pretty good backs in Feaster and Etienne and they both need their touches if Clemson is going to be successful.
2. What do you see as Lawrence's ceiling and how close to that do you see him performing to that this season?
David Hood: I love the upside to Lawrence. I've seen him in action in games, in practice, at The Opening in Oregon last year, and during the Clemson spring game. He makes all of the throws a QB needs to make.
How much do the coaches love his upside? I had one staff member tell me that with younger quarterbacks, you have to let them know in practice the throws that can and can't be made on the college level. With Lawrence, that instruction has been held to a bare minimum, not only because he has tremendous arm strength, he also understands what throws he should and shouldn't make.
An early turnover in spring practice resulted in Lawrence hearing about it from the older defensive linemen, who took the opportunity to try and rattle the youngster. On his next opportunity, Lawrence engineered a scoring drive that ended with his own 55-yard run.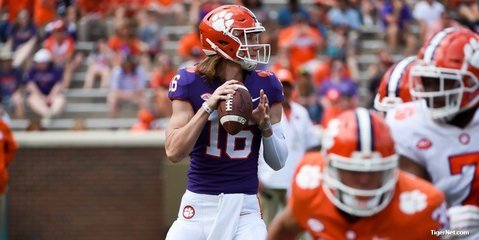 That takes a lot of moxie.
As much as I love his upside, however, there is a part of me that wonders if everyone might be rushing him to greatness. I've spoken with several former players, and they all agree that making a throw in the spring game isn't the same as making a throw when the defensive linemen from Texas A&M are bringing the house in front of 100,000 screaming, slobbering, Aggie fans.
Rink: Former NFL QB and Elite 11 QB guru Trent Dilfer said Lawrence was more talented than NFL quarterbacks just weeks into the 5-star's senior season. It stands to reason that Lawrence is clearly the most talented signal-caller on this roster and already one of the best in the conference, if not all of college football - already drawing some Heisman hype.
That all said, he's still a freshman. He will make freshman mistakes, but given a high volume of snaps, I suspect he will also make a number of outstanding plays - and that's the balance the Clemson coaching staff has to weigh this season.
With the right mentality, Bryant is good enough to lead Clemson to the Playoff again. But beyond? That's the question. It's just hard to shake the last couple images of the two, where Bryant struggled in the Sugar Bowl and the spring game and Lawrence picked apart Clemson's split squad in the latter with some seemingly-effortless throws.
If Lawrence is given a chance, he will give Clemson more than a taste of what a projected future pro can do.
Nikki Hood: Could Trevor Lawrence give Clemson its first ever Heisman Trophy winner?
Absolutely, but now is not the time to put that kind of pressure on a kid who has been in college for six months.
When Cole Stoudt was battling Deshaun Watson for the starting job and it finally became evident that the offense needed to be turned over to the freshman from Georgia, Dabo Swinney said, 'It was nothing that Cole did, but more about what Deshaun did.'
That will be the case at some point in 2018.
We will without a doubt see Lawrence in game one against Furman at some point, but Clemson fans shouldn't be surprised when Kelly Bryant is named the starter in week two as the Tigers travel to Texas A&M.
While Lawrence is the most talented quarterback on campus, the last thing you want to do is throw him to the wolves (or the Aggies in this case) in front of a national television audience and 100,000 fans at Kyle Field. That's a lot of pressure, no matter who you are.
Lawrence has the talent and with a little bit of experience, the sky's the limit for another Clemson signal caller from Georgia.
3. A QB rotation tends to bring out some negative clichés, but could the answer to Clemson's QB race be some sort of rotation here?
Rink: Not 50/50, but I can see an 80/20 split one way or another.
In one scenario, Bryant has proven himself in fall camp once again and shown improvement early in the season. Even with Bryant on point early, he is a senior and getting Lawrence a number of series per game would serve the freshman well and give the offense another element.
In a second scenario, Lawrence assumes the job and Clemson could still make use of Bryant's ability as a tough runner to give defenses something to think about.
They have different strengths that can complement each other and help Clemson put away some games going into the postseason.
David Hood: I'll be the negative guy. I think Clemson will use Lawrence early in games, but I don't see a true rotation working for anybody. If Bryant makes a bad throw and Lawrence comes in and throws a laser for a touchdown, the fans will be screaming for Lawrence to be the starter.
If Bryant makes the plays he needs to make and Lawrence starts putting pressure on himself to make plays in his limited opportunities, it could lead to turnovers and bad plays.
These players - the quarterbacks and the rest of the roster - deserve to have one guy calling the shots.
Nikki Hood: David pretty much summed up everything I would've said.
I think the old adage goes something like this - 'If you have two quarterbacks, you don't have one.'
That's my feeling on Clemson's quarterback rotation. Going from a guy like Kelly Bryant to Trevor Lawrence or Chase Brice during a series, every other series or however you want to draw it up, isn't fair to the wide receiver group.
Those guys deserve to have one guy throwing the ball to them and one guy they can practice with to get in sync with.
Position predictions
Breakout player
David Hood: Trevor Lawrence.
Nikki Hood: Trevor Lawrence.
Rink: Trevor Lawrence.
MVP:
David Hood: Trevor Lawrence
Rink: Trevor Lawrence.
Nikki Hood: Trevor Lawrence.
Accolades (All-Americans, All-ACC honors)
Nikki Hood: Lawrence - ACC rookie of the year, freshman All-American, first-team All-ACC
Rink: Lawrence - ACC rookie of year, freshman All-American, third-team All-ACC.
David Hood: Lawrence - ACC rookie of the year, freshman All-American, second-team All-ACC.

Tags: Clemson Football
,
Kelly Bryant
,
Trevor Lawrence
,
Deshaun Watson
,
Travis Etienne
,
Tavien Feaster
,
Mike Williams
,
Cole Stoudt
,
Chase Brice
,
Chad Morris
,
Tony Elliott