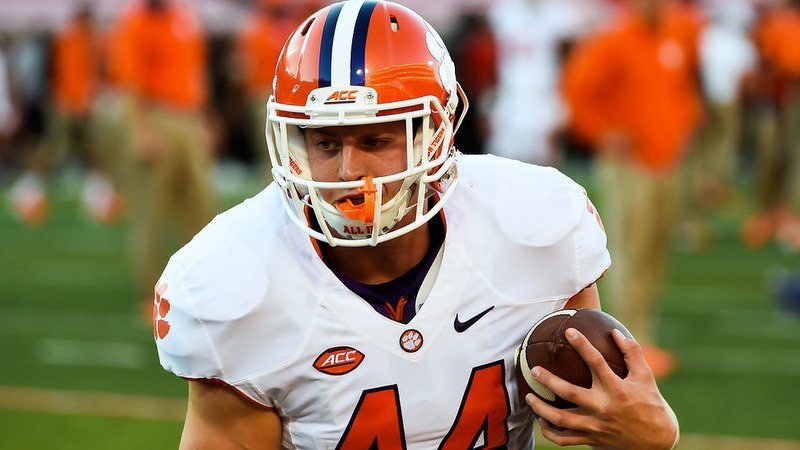 | | |
| --- | --- |
| Season outlook: Can the tight ends return to form in 2018? | |
---
| | | |
| --- | --- | --- |
| Friday, June 29, 2018, 7:01 AM | | |
Only weeks away from media days, the start of the season is closer than you might think, and with that in mind, the staff at TigerNet is taking a look at each position on the roster and answering the questions surrounding those spots, as well as make some predictions.
After looking at the wide receivers yesterday, our TigerNet panel continues with the tight ends.
Three questions: Tight end
1. The Clemson offense has proven to be potent in seasons with the tight end active in the passing game. It's hard to be less of a factor than last year but how big of an impact will this group make this season?
Rink: The position might be a year away from making a significant impact in the receiving game, but like at wide receiver, this group could also see a boost from improved quarterback play in 2018. As referenced above, that's not a high bar.
Last season, this group only made up 11.8 percent of the touchdowns, nine percent of the yards and eight percent of the catches. That's down from a previous season where Jordan Leggett ranked second on the team in yards (736) and third in touchdowns (7).
Richard is a fifth-year senior and former four-star prospect who was a very productive target at the high school level. It's now or never on making a big impact in a Clemson uniform.
David Hood: This group is better right off the bat with the return of Garrett Williams and the addition of Braden Galloway. Williams is known as more of a blocking tight end, but offensive coordinator Jeff Scott raved about him during the spring.
Galloway is raw - he has a lot to learn about the position and he won't make a huge impact this season. However, he has the tools to be a go-to guy on third down and in the red zone, which is where Clemson missed Leggett the most last season.
As stated above, however, the offense didn't revolve around the short passing game in the red zone last season. Kelly Bryant's strength isn't hard throws over the middle or those frozen rope throws to the sidelines, and Clemson's tight ends weren't quick enough to take a screen and make a long play.
Nikki Hood: The return of Garrett Williams immediately provides a spark for Danny Pearman's tight end group and with Milan Richard a year more experienced, this group should see significant improvement.
Williams will provide the physical blocking that Clemson missed last season and should help tremendously with the screen game. Richard showed at times that he could be a threat in the passing game, but it will be interesting to see what J.C. Chalk and newcomer Braden Galloway can bring to the table.
Galloway, physically is ahead of where Jordan Leggett was a freshman, but how healthy is he and how much of the playbook can he learn, considering many consider tight end to be the most difficult position to play on Clemson's offense?
2. Redshirt junior Garrett Williams makes his return from a torn ACL suffered in spring practice 2017. Williams is already listed as a co-starter with Milan Richard - what kind of season do you see him having?
David Hood: Williams has one catch in 30 games over his career, which doesn't exactly leave you feeling all warm and fuzzy about his ability to make plays in the passing game. When I mentioned that to Tony Elliott this spring, Elliott told me Williams will be a big part of the passing game.
"His confidence is at an all-time high and he's catching the ball, looking more fluid with his route running, so he's probably had the best spring of any of those guys," Elliott said. "We're really, really happy for him and we knew he was the kind of guy that had the core makeup with the adversity, he was going to use it to make him better and he took that time not just to focus on rehabbing his knee but to improve every area of his game and we're seeing that as we've gone throughout the spring."
Nikki Hood: During the spring, Garrett Williams appeared to back and better than ever, but learning to trust his knee in live contact is a totally different story.
He is poised for a breakout year after playing sparingly behind Leggett and missing all of last season. He will definitely provide much needed blocking at the point of attack, but the big question for him is can he be a threat in the passing game?
Rink: Even around the injury, Williams said this spring that learning to fit within the offense has been a challenge for him. He came from a high school background as a ballcarrier and blocker in a run-centered offense, where he rushed for over 1,200 yards with 21 touchdowns as a senior.
A year-plus removed from the torn ACL, his primary impact will come in one of his strengths, as a blocker, which should boost the Tigers' run game, and he will post enough catches with a touchdown or two to keep a defense honest.
3. There is a good balance of experience and youth at tight end this season. Will the veterans see the bulk of playing time or could a J.C. Chalk or Braden Galloway make more of an instant impact?
Rink: I see Chalk and Galloway both getting some chances this season but their biggest impact comes down the road. Veterans like Richard, Williams and Cannon Smith will likely see the bulk of the snaps.
Nikki Hood: Clemson needs a receiver-type tight end to run its offense effectively, so can Chalk or Galloway earn the coaches trust during fall camp?
Chalk has been in the system now for over two years, so he should be comfortable, but Galloway has only been here since January. It will be interesting to see how much Galloway picked up during spring practice despite missing most of it with a foot injury.
Williams and Richard will get the majority of the reps early in the year, but it wouldn't surprise me to see Galloway be a big part of the offense by October or November.
David Hood: I like what Chalk and Galloway have to offer, but this is a program that knows it has a chance to make a push for another national title. Smith, Richard, and Williams will lead the way early in the season, but if there isn't a lot of production out of this spot, don't be surprised if Chalk or Galloway earn snaps.
Position predictions
Breakout player
David Hood: Garrett Williams
Nikki Hood: Garrett Williams
Brandon Rink: Garrett Williams
MVP:
David Hood: Milan Richard
Rink: Milan Richard
Nikki Hood: Garrett Williams
Accolades (All-Americans, All-ACC honors)
Nikki Hood: Garrett Williams - All-ACC honorable mention
Rink: N/A
David Hood: I can see a scenario where Richard finally comes of age and earns third-team All-ACC honors.

Tags: Clemson Football
,
Jordan Leggett
,
Garrett Williams
,
Braden Galloway
,
Kelly Bryant
,
Milan Richard
,
JC Chalk
,
Cannon Smith
,
Tony Elliott
,
Danny Pearman
,
Jeff Scott