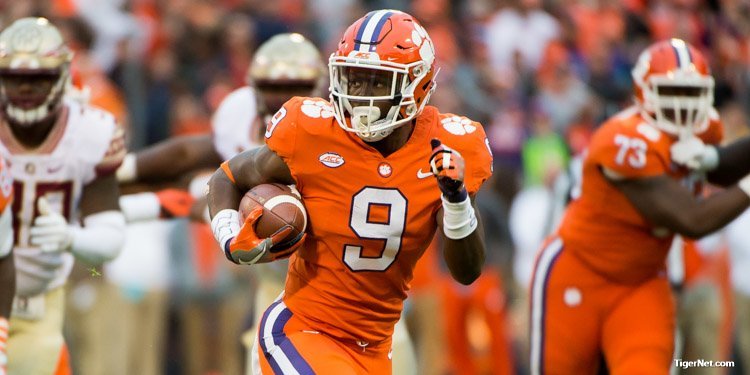 | | |
| --- | --- |
| Season outlook: Clemson running game poised for breakout campaign | |
---
| | | |
| --- | --- | --- |
| Wednesday, June 27, 2018, 8:26 AM | | |
Only weeks away from media days, the start of the season is closer than you might think, and with that in mind, the staff at TigerNet is taking a look at each position on the roster and answering the questions surrounding those spots, as well as make some predictions.
After starting with the QBs, our TigerNet panel continues with another intriguing position to watch in 2018, at running back.
Three questions: Running back
1. Travis Etienne impressed in fall camp last year and took that momentum into a standout freshman season. How does he build on that debut as the RB1 going into August?
David Hood: Etienne had three things he needed to accomplish during the off-season - he needed to put on weight, he needed to learn the playbook better than last season and he needed to work on his pass protection skills.
We saw in the Sugar Bowl that Etienne's missed protection turned into a Kelly Bryant turnover, and even though the fans clamored more and more of Etienne as the season progressed, the coaches went with the older players and the more experienced players in crunch time.
During the spring, we heard that he had improved his knowledge of the playbook and I saw for myself that he's gotten bigger. The protection issue? It still seemed to a problem at times. That has to get better.
Nikki Hood: When we talked to Travis Etienne during spring practice he said that last year's performance was pure talent and will. He was just running. After having an offseason under his belt, he said he better understands schemes and plays, which will only make him more dangerous.
Nobody can question his talent or his athleticism, but he has to get better at the little things and one big thing - pass protection. Any running back who is going to play for Tony Elliott has to know how to pass protect and at times last season, that was a problem for Etienne.
However, a year in a college weight room and a year in the system can only help, so I fully expect him to pick up right where he left off.
Rink: Seeing what Etienne can do with a larger workload is one of the intriguing storylines of this season. With an average of around eight carries per game (8.2), he did more than enough to stand out last season.
Etienne's combination of power and speed helps him lead in the ACC's returning running backs in yards after contact (4.82) and he averaged an FBS-best 8.12 yards per in carries between the tackles.
As David and Nikki pointed out, one of the keys to Etienne playing more snaps will come in pass protection, which is sure to have come along with a spring and fall camp in before his sophomore campaign. Etienne as more complete player should equal easily eclipse 1,000 yards rushing and his impact could only go with a more balanced offensive attack in 2018.
2. Tavien Feaster hit campus rated as high as a 5-star prospect and the No. 1 all-purpose back in the country. He now enters his third fall camp as a co-backup with graduate Adam Choice. What's your Feaster forecast for 2018-19?
Rink: Neither Feaster nor Etienne finished on a high note down the stretch last season. They both punched in two scores but didn't top the 50-yard mark rushing in the final three games. His preseason position notwithstanding, Feaster should get his opportunities to prove himself - and those early games may just determine his share of the snaps down the stretch. He would not only be competing with Etienne, but also a senior in Adam Choice and a probable four-game stretch from freshman Lyn-J Dixon (due to the new redshirt rules).
Going off what I've seen from the two, obviously I'm high on Etienne and think he will get the most snaps, but if Feaster can carve a niche as a third-down back of sorts - a threat for a big play on the ground and through the air - he can still play a key role this season. Probably in the 500-yard range rushing with five-plus scores.
David Hood: Feaster added weight before the 2017 season and it slowed him down. His reasoning was that he needed to be a little north of 220 to withstand the rigors of a college football season. He was still fast and still quick, but perhaps a step slow getting to the outside.
Feaster averaged 6.3 yards per carry last season, but at 220 pounds he didn't feel quite right. This spring, Feaster told TigerNet he wants to keep his playing weight closer to 215 pounds and he's promising you'll see a different version of him both technically and athletically in 2018.
My forecast is that he'll be part of a 1-2 punch with Etienne and both will average more than the 7.64 carries per game he had last season. For this offense to click, he needs to be in the 12-15 carries per game range.
Nikki Hood: I expect to see a different Tavien Feaster when fall camp and the season kick off.
In my opinion, Feaster put on too much weight to try and protect his shoulder after having surgery prior to his freshman year. During the spring and offseason, he has worked to slim back down to his ideal weight (210ish).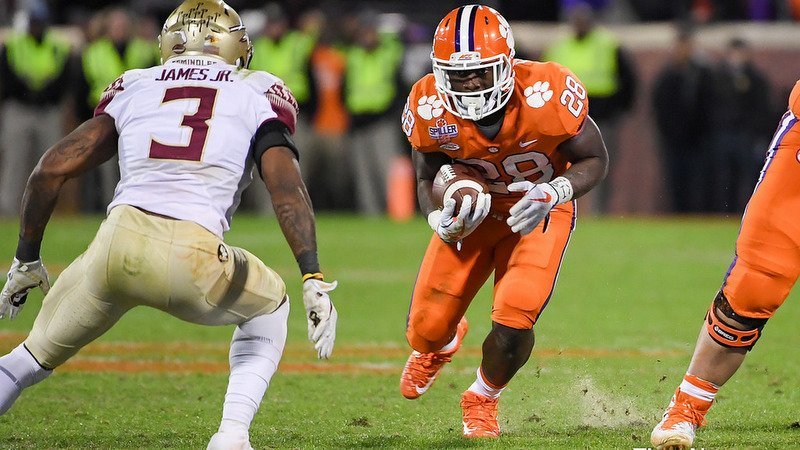 With Feaster slimming down, we should see the burst, quickness and speed we saw from him during his high school career, giving Clemson the perfect 1-2 punch with Etienne.
I expect Feaster to have a breakout season and be the player we all expected to see when he committed to Clemson.
3. Kelly Bryant nearly doubled-up the nearest ball carrier in rush attempts last season. Will the running backs touch the ball more this season?
Nikki Hood: If Clemson is going to get back to the College Football Playoff and the national championship, the running backs - Etienne, Feaster and Choice must be a bigger part of the offense.
There were times last year when Clemson's offense was too predictable - i.e. I was calling the plays from the pressbox - especially on third down.
Kelly Bryant is too good of a runner to take him out of the running game, but at the same time, the three-headed running back monster needs their touches too. All three running backs are too good not to give them the opportunity to make a play, and even if they get stopped, it will still keep the opposing defense honest.
David Hood: This points back to I said in question number two. A lot of times, Bryant called his own number in run-pass options. I think that needs to change this season because the offense became way too predictable.
The offense is better when Bryant is a THREAT to run, not the primary ball carrier. Let's face it, Kelly has speed and he has the moves to break one in the open field. But he's not Travis Etienne and he's not Tavien Feaster.
Rink: This is probably one of the no-brainers of the upcoming season. Improvement in decision-making on option plays could make all the difference in bringing efficiency up in all phases of the offense. Another factor in favor of more RB touches comes if Trevor Lawrence takes over the starting role, as while he's also athletic on the move, you figure a freshman will hand it off more.
Position predictions
Breakout player
David Hood: Travis Etienne
Nikki Hood: Tavien Feaster
Brandon Rink: Travis Etienne
MVP
David Hood: Travis Etienne
Rink: Travis Etienne
Nikki Hood: Travis Etienne
Accolades (All-Americans, All-ACC honors)
Nikki Hood: Travis Etienne - second-team All-ACC.
Rink: Travis Etienne - second-team All-ACC
David Hood: Travis Etienne - second-team All-ACC.