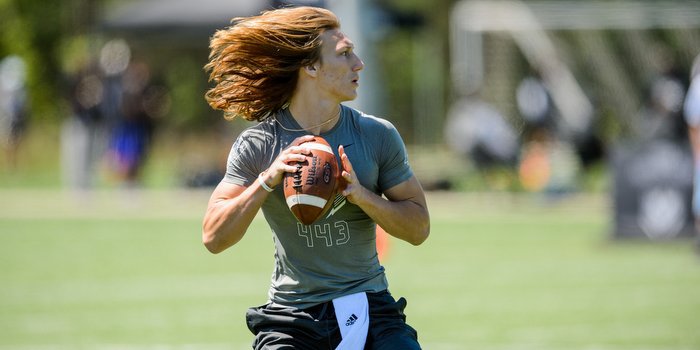 | | |
| --- | --- |
| QB coach says Lawrence more talented than current NFL QBs | |
---
| | | |
| --- | --- | --- |
| Monday, September 11, 2017, 2:19 PM | | |

Trevor Lawrence - Quarterback

TigerNet:

(5.00)
Height: 6-6 Weight: 208 Hometown: Cartersville, GA (Cartersville HS) Class: 2018

ESPN:

#2 Overall, #1 QB-PP, #2 GA
Rivals:


#1 Overall, #1 QB, #1 GA

24/7:


#1 Overall, #1 PRO, #1 GA

Elite 11 coach Trent Dilfer doesn't just think Trevor Lawrence could play at the college level right now – he's pretty sure the five-star Clemson quarterback commit could show out on an NFL practice field.

"The more I'm doing this, the more I think I could throw these guys into an NFL training camp as 18-year-olds," Dilfer said in a wide-ranging interview on The Pressbox on 105.5 The Roar. "Now they couldn't handle the volume of offensive-decision-making (in a game), but from a talent standpoint, both Trevor and Justin (Fields) are better than 15 guys in the NFL right now from a talent standpoint. Maybe more."

Dilfer would know, having notched a Super Bowl ring in a career that spanned from 1994-2007, and since, he's taken a role with the Elite 11 quarterback camp, where Clemson products Deshaun Watson, Zerrick Cooper, Hunter Johnson, Chase Brice and – soon-to-be Tiger Lawrence – have all competed.

Dilfer said Lawrence will play a "massive role" in an upcoming behind-the-scenes look at Elite 11, which starts airing on NFL Network Tuesday at 10:30 p.m. ET.

"He's one of the few kids that we've had over the seven years that met the expectation," Dilfer told WCCP host Brad Senkiw. "Was as advertised. Not overhyped. He's a special, special kid. A special talent, you'll see a lot of his journey talked about in the six episodes of the show. What I was most impressed with though – my big takeaway – was how he wanted to keep learning. The thirst to learn.

"He wasn't one of these entitled high school players who let the rankings and all the attention get to his head and think he's arrived. He recognizes, as good as he is – and he's exceptional for his age – he still has so much to learn. And so much to grow."

Dilfer says he skips past the college level straight to professional-level preparation with his camp, and that's something that Lawrence embraced.

"Trevor couldn't get enough of it," Dilfer said. "He got it. 'Yes, this is what I want. I want to know this stuff. Teach me more.' He was overwhelmed at times, which is what we're looking for, but he responded great and I think people up there really have a neat look into his competitive temperament.

"It's so much more than height/weight/speed/arm-talent. Any pencil jockey can see him that way. There's so many deep levels to him that people will see in the show."

Dilfer was asked about how Clemson has managed to stack its roster at quarterback, where starting next season there could be five Tigers rated four-star or higher (Lawrence, Brice, Cooper, Johnson, Kelly Bryant).

"Man, if I was good enough – I would go with Dabo too," Dilfer said. "That's one of the great programs we've seen in the last 10 or 15 years. Not just the play on the field – kids fall in love with the culture. He's (Swinney) has done a great job, as well as the coaching staff and athletic department of creating an incredible culture where you just want to be part of it. These kids know.

"Chase and Hunter knew before going in there, they were behind studs. That they had a stud coming in behind them. One part of me appreciates that, that they want to be a part of a great culture. That they want to be a part of a winner. Part of me scratches my head that (and thinks), 'Wouldn't you want to go somewhere else where you know you'd have a chance at more robust career.' That's not for me to decide … I think Clemson's set up for years to come."

Dilfer said he would be "shocked" if Clemson was able to keep all of the talent through graduation and/or NFL exits due to transfers, adding though that "if anybody has a chance to keep them, it's Clemson."

He credits the Tiger coaching staff's evaluations in recruiting for compiling so many stars in one position.

"The thing about Clemson is that they understand how to identify a talent in high school and go after them and they've identified the right guys and got the right guys on campus," Dilfer said.

Dilfer says how the Tigers handle their quarterbacks is what sets them apart from other schools.

"They still give the quarterback a lot of the decision-making and that's what NFL teams are looking for," said Dilfer. "That's what separates Saturday football from Sunday football. It's the decision-making element of the game. So many college teams take away from the quarterback and put it on the playcaller.

"Clemson has the foresight to say we're going to allow our quarterbacks to make decisions at the line of scrimmage. They're the ones with the keys to the car. We'll be better if they're making the decisions. And ultimately our players will go on to play in the NFL because of the opportunity we're giving them with that decision-making tool on Saturdays."

Upgrade Your Account
Unlock premium boards and exclusive features (e.g. ad-free) by upgrading your account today.
Upgrade Now