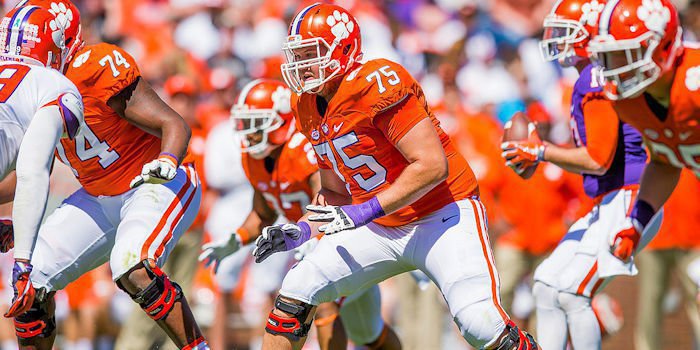 | | |
| --- | --- |
| Season outlook: Will the offensive line be better this season? | |
---
| | | |
| --- | --- | --- |
| Monday, July 9, 2018, 8:01 AM | | |
Clemson head coach Dabo Swinney's annual media golf outing is one week from tomorrow, and the ACC Kickoff follows in short order.
That means the start of the season is closer than you might think, and with that in mind, the staff at TigerNet is going to take a few weeks and look at each position on the roster and answer the questions surrounding those spots.
The roundtable discussion includes Senior Writer David Hood, Staff Writer Brandon Rink, and Staff Writer Nikki Hood.
Three questions: Offensive line
1. QB is getting a lot of the offseason talk for the Clemson offense, but where does improvement from 2017 to 2018 on the offensive line fall in keys to success this season?
Rink: I'd say it's the biggest key to the biggest goals on the table. There's enough talent around this group to do real some damage to opposing defenses this season.
Growing pains of the changeover in the backfield - both at QB and RB - didn't help the front-five group out much last season, but the numbers weren't great when it came to protecting the QB.
Clemson ranked 92nd in sacks allowed and 86th in adjusted sack rate after ranking fourth in adjusted sack rate just a year before. The last game image for the group is from an ultra-talented Alabama defensive front repeatedly manhandling Clemson's blocking and keeping the junior first-year starter in Kelly Bryant uncomfortable.
In the ground game, Clemson tallied the 19th-most rush attempts (578) and didn't field a top-25 rushing offense with it, dropping to 69th in rushing yards per game versus ranked opponents (121.4 versus AP Top 25 teams; 1.91 yards per carry in December matchups versus Miami and Alabama).
With heavy rotation, the Tigers were able to get plenty of experience to linemen moving into bigger roles this season in Sean Pollard, John Simpson and Tremayne Anchrum. Working with presumably-improved backfield on protections the pieces are there to see improvement here, but the degree of improvement and some injury luck is what title hopes rest on this season.
David Hood: Those numbers that Brandon added are staggering to me. The coaching staff endeavored to run the ball a lot more last season, and I have a feeling some of it had to do with the struggling passing game and some of it had to do with protecting a lead. Alabama proved, however, that the offense that will be a Nick Saban defense has to be able to run and throw.
That brings us to the offensive line. The last time we saw this group they were getting manhandled by Bama, and it wasn't just the physical part - the technique was bad and they acted like they'd never seen a twist or a stunt.
Yes, there are concerns when it comes to QB, but this is the group that has to win this season. Games are won in the trenches, and if you want to do more than beat South Carolina and Wake Forest, the offensive line has to play well.
This season is big for this group.
Nikki Hood: We all know what we're getting in Mitch Hyatt, who decided to come back for his senior season, but I'm excited to see what the interior of the offensive line can do.
Justin Falcinelli was more than serviceable during his first full season as a starter, but his snaps need to improve. The snap velocity is key to Clemson's screen game.
I've always thought Sean Pollard was more suited to play on the interior of the line. He along with John Simpson at left guard and Falcinelli should pack a big punch in the middle of the line.
A strong middle of the line combined with a more experienced center will help Clemson's interior running game and the screen game in 2018.
2. Clemson was able to go pretty deep in the rotation last season and get some experience for the next man up with two starters moving on. Who is ready to stand out in 2018?
David Hood: There are two that stand out to me - John Simpson and Sean Pollard. I think Simpson is ready to take a step forward, and I like Pollard in the guard spot rather than tackle.
Pollard did his job at tackle the last two seasons, but I am looking for more out of him this year. He has the strength to handle defensive tackles inside.
But, if you're looking for someone that might come out of nowhere and surprise, look no further than Matt Bockhorst.
Nikki Hood: I'm going to echo what David said about Pollard. He has two years under his belt and is primed for a breakout season at a new position.
Tremayne Anchrum is my other player that I'm excited to see. He is healthy and confident and that can only help Clemson on the right side of the line.
Rink: Simpson feels like the candidate primed for a breakout after tallying 460 snaps in two seasons. He posted 11 knockdowns in 300 snaps last year, including a team-high four in 33 snaps against Boston College. Moving into that left guard role as a starter, the big lineman will be able to showcase more of what had him as rated as one of the top guards in the nation coming in.
3. Outside of center, there is a good deal of youth to the second and third-team spots on the depth chart. Who plays some key snaps out of the group?
Nikki Hood: I think offensive line coach Robbie Caldwell will probably have to wait and see how some of these young guys do along the offensive line, since for most of them it will be their first game action.
Matt Bockhorst looks the part and already acts like a team leader from a personality standpoint, so if he can put it all together he could have a big season.
However, if I had to pick a key reserve it would be Central native Cade Stewart. The coaches raved about him during spring practice and it's time for him to put it all together.
Rink: Key is the operative word and the interior line seems the most likely spot for some more rotation than at the tackle positions. Redshirt freshman Matt Bockhorst debuted at No. 2 on the depth chart behind Simpson and was tabbed by Clemson coach Dabo Swinney as one of the standouts in the spring game. Because of versatility to play guard or tackle, fellow redshirt freshman Blake Vinson seems like another candidate to step in when needed.
David Hood: I've already mentioned Bockhorst, as did Brandon. Also, be on the lookout for Cade Stewart. He just does everything the right way.
Position predictions
Key reserve:
David Hood: Matt Bockhorst
Rink: Gage Cervenka
Nikki Hood: Cade Stewart
MVP:
David Hood: Mitch Hyatt
Rink: Mitch Hyatt
Nikki Hood: Mitch Hyatt
Accolades (All-Americans, All-ACC honors)
Nikki Hood: Hyatt - First-team All-American, first-team All-ACC; Falcinelli - Second-team All-American, first-team All-ACC; Simpson - third-team All-ACC; Pollard - second-team All-ACC.
Rink: Hyatt - First-team All-American, first-team All-ACC; Falcinelli - Second-team All-American, first-team All-ACC; Simpson - second-team All-ACC; Pollard - third-team All-ACC.
David Hood: Hyatt - First-team All-American, first-team All-ACC; Falcinelli - Second-team All-American, first-team All-ACC; Simpson - second-team All-ACC; Pollard - third-team All-ACC.

Tags: Clemson Football
,
Kelly Bryant
,
Sean Pollard
,
John Simpson
,
Tremayne Anchrum
,
Mitch Hyatt
,
Justin Falcinelli
,
Matt Bockhorst
,
Cade Stewart
,
Blake Vinson
,
Gage Cervenka
,
Robbie Caldwell