| | |
| --- | --- |
| Irish shoot their way to victory over Clemson | |
---
| | | |
| --- | --- | --- |
| Monday, February 8, 2016, 11:16 PM | | |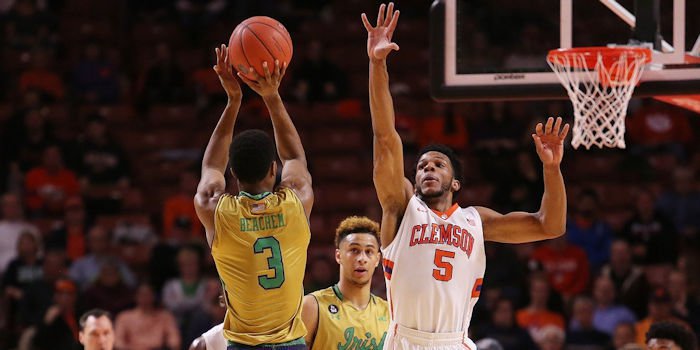 The loss overshadowed another strong night from Jaron Blossomgame, who scored a career-high 30 points on 13-of-19 shooting. Avry Holmes scored 19 and Donte Grantham 15 as the only other Tigers in double figures. Notre Dame had five players in double figures, led by Zach Auguste's 19.
Clemson shot 52.5% from the field (31-55) and hit 10-of-20 shots from beyond the arc, but Notre Dame shot 50.9% (29-57) and hit 10-of-22 shots from 3-point range. The difference? Notre Dame jumped out to a working margin early and countered every Clemson run from that point forward.
The Tigers were 11-of-16 from the free throw line, but opportunities were limited as the Irish were called for just 14 fouls. Clemson was called for 18.
The Irish hit three quick 3-pointers and raced out to an 11-2 lead, but a layup by Holmes and a trey from DeVoe ended a 10-2 Clemson run with the Irish up 13-12. The Irish would eventually push the lead to nine– at 33-24 – after two free throws by Bonzie Colson with 2:32 to play in the half.
Clemson would close the half on a 5-2 run, getting a layup and free throw from Blossomgame and a short jumper from DeVoe as the Irish held a 35-29 lead at intermission.
Blossomgame started the second half with a thunderous dunk and followed that with each of the Tigers' next five points as Clemson eventually closed to within one at 39-38 just three minutes into the half. A Holmes 3-pointer two minutes later made it 43-41 Irish, but Notre Dame scored the next five points to extend the lead back to seven at 48-41 with 12:33 remaining in the game.
The Tigers didn't go away and Grantham and Holmes hit back-to-back 3-pointers as Notre Dame led 50-47 with 10:26 to play. The boo birds were out in force at that point – Clemson had been called for six fouls in the half to just one for Notre Dame – and both Sidy Djitte and Landry Nnoko had three fouls apiece.
The Irish got a layup by Matt Ryan coming out of the timeout to make it 52-47 and Steve Vasturia hit a 3-pointer to make it 55-49. V.J. Beachem followed that with a trey from the corner and Clemson was forced to call a timeout with Notre Dame leading 58-49 with 8:36 to play.
The Tigers sandwiched Blossomgame and Grantham 3-pointers around an Auguste layup to make it 60-55, but a 3-pointer by Jackson and layups by Colson and Auguste extended the Irish lead to nine at 67-58 with 5:50 to play. Auguste followed that with three chances at a layup – hitting the last one – and Notre Dame had its biggest lead of the night at 69-58 with just over five minutes to play. Ninety seconds later – following a timeout – Beachem hit another 3-pointer, and it was 74-62 with just over three minutes left.
Notre Dame was able to make enough shots and free throws down the stretch to hold off any chance of a Clemson comeback. Clemson pulled to within 86-80 after a shot by Ty Hudson, but it was too little too late for a Tiger team desperately needing a win.
"We need to take a couple days and rest and get a couple guys healthy," Brownell said. "We got a couple guys that are not feeling great with some sickness. Avry's groin is really bothering him. We got to get our minds right also."
The Tigers host Georgia Tech at 2 p.m. Saturday.
Clemson vs. Notre Dame Postgame Notes
* Clemson's loss was its first ACC home defeat of the season. The Tigers were 5-0 prior to Monday, with wins over four ranked opponents.
* Clemson fell to 0-4 against Notre Dame since the Fighting Irish joined the ACC in 2013-14. Three of the four losses have been by six or less.
* The Tigers made 10-19 from three, their highest number of three-point goals since also converting 10 in the home ACC opener against Florida State on January 2.
* Clemson yielded 89 points Monday, its most in an ACC game this season and tied for the most in any game (Minnesota). In fact, Monday's score was the exact same (89-83) as the November 30 game in
Minneapolis.
* Jaron Blossomgame scored double figures for a team-leading 20th time this season.
* Blossomgame scored over 20 points for the sixth time in the last seven games.
* Blossomgame set a career high with 30 points Monday. His previous high was 26 against Oakland as a sophomore.
* Blossomgame was the first Tiger to score at least 30 points in a game since K.J. McDaniels against Georgia State in the 2014 NIT.
* Blossomgame's 13 field goals set a career high and were the most by a Tiger since McDaniels also had 13 in a loss at Notre Dame in 2013-14.
* Landry Nnoko joined the 200 career block club Monday with three swats. He is the sixth Clemson player to reach 200 career blocks.
* Avry Holmes scored 17 points, the second time in the last three contests he scored 17 points for the Tigers.
Donte Grantham made four three-point goals, his highest total since the win over Louisville on January 10.