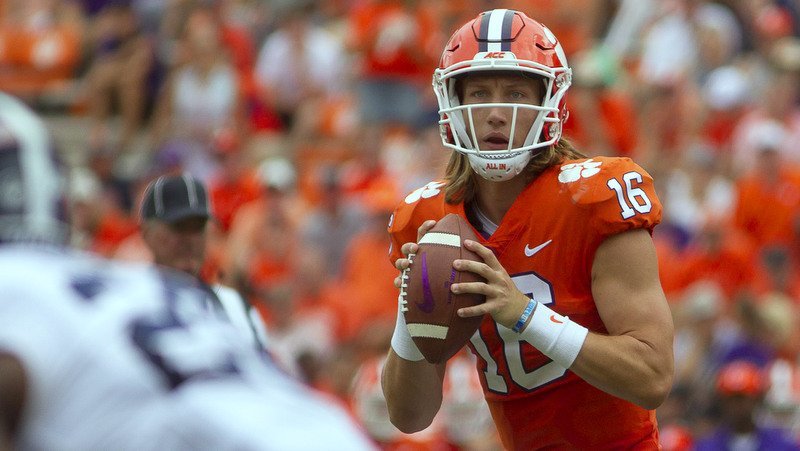 | | |
| --- | --- |
| ESPN's Herbstreit calls Lawrence 'once in a generation' QB | |
---
| | | |
| --- | --- | --- |
| Friday, January 4, 2019, 4:02 PM | | |
Trevor Lawrence is a freshman looking to accomplish something Monday none of his peers - or any QB has done - in the modern era of college football.
Lead a team to a 15-0 season.
Hailed as the ACC freshman of the year and the conference's top player by one outlet (Pro Football Focus), his rookie campaign really couldn't have gone much better. ESPN lead college football analyst Kirk Herbstreit says the former No. 1-rated QB prospect has lived up to the hype and more.
"There have been freshman quarterbacks that made you step back and go, 'I can't believe that guy is a true freshman,'" Herbstreit said on an ESPN teleconference Friday. "I don't think I've ever seen a freshman that is 6-5 and 215 and has an unflappable personality toward the big moment. That's unusual. That's special. I keep saying I can't wait to see where he is in two years when he's a junior.
"I can't even imagine where he'll grow."
With the national stage ahead versus No. 1 Alabama, Herbstreit expects to see more of what has made Clemson an elite offense under Lawrence's leadership this season.
"I've heard a lot of analysts say we're waiting for that freshman moment. I just don't see that happening," said Herbstreit. "I just don't - based on watching almost every snap he's taken this year. You can talk about his physical skills all you want but to me, it's the ability in this offense - especially when they go uptempo - to not make mental mistakes, process the coverage and get out of a bad play into a good play - that's just unbelievable to go along with the arm strength and the athletic ability and all the physical attributes."
The longtime College GameDay panelist is eager to see the matchup Clemson has been calling for ever since last January in New Orleans.
"He's a once in a generation type of guy," Herbstreit said of Lawrence. "I think we all knew after the loss to Alabama the potential of this offense when he came in here. Now we've seen it play out and now they'll get their big test...Kendall Joseph said when they walked off the field that this is what they wanted because (they) felt like they were outclassed that night.
"And now they get it with Trevor Lawrence. We'll see if they can get it done this time."