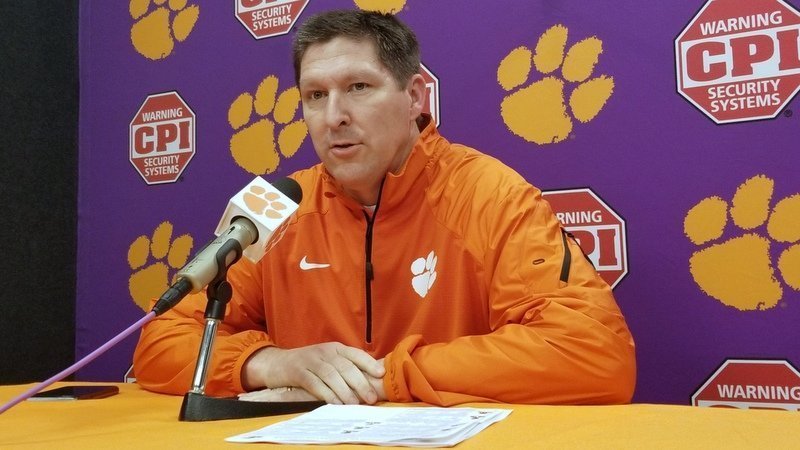 | | |
| --- | --- |
| Clemson Basketball adds three signees | |
---
| | | |
| --- | --- | --- |
| Thursday, November 15, 2018, 10:19 AM | | |
CLEMSON, S.C. — Head Coach Brad Brownell and his staff added three players to the Clemson University men's basketball program on Thursday. Al-Amir Dawes (The Patrick School/Newark, N.J.), Chase Hunter (Westlake HS/Atlanta, Ga.) and Alex Hemenway (Castle HS/Newburgh, Ind.) all signed national letters of intent to play for the Tigers beginning in 2019-20.
"We're excited about the addition of these three young men," Brownell stated. "It's no secret that we needed to add depth to our backcourt and our staff is super excited about Al-Amir, Chase and Alex. They all bring unique skill sets to our team and we believe they will complement each other very well on the floor."
Dawes is a 6-2 guard from Newark, N.J. and is rated as a four-star prospect according to both ESPN and 247Sports. ESPN has Dawes ranked No. 95 in its Top 100 for the 2019 signing class. He is rated the fifth-best prospect in New Jersey, 15th nationally at the point guard position and 24th overall on the east coast.
"Al is a tough, hard-nosed playmaker who excels in the pick and roll game," said Brownell. "He comes from one of the best basketball programs in the country and has played against tremendous competition throughout his career. He has very good speed in the open floor and we are excited about his ability to create for himself and others."
Dawes averaged 15.5 points, 4.3 assists, 3.1 rebounds and 2.1 steals per game on the Nike EYBL Circuit en route to third-team honors – earning top 15 recognition.
Dawes chose Clemson over Providence, Seton Hall, St. John's and UCONN.
Hunter, a 6-3 combo guard from Atlanta, Ga. is rated as a four-star prospect and No. 98 overall in 247Sports' Top 100 recruits for the 2019 class. 247Sports ranks Hunter as the No. 4 player in the state of Georgia and the No. 14 combo guard in the country.
"Chase is a super athletic guard who attacks the basket in transition and shoots the ball well from the perimeter," Brownell said. "He is a very strong, physical defender who should be able to contribute immediately because of his elite athleticism and his ability to score in a variety of ways."
Hunter averaged 15.6 points, 4.1 rebounds, 2.3 assists and 1.8 steals per game as a junior. He scored in double-figures in 17-of-22 games and scored more than 20 points on eight occasions, including at least 30 points twice.
On the Under Armour circuit, Hunter averaged 14.0 points, 2.7 assists, 2.5 rebounds and 1.5 steals per game.
Hunter chose Clemson over Georgia, Virginia, Oklahoma and Michigan State.
Hemenway, a 6-4 distance shooter from Newburgh, Ind. is rated as a three-star prospect by 247Sports and is listed as the No. 10 recruit in the state of Indiana.
"Alex is a sneaky good athlete with very good skill level and a high basketball IQ," said Brownell. "He shoots the ball well from three-point range and his versatility should allow him to play both guard positions in our program."
Hemenway averaged 21.0 points, 5.0 rebounds and 4.0 assists per game as a junior last season at Castle High School.
Hemenway chose Clemson over Nebraska, Creighton, DePaul and Belmont.
ACCOLADES:
Al-Amir Dawes
ESPN Top 100 Prospect
247Sports Top 150 Prospect
Rivals Top 150 Prospect
Finished Top 15 at NPBA Camp
Finished Top 3 at Chris Paul's CP3 Camp
Made Third-Team overall on the Nike EYBL Circuit (meaning he finished Top 15 on the Nike Circuit)
Chase Hunter
247Sports Top 100 Prospect
Ranked No. 4 player in the state of Georgia
Ranked No. 14 combo guard in the country according to 247Sports
Averaged 15.6 points, 4.1 rebounds 2.3 assists and 1.8 steals as a junior at Castle HS
Alex Hemenway
Indiana Jr. All-Star – May 2018
Castle Basketball 1,000 Point Club – February 2018
SIAC All-Conference First Team – 2017-18
IBCA Supreme 15 – 2017-18
SIAC All-Conference First Team – 2016-17
IBCA Supreme 15 – 2016-17
It's time for us to officially welcome Al-Amir Dawes to the #ClemsonFamily!#ClemsonGRIT pic.twitter.com/vLaayEaplL

— Clemson Basketball (@ClemsonMBB) November 15, 2018
Welcome Chase Hunter to the #ClemsonFamily!#ClemsonGRIT pic.twitter.com/RUfka3BS7v

— Clemson Basketball (@ClemsonMBB) November 15, 2018
Welcome Alex Hemenway to the #ClemsonFamily!#ClemsonGRIT pic.twitter.com/wDlD18ecUm

— Clemson Basketball (@ClemsonMBB) November 15, 2018