TigerNet

is the oldest and largest Clemson Community online with 152,606 members, 58,200 news articles and 29M forum posts.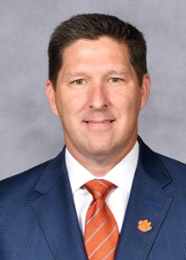 Brad Brownell
Position:
Head Coach
Born:
November 15, 1968 in Evansville, IN
As a Player:
Earned three letters as a player at DePauw University, a Division III school in Greencastle, IN.
College:
Graduated from DePauw 1991; Masters from University of Indianapolis in 1994
Coaching:

2010-Present:

Clemson Head Coach

2007-2010:

Wright State Head Coach

2002-2006:

UNC Wilmington Head Coach
B I O
Brad Brownell enters his 11th season in charge of the Clemson men's basketball program in 2019-20. The Evansville, Ind., native was named the 22nd men's basketball coach at Clemson University on April 13, 2010. In 10 seasons in Clemson, he has compiled a 185-142 record, which places him first all-time in Clemson coaching history with 185 victories. He has taken the Tigers to the 2018 Sweet 16, 2011 NCAA Tournament and three NIT appearances. He is No. 1 in Clemson coaching history in terms of winning percentage against ACC competition and his 90 wins over ACC teams are the most-ever in program history. Brownell enters his 19th season overall with a career record of 352-227. Led by Brownell, the Tigers won its first-ever game in Chapel Hill against North Carolina on Jan. 11, 2020. Three days later, the Tigers topped No. 3 Duke and made Brownell the all-time wins leader in Clemson history by passing Cliff Ellis. All told, Clemson won three games last season against Top-6 ranked opponents – leading the country. Prior to the season being cancelled due to COVID-19, the Tigers defeated Miami in the ACC Tournament – ending the season with a victory for the first time since 1950. Following the season, Aamir Simms earned All-ACC recognition by being named to the All-ACC Third Team. The Tigers won 20 games in back-to-back seasons (2017-19) for the first time since 2009-10 and 2010-11. Those 45 combined victories over those two campaigns is the third-most wins in back-to-back seasons in Clemson history. Following the 2018-19 season, two Tigers earned All-ACC recognition with Marcquise Reed named to the All-ACC Third Team and Elijah Thomas earning back-to-back nominations to the All-ACC Defensive team. Clemson turned in a banner season under Brownell in 2017-18 – advancing to just the 12th NCAA Tournament in program history, including the program's fourth Sweet 16. Clemson's 25-10 record tied the school mark for wins in a season. For the remarkable season, Brownell was named National College Coach of the Year by
Sports Illustrated. Clemson posted a program record 11 ACC regular season wins in 2017-18, making it the sixth time in program history the Tigers have won 10 or more games in the ACC, and three have now come under Brownell's watch. Brownell's squad was picked to finish 13th in the ACC Preseason Media Poll and ended up finishing tied for third in the final ACC standings – the largest differential from preseason media poll to postseason seasons finish in league history (since 1970). The Tigers finished 15-1 at home during the regular season – tying the program mark for most regular season home wins in a single season. The team won 11 ACC regular season games and defeated 10 different ACC teams along the way for the first time in history. Brownell saw four players earn All-ACC recognition at the end of the season. Marcquise Reed earned All-ACC Second-Team, Gabe DeVoe was named All-ACC Honorable Mention and Elijah Thomas was named to the All-ACC Defensive Team. Shelton Mitchell was named second-team All-ACC Tournament. Both Reed and DeVoe were named ACC Players of the Week during the season. In 2015-16, Brownell's program made a number of strides. The Tigers were 10-8 and finished in a tie for seventh in the ACC, ahead of Final Four participant Syracuse. Clemson defeated four ranked teams, including three in the same week to become the first ACC team to do that in the regular season since Wake Forest in 2003. Brownell guided the Tigers to a landmark road overtime win over Syracuse on Jan. 5, 2016, before coaching Clemson to wins over Louisville, Duke and Miami all in the same week. Duke and Miami were ranked in the top 10, giving the Clemson program its first back to back wins over top-10 teams since 1975-76. His team added a landmark victory in 2016-17 at South Carolina, ranked in the top 25 at the time of the meeting. It gave the Tigers a win over an eventual Final Four team for a second straight season. Brownell coached two-time All-ACC forward Jaron Blossomgame, who was also named 2016 Most Improved Player in the conference by the media and coaches. Blossomgame had a monumental junior campaign, averaging over 20 points per game with the third-highest ACC regular season point total in Clemson history. He finished his career fifth in program history with 1,733 points. Brownell's 2014-15 team posted an 8-10 mark in the ACC regular season, which included a win at Sweet 16 participant NC State. The Tigers also defeated a pair of NCAA Tournament teams from the SEC, LSU and a top-25 Arkansas squad. The 2013-14 team finished with a 23-13 record and advanced to New York City for the NIT semifinals. Among Clemson's 23 wins were 10 during conference play, which led to a sixth-place finish in the ACC — no small feat considering the Tigers were predicted to finish 14th by league media in the preseason. Clemson improved by 10 wins over 2012-13, matching the school record for the best single-season improvement. The Tigers also doubled their conference win total over the previous season, becoming just the fourth team in Clemson history to reach double digit ACC wins. Clemson won all season long with a stout defense, one that yielded a program ACC era record 58.4 points per game. Brownell and his staff also did it by coaching the ACC's free throw champions, a first for a Tiger team in 61 seasons as a member of the conference. The Tigers' biggest win came at home against No. 13 Duke, a 72-59 victory that proved to be the Blue Devils' largest margin of defeat all season. Brownell and his staff coached K.J. McDaniels to a terrific individual season. The junior small forward was named first-team All-ACC and was the first Tiger to be named ACC Defensive Player of the Year. He posted top-10 single-season school marks for points (614), blocks (100), free throws made (154), free throw percentage (.842) and minutes played (1,212). McDaniels declared early for the NBA Draft and was selected 32nd overall. He completed his third NBA season in 2016-17. In 2012-13, Brownell coached Devin Booker to third-team All-ACC honors. In 2011-12, Brownell's second team went 16-15 and 8-8 in ACC play — a record fifth straight season the Tigers were .500 or better in conference games. His program defeated three teams that advanced to the NCAA Tournament, including eventual Sweet 16 participant NC State and No. 22 Virginia. Brownell's team was second in the ACC in scoring defense for a second straight season, yielding just 60.6 points per game. He coached Andre Young, a member of the All-ACC Defensive Team and the conference's leader in steals per game during the 2011-12 regular season. Academically, the men's basketball program recorded one of its best all-around years under Brownell's leadership in 2011-12. The team had the highest cumulative GPA on record for a semester (3.13) in the fall, also the top GPA among Clemson men's athletic teams. In the spring, four players were named to the All-ACC Academic Team, including Tanner Smith, just the second four-time selection in Clemson history. Brownell established a Clemson record for wins by a first-year coach in 2010-11 when he led the Tigers to a 22-12 overall record. The Tigers won a first-round NCAA Tournament game over UAB, the program's first tournament victory in 14 years. Brownell was the only first-year coach to lead his team to an NCAA Tournament win in 2011. He has taken each of his three schools (Clemson, UNC Wilmington, Wright State) to the "Big Dance" in his first year at each stop. Clemson compiled a 9-7 record during the ACC regular season and with a Senior Day victory over Virginia Tech on March 5, Brownell's squad clinched the No. 4 seed and a first-round bye at the ACC Tournament. Brownell's 2011 Tigers won an ACC Tournament and NCAA Tournament game in the same season at Clemson for the first time since 1990. His club defeated Boston College 70-47 in the quarterfinals of the ACC Tournament, the second-largest margin of victory in Clemson history at the event. He coached Demontez Stitt to third-team All-ACC honors in 2011. Stitt went on to be named first-team All-ACC Tournament as well. Fellow senior Jerai Grant flourished in his lone season under Brownell's teaching. Grant averaged career highs 12.4 points and 6.7 rebounds per game, and was also an All-ACC Defensive Team member. Prior to Clemson, in his two previous head coaching stops he took the program to a school record number of wins as a Division I member. He had a 25-win season at UNC Wilmington in 2005-06 and a 23-win season at Wright State in 2006-07. He has had 25-win and 23-win seasons at Clemson. Brownell guided UNC Wilmington to the NCAA Tournament in 2003 and 2006 and Wright State to the NCAAs in 2007. Brownell joined the Clemson family after coaching Wright State to a 20-12 record in 2009-10, with a third straight 12-6 Horizon League record. In four seasons with the Raiders, his teams compiled an overall mark of 84-45, including 49-21 against Horizon League foes. Brownell's 2007 NCAA Tournament appearance at Wright State was the school's first in 14 seasons. He did it behind the strength of a 15-3 conference record and two wins in the conference tourney. Brownell coached several standouts at Wright State, including the Horizon League Player of the Year, a first-team selection, an all-league defensive team member and two all-newcomer members in 2007-08. In 2009-10, he coached guard Vaughn Duggins to second-team All-Horizon League honors. Brownell was the head coach at UNC Wilmington from 2002-03 through the 2005-06 season and posted an 83-40 record, including a 52-20 mark against conference teams. In his four years at Wright State he posted an a 55-24 record against conference foes (including conference tournament games). Brownell was named CAA Coach of the Year in 2002-03 and 2005-06 and the Horizon League Coach of the Year in 2007-08. Additionally, Brownell was one of 15 finalists for the Hugh Durham Coach of the Year Award for mid-major programs in 2007 and was the NABC District 10 Coach of the Year. FoxSports.com also named him the Mid-Major Coach of the Year in 2006, his final year at UNC Wilmington. Brownell began his coaching career as a graduate assistant at Evansville under Jim Crews in 1991-92 and he helped that program to a 24-6 record. He served as an assistant at the University of Indianapolis in 1992-93 and 1993-94. He then started a 12-year-run at UNC Wilmington, eight as an assistant or associate head coach, and four as the head coach. He was an assistant for the Seahawks from 1994-95 through 2001-02. His final year as an assistant under Jerry Wainwright, UNC Wilmington posted a 23-10 record, including a 17-4 mark versus conference teams (including the CAA Tournament). That team defeated Southern California in the first round of the NCAA Tournament in overtime. His four-year CAA head coaching record was 61-22, the best league mark during the period. Brownell was twice named the CAA Coach of the Year (2003 and 2006). He coached five All-CAA performers, one CAA Player of the Year in Brett Blizzard, four All-Defensive Team selections, one Defensive Player of the Year and seven CAA All-Academic honorees. UNC Wilmington posted a 25-8 mark his final season, 2005-06, including a victory over Final Four participant George Mason, and won the CAA Tournament. The Seahawks lost in overtime to George Washington, 88-85, in the NCAA Tournament that year. His first UNC Wilmington team (2002-03) won 24 games and won the CAA Tournament. His club lost in the first round of the NCAA Tournament to defending national champion Maryland on a buzzer beater, 75-73. Brownell, who turns 50 on Nov. 15, 2018 earned three letters at DePauw University, a Division III school in Greencastle, Ind. He ranks seventh in school history with 332 career assists. He led the Tigers in assists three straight seasons, while also leading DePauw in steals as a junior in 1989-90. Brownell earned his bachelor's degree from DePauw in 1991 and completed his master's degree at the University of Indianapolis in 1994. He is a graduate of Harrison High School in Evansville, where he was a high school teammate of Calbert Cheaney, who later became the National Player of the Year in 1993 at Indiana. Brownell and his wife, Paula, have two daughters, Abby (21), a student at Clemson, and Kate (19). YEAR SCHOOL OVERALL PCT CONF. POSTSEASON 2020-21 Clemson 12-5 .706 6-5 2019-20 Clemson 16-15 .516 9-11 Postseason cancelled due to COVID-19 2018-19 Clemson 20-14 .588 9-9 NIT, 2nd Round 2017-18 Clemson 25-10 .714 11-7 NCAA, Sweet Sixteen 2016-17 Clemson 17-16 .515 6-12 NIT, 1st Round 2015-16 Clemson 17-14 .548 10-8 2014-15 Clemson 16-15 .516 8-10 2013-14 Clemson 23-13 .639 10-8 NIT, Semifinals 2012-13 Clemson 13-18 .419 5-13 2011-12 Clemson 16-15 .516 8-8 2010-11 Clemson 22-12 .647 9-7 NCAA, 2nd Round 2009-10 Wright State 20-12 .625 12-6 2008-09 Wright State 20-13 .606 12-6 2007-08 Wright State 21-10 .677 12-6 2006-07 Wright State 23-10 .697 13-3 NCAA, 1st Round 2005-06 UNC Wilmington 25-8 .758 15-3 NCAA, 1st Round 2004-05 UNC Wilmington 19-10 .655 13-5 2003-04 UNC Wilmington 15-15 .500 9-9 2002-03 UNC Wilmington 24-7 .744 15-3 NCAA, 1st Round 19 SEASONS 364-232 .611 192-139 8 POSTSEASON APPEARANCES

*Courtesy Clemson Media Guide
| | |
| --- | --- |
| | VIDEO HIGHLIGHTS |
Latest Brad Brownell News
Click the link below to read more!