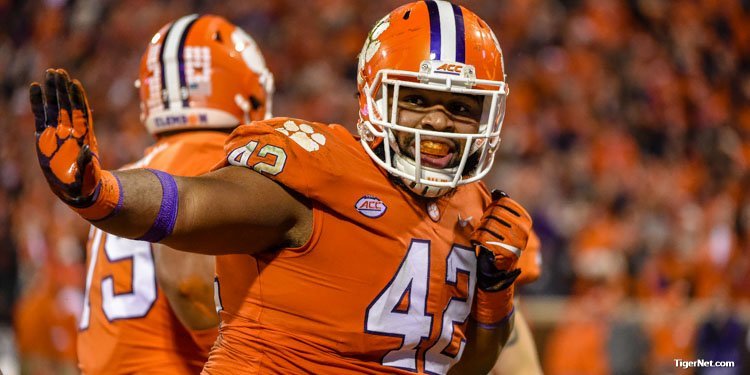 | | |
| --- | --- |
| Christian Wilkins awarded Campbell Trophy | |
---
| | | |
| --- | --- | --- |
| Tuesday, December 4, 2018, 9:02 PM | | |
Clemson defensive tackle Christian Wilkins was awarded the 2018 William V. Campbell Trophy on Tuesday.
The award recognizes an individual as the best in the country for his combined academic success, football performance and exemplary community leadership. The award, which is prominently displayed at its official home inside the New York Athletic Club, comes with a 24-inch, 25-pound bronze trophy and a $25,000 postgraduate scholarship.
Wilkins was one of the 13 finalists set to receive an $18,000 postgraduate scholarship already as a member of the 60th NFF National Scholar-Athlete Class this year. Finalists were in New York City for the 61st NFF Annual Awards Dinner on Tuesday.
Wilkins earned the ACC's Jim Tatum Award already as the ACC's top senior student-athlete. Wilkins was the first Clemson football scholarship student-athlete to earn his undergraduate degree in only two-and-a-half years (in communications) and is now pursuing a graduate degree in athletic leadership. He was Clemson's third all-time Jim Tatum Award honoree and the first since center Kyle Young in 2001.
"I think Christian Wilkins represents everything that's great in college football and the spirit of what a student-athlete should be," Clemson head coach Dabo Swinney said of Wilkins with the Tatum Award. "He is the epitome of what this award is all about. It's only fitting that he is my first guy to win it because he graduated in two-and-a-half years, came back and has been so great for college football and set such a great example for everybody on this team and other student-athletes out there as far as how you maximize your experience and enjoy it at the same time."
A two-year team captain, Wilkins has guided Clemson to the No. 2 ranking, a perfect 13-0 record, the 2018 ACC title and a trip to the College Football Playoff Semifinal. A finalist for the 2018 Bednarik Award, Bronko Nagurski Trophy and Outland Trophy, he has amassed 45 tackles on the season, including 13.5 tackles for loss. The 2018 First Team All-ACC defensive lineman is also a finalist for the Lott IMPACT Trophy and has five sacks, one forced fumble, and two fumble recovery to his name this year. Wilkins was the runner-up for both the ACC Player of the Year and the ACC Defensive Player of the Year for 2018.
Making a difference off the field, Wilkins became a certified substitute teacher during the 2018 offseason, indicating that he wanted to provide inspiration and guidance to K-12 students. An avid volunteer, Wilkins has worked with Habitat for Humanity, the Clemson Miracle Fundraiser, Colleges Against Cancer Relay for Life and the "Kicks, Cleats, Kids" initiative. He has also taken part in the Taylor Elementary Visionary Leaders program.
Wilkins becomes Clemson's first Campbell Trophy winner and the school's fourth NFF National Scholar-Athlete, joining Jimmy Bell (1964), Steve Fuller (1978) and Kyle Young (2001). He becomes the fifth Campbell Trophy® recipient from a team currently in the ACC, joining Thomas Burns (Virginia - 1993), Joaquin Gonzalez (Miami [Fla.] - 2001), David Helton (Duke - 2014) and Micah Kiser (Virginia - 2017).
Posting all of @cwilkins42 acceptance speech for the Campbell Trophy in a few clips. He is the best part of college football. @ClemsonFB pic.twitter.com/6cnp20eQNW

— Holly Rowe (@sportsiren) December 5, 2018
@ClemsonFB @cwilkins42 pic.twitter.com/wNYu1N3hTe

— Holly Rowe (@sportsiren) December 5, 2018
Passion for what you do. ?@ClemsonFB? ?@cwilkins42? pic.twitter.com/OQVNsWEJE4

— Holly Rowe (@sportsiren) December 5, 2018
Christian begins his acceptance speech by commending his fellow finalists.

"We break the misconceptions of typical athletes."

— Clemson Football (@ClemsonFB) December 5, 2018
"I want to thank Coach Swinney for always serving his players' hearts and not their talents."

— Clemson Football (@ClemsonFB) December 5, 2018
President Clements, the Board of Trustees, Dabo Swinney, Brent Venables, Todd Bates and Jeff Davis all receive recognition from Christian for this honor. Then his attention turned to his teammates.

"The special thing about Clemson is the people."

— Clemson Football (@ClemsonFB) December 5, 2018
"Don't be afraid to be yourself... I'm going to thrive in it and do it passionately. Love, care and serve others... That's the most powerful thing you can do as a person."

— Clemson Football (@ClemsonFB) December 5, 2018
Congrats to our 2018 #CampbellTrophy recipient, @ClemsonFB DL Christian Wilkins!!#NFFDinner pic.twitter.com/UBVQFjFVph

— Football Foundation (@NFFNetwork) December 5, 2018
Let your light shine, Christian. Congrats on your Campbell Trophy. pic.twitter.com/z3O4UPQSpd

— Clemson Football (@ClemsonFB) December 5, 2018
Coach Swinney addressing reporters following Christian Wilkins winning the Campbell Trophy. Says he congratulated Christian's mother on this honor. Her message, "We've still got more to do." pic.twitter.com/4VBQf2wxHE

— Clemson Football (@ClemsonFB) December 5, 2018
Clemson coach Dabo Swinney on Christian Wilkins winning the Campbell Trophy, known as the academic Heisman: "He's either gonna be president of the United States or good friends with the president. That's the kind of guy he is." pic.twitter.com/MylWgSmYC4

— Matt Fortuna (@Matt_Fortuna) December 5, 2018
Past Recipients of The William V. Campbell Trophy
Chris Howard (Air Force, 1990 - University President)
Brad Culpepper (Florida, 1991 - Attorney)
Jim Hansen (Colorado, 1992 - Leader in Climatology Research)
Thomas Burns (Virginia, 1993 - Engineering Executive)
Robert Zatechka (Nebraska, 1994 - Physician)
Bobby Hoying (Ohio State, 1995 - Real Estate Executive)
Danny Wuerffel (Florida, 1996 – Non-Profit Executive Director)
Peyton Manning (Tennessee, 1997 - Retired NFL Player & Philanthropist)
Matt Stinchcomb (Georgia, 1998 - Insurance Executive & TV Broadcaster)
Chad Pennington (Marshall, 1999 - Non-Profit President/High School Football Coach)
Kyle Vanden Bosch (Nebraska, 2000 - Retired NFL Player)
Joaquin Gonzalez (Miami [Fla.], 2001 - Corporate Executive)
Brandon Roberts (Washington University in St. Louis [Mo.], 2002 - Physician)
Craig Krenzel (Ohio State, 2003 - Insurance Executive)
Michael Munoz (Tennessee, 2004 - Football Executive)
Rudy Niswanger (LSU, 2005 - Corporate Executive)
Brian Leonard (Rutgers, 2006 - Retired NFL Player & Philanthropist)
Dallas Griffin (Texas, 2007 - Corporate Executive)
Alex Mack (California, 2008 - NFL Player)
Tim Tebow (Florida, 2009 - Non-Profit Chairman, TV Broadcaster & Baseball Player)
Sam Acho (Texas, 2010 - NFL Player)
Andrew Rodriguez (Army West Point, 2011 - U.S. Army Captain)
Barrett Jones (Alabama, 2012 - Financial Advisor & Broadcaster)
John Urschel (Penn State, 2013 - Ph.D. Candidate)
David Helton (Duke, 2014 - Financial Advisor)
Ty Darlington (Oklahoma, 2015 - College Football Assistant Coach)
Zach Terrell (Western Michigan, 2016 - Executive Development Associate)
Micah Kiser (Virginia, 2017 - NFL Player)