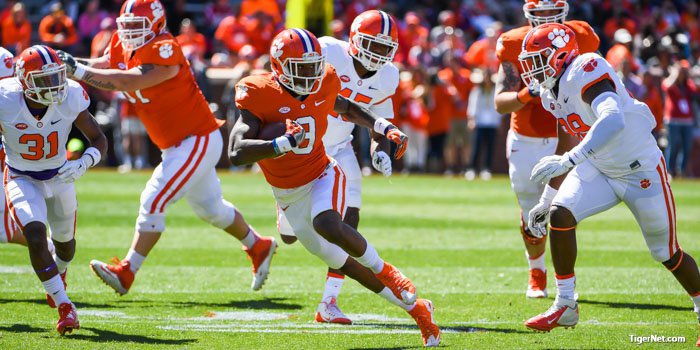 | | |
| --- | --- |
| Quick hits from the spring game | |
---
| | | |
| --- | --- | --- |
| Saturday, April 9, 2016, 4:53 PM | | |
CLEMSON – Clemson football is over until we meet again in August.
Deshaun Watson was electric, there are answers at defensive end, and Artavis Scott might be the answer in the return game.
Clemson's annual Orange and White Game ended with the Orange claiming a 17-9 win over the White.
Quick observations:
Deshaun Watson
Watson played a few series for each team, and he was as good as expected. Watson completed a 47-yard pass to Hunter Renfrow on the second play from scrimmage, and followed that up with passes of 10 yards and four yards – all to Renfrow – for an early touchdown.
Watson later hit Ray-Ray McCloud on a 61-yard touchdown pass, another pass where the wide receiver got behind the defender. He spent the rest of the half standing with head coach Dabo Swinney behind the offense, getting his mental reps.
Watson finished the day 7-for-11 for 141 yards and two touchdowns.
Gallman played deep into the second half, and he ran over Ben Boulware on one second-half carry. Gallman looked just like we thought he would – aggressive and physical – and showed a little better burst than last season. If he stays healthy, watch out. Records could fall.
Based off what we saw in the first half, Choice looks to be the guy that will back up Wayne Gallman at running back. Obviously, a lot of what Choice and Tyshon Dye and C.J. Fuller can accomplish are the result of offensive line play, but Choice runs downhill and just looks to have that burst you're looking for.
Running backs as a whole
The running back group might be the best we've seen at Clemson in a long time. Gallman is a stud and Choice looks like he could start for most teams. Add in Dye and Fuller and Tavien Feaster in the fall and Tony Elliott has a deep and talented group.
Center
The snaps from starter Jay Guillermo were spot on from what I saw. I had heard that there were a few bad snaps in the scrimmages – from backups – and there were a few that floated Saturday. However, it was a good day overall.
Artavis Scott and the kickoffs
Scott had a long kickoff and punt return in the first half, and both times he was tackled by the kicker. However, he looks like a weapon in the return game. He also had a couple of nice catches in the half.
None of the kickoffs were impressive, and the punting has been very lackluster. A strong breeze might have a little to do with that. Scott played deep into the second half and went up for a deep ball in the third quarter and came down awkwardly. He seemed to be ok.
Austin Bryant, Clelin Ferrell, Christian Wilkins and Dexter Lawrence
I like what I've seen out of Dexter Lawrence – even though he still tends to get a little high with his pads at times – but he's that immovable object we've heard about.
Wilkins has indeed spent time at defensive end, and while he hasn't made a lot of plays it also looks like he's been held on a lot of them. Love his burst off the line from the end spot. In the snaps we saw in the second half, Wilkins was everywhere.
Bryant and Ferrell have also looked good at times, especially Bryant. He looks like a guy that wants to win a job.
Quarterbacks
Other than running ability, there just doesn't seem to be a lot of separation between Nick Schuessler and Kelly Bryant, other than Bryant's ability to run the football. Both have had their good moments and their bad moments – both have a tendency to hold on to the ball too long – but Schuessler has the edge in the passing game.
Tucker Israel and James Barnes each took snaps in the second half. Barnes is walk-on and is the brother of Clemson pitcher Charlie Barnes, who earned the win at Duke Saturday. Both quarterbacks showed promise, and I would have really liked to have seen Israel with more snaps.
Israel had two really nice throws to Trevion Thompson in the fourth quarter, including one on the sideline that was a thing of beauty. Don't forget about Thompson – he's going to play some significant snaps this year.
Instant replay
Clemson was a guinea pig for the ACC's new replay system, so for the first time, we had replays in the spring game. There were three replays during the game and all three were sent to the central command center in Greensboro for the call to be made. There wasn't much of a time differential between this system and the one used in the past.
Attendance
Dabo Swinney asked for 50,000 to attend Saturday's spring game, and his wish was granted as a Clemson spring record crowd of 50,000 showed up.