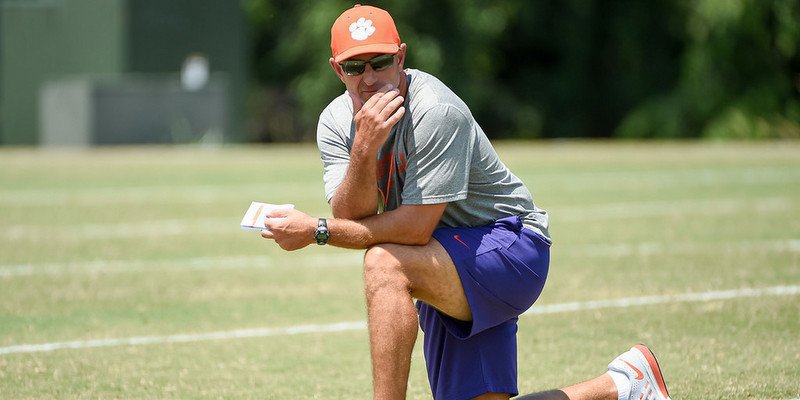 | | |
| --- | --- |
| Now it's down to details: Swinney has his team steaming toward the opener | |
---
CLEMSON – Fall camp is in the books, classes have started and the Clemson football team has started preparations for the season opener against Kent St. a week from today and head coach Dabo Swinney is pleased with how his team progressed during camp.
The Tigers and Kent St. kick off at noon in Death Valley a week from today, and Swinney says he is comfortable with the team that will take the field.
"I am as comfortable as you can be. The first game always just takes forever to get here and there is so much to do. I think we have had a good camp and I think we have had a different camp just because of the timing of everything," Swinney said. "The past two years, we have started on a Wednesday and have had two and a half weeks to get ready. I had dinner with our seniors last night and we all went out because I wanted to get some feedback from them about how they felt about camp, and they were all really positive. That made me feel a little better. We try to do a good job and now we are at that point where it is just details. It's game plan, details and taking ownership because we are getting ready to play an opponent."
Swinney said he would delve more into Kent St. over the weekend.
"I am learning a lot about them right now. They have a couple of all-conference players on the defensive side, and they are all over the place," he said. "They run a lot of what we like to call 'chaos' in their third down packages. It puts a strain on you as for how you ID guys. It's a challenge and nothing we haven't seen, but they do have a few little nuances that are unique. Studying them from last year, they had a different package every week. At the end of the day, we are fortunate because of what we practice against every day. There is really not a whole lot else you could possibly see that we don't see on this practice field."
Thursday was a day for students to try and walk on to the football team, and while there weren't any Hunter Renfrows in the group, he was impressed with what he saw.
"I think we had about 40 guys come out. That's really neat for our guys to see that many guys that love this game, too," Swinney said. "We have one spot for somebody and a lot of time that spot is determined by what we need on the scout team. We try to evaluate them for the spring, too. It's really cool to see that many guys come out and try to compete for a spot. We'll look at them again and talk about it in the morning. I did not see a 'Renfrow' per say. You never know. We have had a lot of o guys come through the walk-on program, and we have a few on the team right now."
The Tigers recently awarded four former walk-ons a scholarship – Kaleb Bevelle, Kelby Bevelle, Pat Godfrey and Will Spiers.
"I am proud of those guys. Bevelle, Godfrey are going to be graduates, and I am really proud of those guys, and they have worked hard," Swinney said. "It was big for us, too, because you can only bring mid-years in to replace a graduate. You can't bring a mid-year signee in to replace a guy you just put on scholarship or to replace a guy who leaves early. We only bring a mid-year in to replace a graduate. As you know, we are pretty tight on scholarships this year, so we have a little more room now for mid-years, which is critical because we are probably going to project about seven mid-years right now and hope to grow that to nine or ten."
MORE NOTES
On C.J. Fuller being named the starting running back
"C.J. will run out there first, and he has earned that. He's been the most consistent, and they are all going to play. I am really proud of Fuller. You saw that last year when he really started to emerge with his confidence and how he practiced and his commitment to being a good player. I am really proud of him because he is a really good football player. He's very good in the passing game and is good in protections, an excellent runner and instinctive, and he is fast. He made a couple of the biggest plays of the season last year. He made a play in the championship game and a play against Ohio State in these big moments. His confidence is really high. He's earned that at this point, but those other guys are right there."
Depth at running back
"I am very comfortable. I love all those kids at back. We are going to be able to run the football. I mean I won't even pay attention, to be honest with you. Sometimes you get a guy that just gets the juice and gets hot. We'll give all those guys an opportunity because they deserve it and I am very confident in Adam and I am very confident in Feaster and Etienne is coming. I am very confident in what he can do with the ball in his hands. The rest is still a work in progress. I have no doubts that Travis Etienne will have some big moments before the season is over. He will have several. Those other three guys are poised and ready to go on the field, and I have confidence in all of them."
Milan Richard starting at tight end
"I think he has had a great camp and is well-prepared. Now he just has to go do it. He knows what to do, and he has been in these situations. He has game experience. He is going to get the opportunity to fill the void. He just needs some success on game day and continues to build that confidence from there."
The health of the team
"Marcus was back today full speed. We had three guys out today. Amari was in green because of that ankle. The only one that is long-term right now is Richard Yeargin although they put him in a small brace, a different brace."
"He's still got some ways to go. His talent is unquestioned, but he still has to put it all together though. He's going to have an opportunity. We've got to have him. We have to get him to where he will have a role for us. Wish he was further along than where he is right now. Hopefully by mid to late season he will have his confidence where it needs to be."

Upgrade Your Account
Unlock premium boards and exclusive features (e.g. ad-free) by upgrading your account today.
Upgrade Now

Tags: Clemson Football
,
Hunter Renfrow
,
Kaleb Bevelle
,
Kelby Bevelle
,
Pat Godfrey
,
Will Spiers
,
C.J. Fuller
,
Travis Etienne
,
Milan Richard
,
Richard Yeargin
,
Xavier Kelly