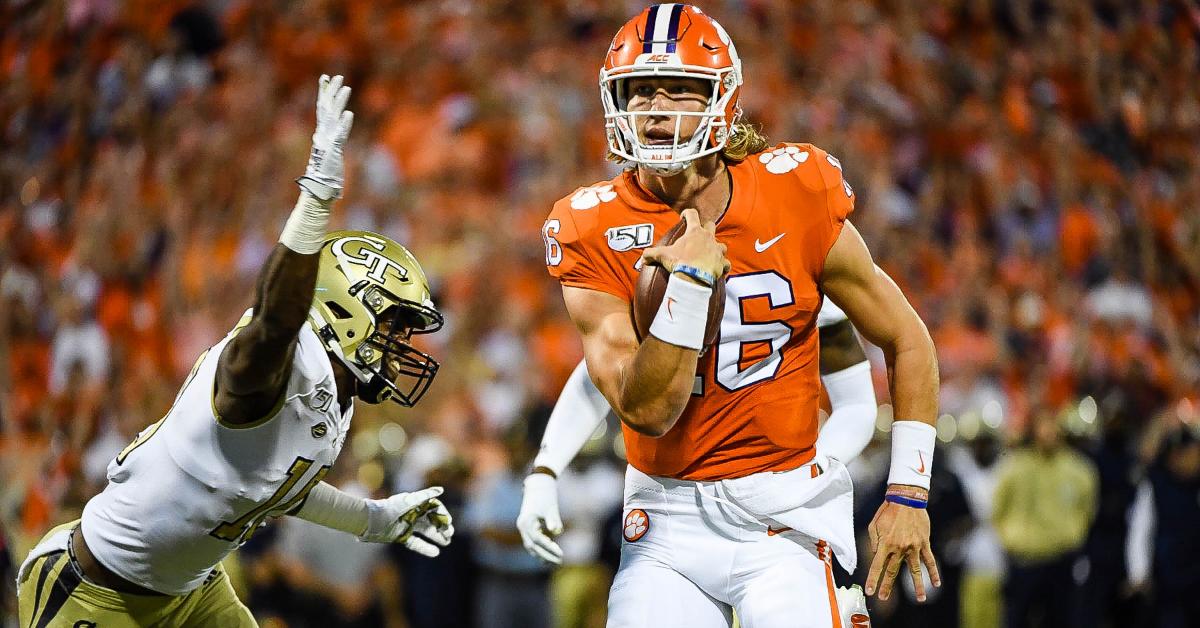 | | |
| --- | --- |
| Fall weather, open date and Dabo Swinney: Time for Tigers to make a run | |
---
CLEMSON – The arrival of the first real taste of fall coincided with Clemson's first open date of the season, and head coach Dabo Swinney made sure to give the players a three-day weekend. The extra rest usually helps under Swinney's guidance.
Clemson is 38-19 as a program after regular-season open dates but is 11-2 under Swinney. That includes a five-game winning streak dating back to the last loss – a 23-17 overtime loss to FSU in 2014 that turned into Deshaun Watson's breakout party, including last season's 41-7 victory over NC State and the win over Notre Dame in the rain in 2015. (Just a fun stat – Clemson is 69-5 since that loss to FSU. That's right, the Tigers have won 69 of 74 games since Watson took over as a freshman, and he's now in this third year in the NFL. That means Clemson has lost five games in 61 months, and UCLA has lost five games this season).
This week, the Tigers once again face Florida State after an open date. The Seminoles (3-2, 2-1 ACC) have bounced back from a tough start to the season and are over .500 overall and in ACC play after back-to-back wins over Louisville and North Carolina State. Clemson (5-0 overall and 3-0 ACC) defeated North Carolina 21-20 two weeks ago.
Because I grew up loving baseball and the stats side of things, I am a big believer in statistics. I believe if a hitter is a .280 hitter over six seasons and then has one breakout season at .300, I believe that hitter will be a .280 hitter (or worse) the next season. Why? Because you are what the numbers say you are.
The rules in football are a little less hard and fast than they are in baseball, but the numbers still apply. Clemson has won nine out of the last ten games under Swinney following an open date and usually come out swinging (to use another baseball analogy). History tells me that the Tigers are about to go on another run.
Clemson's open date came after a 63-3 victory over Wake Forest last season and all the Tigers did after the break was average 46 points per game, win nine games and a national title.
What would I love to see coming out the break in 2019? There are a few things.
*The offense use the middle of the field. I am not sure if the Tigers are missing Hunter Renfrow that much or if the playcalling is the cause. Freshman tight ends Jaelyn Lay and Davis Allen have looked good in limited action, and it would interesting to see what would happen if each player had a package of five plays, just so they could see the field and perhaps stretch the defense in the middle of the field.
I would also like to see more deep throws. I had a conversation with a former quarterback last week and he was saying that former offensive coordinator Chad Morris wanted to take two or three deep shots per quarter. He said right now it looks like Clemson is settling for two or three per game.
*Travis Etienne is touching the ball on runs a little over three times per quarter, averaging 13.4 rushes per game. Before you fuss, that is right in line with the 13.6 times per game he had last year. The difference? Tavien Feaster and Adam Choice and Lyn-J Dixon all combined to average another 15 carries per game, while this year Dixon is averaging seven carries per game and everyone else is snagging carries when they can.
Long story short – it's time to get the running game going. That also means the offensive line needs to play like one of the best groups in the nation.
*I love what Brent Venables has done with the defense. The only thing I would like to see – and this is just me – is more four-man fronts when possible. At some point Clemson is going to run across a team that will dare them to stop the run and a four-man front will be vital. UNC gashed the Tigers on the outside a few times a week ago, and you can bet other teams are watching.
*Special teams have been good, not great. BT Potter is 5-of-8 on field goals and perfect on extra points and is booming kickoffs out of the end zone. I thought Will Spiers had his best game at UNC and I hope he can build off of that.
It would be good to see someone make a big play in the return game.
There isn't really a lot that needs to change. Yes, the offense needs to start clicking and there are little things here and there. But Clemson has won 20 straight games for a reason. The numbers tell me that is pretty dang good, and the numbers say they'll be even better coming out of the open date.

Upgrade Your Account
Unlock premium boards and exclusive features (e.g. ad-free) by upgrading your account today.
Upgrade Now

Tags: Clemson Football
,
Deshaun Watson
,
Hunter Renfrow
,
Jaelyn Lay
,
Davis Allen
,
Travis Etienne
,
Tavien Feaster
,
Adam Choice
,
Lyn-J Dixon
,
BT Potter
,
Will Spiers
,
Chad Morris
,
Brent Venables