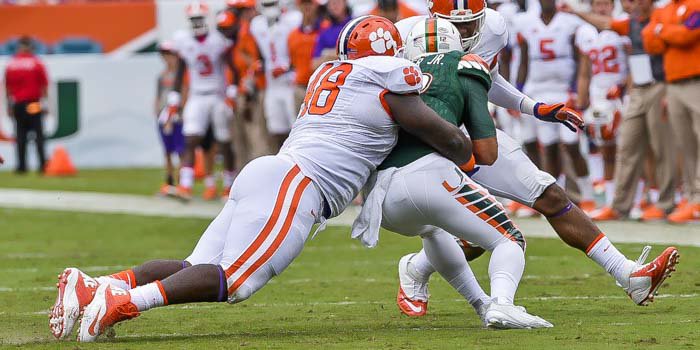 | | |
| --- | --- |
| Change at QB highlights Clemson-NCSU Depth Charts | |
---
| | | |
| --- | --- | --- |
| Monday, October 26, 2015, 12:01 PM | | |
Clemson quarterbacks Kelly Bryant and Nick Schuessler are now listed as co-backups in the latest football depth chart released on Monday morning by Clemson officials.
The second team quarterback will be decided in practice this week.
Clemson defensive tackle D.J. Reader returns to the depth chart as a co-backup with veteran Roderick Byers behind Carlos Watkins.


CLEMSON OFFENSE


Pos. 	# Player Hgt Wgt Cl.


LT 	75 Mitch Hyatt 6-5 295 Fr.


	51 Taylor Hearn 6-5 330 *Fr.


LG 	78 Eric Mac Lain 6-5 315 *Gr.


	50 Justin Falcinelli 6-3 305 *Fr.


C 	57 Jay Guillermo 6-3 325 *Jr.


	58 Ryan Norton 6-3 285 *Gr.


RG 	55 Tyrone Crowder 6-2 330 *So.


	69 Maverick Morris 6-5 300 *So.


RT 	73 Joe Gore 6-6 300 *Gr.


	63 Jake Fruhmorgen 6-6 280 Fr.


TE 	16 Jordan Leggett 6-5 255 Jr.


	81 Stanton Seckinger 6-5 235 *Gr.


	80 Milan Richard 6-2 250 *Fr.


TE 	44 Garrett Williams 6-2 235 Fr.


	89 Jay Jay McCullough 6-3 255 *Jr.


	84 Cannon Smith 6-5 260 *Fr.


WR 	13 Hunter Renfrow 5-10 175 *Fr.


	5 Germone Hopper 6-0 180 *Jr.


QB 	4 Deshaun Watson 6-2 210 So.


	2 Kelly Bryant 6-3 215 Fr.


 or 	12 Nick Schuessler 6-3 200 *Jr.


RB 	9 Wayne Gallman 6-1 215 *So.


	24 Zac Brooks 6-1 200 Sr.


	21 C.J. Davidson 5-10 200 *Gr.


 or 	22 Tyshon Dye 6-0 215 *So.


 or 	27 C.J. Fuller 5-10 210 *Fr.


WR 	3 Artavis Scott 5-11 190 So.


	34 Ray-Ray McCloud 5-10 180 Fr.


WR 	19 Charone Peake 6-3 215 *Gr.


	8 Deon Cain 6-2 200 Fr.


 or 	1 Trevion Thompson 6-2 200 *Fr.

CLEMSON DEFENSE


Pos. 	# Player Hgt Wgt Cl.


DE 	98 Kevin Dodd 6-5 275 *Jr.


	91 Austin Bryant 6-4 265 Fr.


	85 Dane Rogers 6-3 275 *So.


DT 	94 CARLOS WATKINS 6-3 300 *Jr.


	40 Roderick Byers 6-4 295 *Sr.


 or 	48 D.J. Reader 6-3 325 Sr.


DT 	56 Scott Pagano 6-3 295 *So.


	42 Christian Wilkins 6-4 315 Fr.


	50 Jabril Robinson 6-2 280 *Fr.


DE 	90 Shaq Lawson 6-3 270 Jr.


	49 Richard Yeargin 6-3 255 *Fr.


SLB 	11 Travis Blanks 6-1 210 *Jr.


	6 Dorian O'Daniel 6-1 215 *So.


MLB 	44 B.J. Goodson 6-1 250 *Sr.


	34 Kendall Joseph 6-0 230 *Fr.


WLB 	10 Ben Boulware 5-11 240 Jr.


	30 Jalen Williams 5-9 225 Fr.


CB 	2 Mackensie Alexander 5-11 195 *So.


	21 Adrian Baker 6-0 180 *So.


	29 Marcus Edmond 6-0 170 *So.


SS 	1 Jayron Kearse 6-5 220 Jr.


	18 Jadar Johnson 6-1 205 Jr.


FS 	15 T.J. Green 6-3 205 Jr.


	17 Jefferie Gibson 6-4 200 *Fr.


CB 	25 Cordrea Tankersley 6-1 195 Jr.


	31 Ryan Carter 5-9 175 *So.


	24 Mark Fields 5-10 195 Fr.

CLEMSON SPECIALISTS


Pos. 	# Player Hgt Wgt Cl.


PK 	92 Greg Huegel 5-11 185 *Fr.


	36 Ammon Lakip 5-10 200 *Sr.


P 	32 Andy Teasdall 5-11 190 *Jr.


	13 Hunter Renfrow 5-10 175 *Fr.


KO 	36 Ammon Lakip 5-10 200 *Sr.


	92 Greg Huegel 5-11 185 *Fr.


LS 	76 Jim Brown 6-4 235 *Gr.


	61 David Estes 6-1 200 *Jr.


H 	85 Seth Ryan 6-0 175 *So.


PR 	3 Artavis Scott 5-11 190 So.


	5 Germone Hopper 6-0 180 *Jr.


KOR 	27 C.J. Fuller 5-10 210 *Fr.


 & 	3 Artavis Scott 5-11 190 So.


	34 Ray-Ray McCloud 5-10 180 Fr.


* - spent one season as a redshirt player

NC STATE OFFENSE


Pos. 	# Player Hgt Wgt Cl.


LT 	54 JOE THUNEY 6-5 295 *Gr.


	53 Tyler Jones 6-3 300 *Fr.


LG 	71 ALEX BARR 6-8 318 *Gr.


	65 Garrett Bradbury 6-3 285 *Fr.


C 	60 QUINTON SCHOOLEY 6-4 298 Sr.


	70 Terronne Prescod 6-5 338 *Fr.


RG 	50 TONY ADAMS 6-2 300 So.


	56 Bryce Kennedy 6-3 305 *Jr.


RT 	66 WILL RICHARDSON 6-6 303 *Fr.


	53 Tyler Jones 6-3 300 *Fr.


TE 	86 DAVID J. GRINNAGE 6-5 265 *Jr.


	48 Cole Cook 6-6 250 So.


	89 Benson Browne 6-6 255 *Gr.


WR-X 	85 JUMICHAEL RAMOS 6-2 200 Jr.


	87 Maurice Trowell 5-11 191 *Fr.


	84 Freddie Simmons 6-3 176 Fr.


QB 	12 JACOBY BRISSETT 6-4 235 *Sr.


	2 Jalan McClendon 6-5 208 *Fr.


RB 	21 MATTHEW DAYES 5-9 203 Jr.


	27 Dakwa Nichols 5-9 195 *So.


	25 Reggie Gallaspy II 5-11 212 Fr.


FB 	28 JAYLEN SAMUELS 5-11 236 So.


	36 Max Stoffer 6-1 230 *Fr.


WR-Z 	15 JOHNATHAN ALSTON 6-0 203 Jr.


 or 	13 Bra'LON CHERRY 5-11 191 Jr.


WR-F 	7 NYHEIM HINES 5-9 190 Fr.


	30 Gavin Locklear 5-10 186 *So.


	80 Ben Grazen 5-9 190 *So.

NC STATE DEFENSE


Pos. 	# Player Hgt Wgt Cl.


DE 	90 MIKE ROSE 6-3 270 *Gr.


	45 Darian Roseboro 6-4 287 Fr.


DT 	35 KENTAVIUS STREET 6-2 290 So.


 or 	93 JUSTIN JONES 6-2 300 So.


	43 Coult Culler 6-5 280 *Fr.


NT 	98 B.J. HILL 6-4 300 So.


	94 Monty Nelson 6-2 310 Jr.


	91 Eurndraus Bryant 6-1 350 Fr.


DE 	49 BRADLEY CHUBB 6-4 260 So.


	87 Pharoah McKever 6-6 260 *So.


MLB 	4 JEROD FERNANDEZ 6-0 231 *So.


 or 	42 M.J. SALAHUDDIN 6-2 227 *Jr.


WLB 	58 AIRIUS MOORE 6-0 232 So.


	46 Ernie Robinson III 6-1 229 *Jr.


 or 	32 Riley Nicholson 6-0 229 Fr.


LCB 	20 MICHAEL STEVENS 5-11 190 So.


 or 	29 JACK TOCHO 6-0 198 Jr.


SS 	24 SHAWN BOONE 5-10 194 So.


 or 	2 JOSH JONES 6-2 215 *So.


FS 	1 HAKIM JONES 6-2 200 *Gr.


	31 Germaine Pratt 6-3 234 So.


NB 	8 DRAVIOUS WRIGHT 5-10 208 Jr.


	10 Freddie Phillips Jr. 6-1 200 Fr.


RCB 	11 JUSTON BURRIS 6-1 207 *Gr.


	6 Niles Clark 5-11 186 *Jr.

NC STATE SPECIALISTS


Pos. 	# Player Hgt Wgt Cl.


PK 	92 KYLE BAMBARD 5-8 190 Fr.


	97 Jackson Maples 5-10 195 *Fr.


P 	90 A.J. COLE III 6-4 238 Fr.


	47 William Stephenson 6-3 195 *Jr.


KO 	97 Jackson Maples 5-10 195 *Fr.


LS 	57 Tyler Griffiths 6-2 230 Fr.


	52 Ben Garnett 6-0 238 *Jr.


H 	90 A.J. Cole III 6-4 238 Fr.


PR 	13 Bra'Lon Cherry 5-11 191 Jr.


	7 Nyheim Hines 5-9 190 Fr.


KOR 	7 Nyheim Hines 5-9 190 Fr.


* - spent one season as a redshirt player

Tags: Clemson Football
,
Joe Gore
,
Eric Mac Lain
,
Ryan Norton
,
Charone Peake
,
Roderick Byers
,
Stanton Seckinger
,
Nick Schuessler
,
B.J. Goodson
,
Ammon Lakip
,
Jim Brown
,
Travis Blanks
,
Jay Guillermo
,
Zac Brooks
,
Kevin Dodd
,
Germone Hopper
,
Carlos Watkins
,
Shaq Lawson
,
Cordrea Tankersley
,
D.J. Reader
,
Jay Jay McCullough
,
Tyshon Dye
,
Wayne Gallman
,
Ben Boulware
,
Marcus Edmond
,
Dane Rogers
,
Jordan Leggett
,
Tyrone Crowder
,
Mackensie Alexander
,
Jayron Kearse
,
Jadar Johnson
,
Scott Pagano
,
Adrian Baker
,
Maverick Morris
,
Ryan Carter
,
T.J. Green
,
C.J. Davidson
,
Andy Teasdall
,
Deshaun Watson
,
C.J. Fuller
,
Trevion Thompson
,
Taylor Hearn
,
Cannon Smith
,
Jefferie Gibson
,
Milan Richard
,
Artavis Scott
,
Justin Falcinelli
,
Richard Yeargin
,
Kendall Joseph
,
Jabril Robinson
,
Jalen Williams
,
David Estes
,
Seth Ryan
,
Hunter Renfrow
,
Garrett Williams
,
Kelly Bryant
,
Mark Fields
,
Mitch Hyatt
,
Austin Bryant
,
Ray-Ray McCloud
,
Deon Cain
,
Jake Fruhmorgen
,
Christian Wilkins
,
Greg Huegel