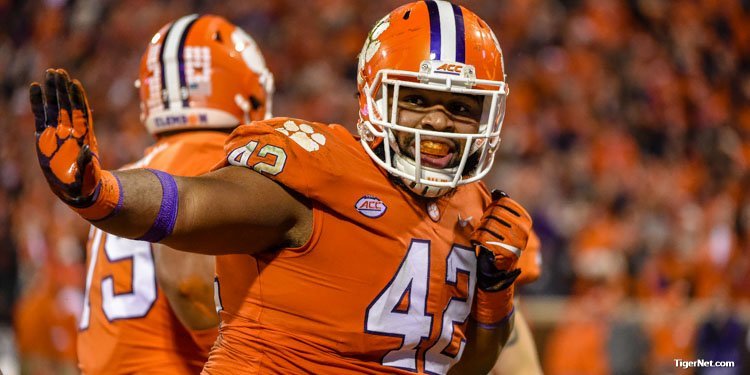 | | |
| --- | --- |
| Postgame notes Part II for Clemson-Pittsburgh | |
---
| | | |
| --- | --- | --- |
| Sunday, December 2, 2018, 1:05 AM | | |
GAME NOTES
Including the 42 points against Pitt, Clemson has now scored 590 points, breaking the school record for points in season, held previously by the 2016 Tigers (588).
Clemson scored 40 points in a ninth game this season, breaking a tie with the 2012 and 2013 Tigers (eight each) for the most 40-point games in a season in school history.
Clemson set an ACC Championship Game record by limiting Pitt to 200 total yards. Clemson surpassed its own previous championship game record for fewest yards allowed in the title game (214 vs. Miami in 2017).
Clemson allowed only eight passing yards, breaking the ACC Championship Game record of 84 allowed by Boston College against Virginia Tech in 2008.
Clemson allowed 510 passing yards to South Carolina last week before allowing only eight passing yards to Pitt on Saturday. The 502-yard week-to-week improvement in passing yardage allowed is the most in Clemson history, surpassing a 370-yard week-to-week improvement earlier this season in games against Texas A&M and Georgia Southern.
Clemson extended its existing school record by winning an eighth consecutive game by 20 or more points for the first time in school history.
Clemson has now scored 27 or more points in 13 straight games for the first time in school history, extending its existing record.
Clemson rushed for 301 yards. It was the team's fifth 300-yard rushing game of the season, tying the school record set by the 1978 squad.
Including a 351-yard rushing effort against South Carolina a week ago, Clemson has now rushed for 300 yards in back-to-back games for the first time since 2015 against North Carolina and Oklahoma.
Clemson pushed its season rushing yardage total to 3,377, the second-best mark in school history. The 2018 Tigers trail only the 1978 Tigers (3,469, first) on the school's all-time leaderboard for rushing yards in a season.
Clemson recorded a season-high-tying three one-play scoring drives in the game, with all three coming in the first half. Clemson posted three one-play scoring drives against Wake Forest in October.
Including 13 first downs gained against Pitt, Clemson has now recorded the eighth season in school history with at least 300 first downs (311).
Clemson outrushed Pitt, 301-192, and outrushed an opponent for the 12th time this season. The Tigers have outrushed opponents in 23 of their 27 games since 2017 and are 23-0 when outrushing opponents in that time frame.
Running back Travis Etienne amassed 156 yards with a pair of touchdowns on 12 carries, earning MVP honors for his performance.
By virtue of adding his two touchdowns to his career total, Etienne tied Wayne Gallman (34 from 2014-16) for third on the school's leaderboard for career rushing touchdowns.
Including his 156 yards against Pitt, Etienne has now recorded only the second 1,400-yard rushing season in school history (Wayne Gallman in 2015).
Etienne became the fifth Clemson player to rush for 100 yards in an ACC Championship Game, joining C.J. Spiller (223 in 2009), Andre Ellington (125 in 2011), Wayne Gallman (187 in 2015) and Deshaun Watson (131 in 2015).
With 12 points in the contest, Etienne pushed his season point total to 132, breaking C.J. Spiller's mark for the most by a non-kicker in school history (128 in 2009).
Clemson opened the scoring with a 75-yard touchdown run by Etienne. At 13 seconds into the game, the touchdown was the fastest in ACC Championship Game history.
The 13 seconds represented Clemson's shortest time of possession prior to its first score of a game since the 2014 Russell Athletic Bowl, when Clemson needed only 12 seconds to score on its first offensive possession.
Clemson scored with 14:47 remaining in the first quarter. The 13 seconds of elapsed game time marks Clemson's fastest score in a game since Joe Woods scored on a 80-yard touchdown pass from Nealon Greene 13 seconds into Clemson's game against Wake Forest on Sept. 28, 1996.
The touchdown was Etienne's 20th rushing touchdown of the season, adding to Etienne's existing school record and making him the first in school history to record 20 rushing touchdowns in a season.
The 75-yard run by Etienne was longest allowed by Pitt all season.
Etienne's 75-yard run also represented the longest play from scrimmage in ACC Championship Game history.
Etienne added his second touchdown of the evening on a three-yard run in the first quarter.
Etienne's second touchdown of the game was Clemson's 76th of the season, passing the 2016 Tigers (75 in 15 games) for the most total touchdowns in a season in school history.
Etienne's second touchdown of the game was also his 22nd total touchdown of the season (including one via reception), breaking Spiller's single-season school record of 21 from 2009.
Quarterback Trevor Lawrence completed 12 of 24 pass attempts for 118 yards and a pair of touchdowns.
During the contest, Lawrence broke Kyle Parker's record for passing yards by a freshman (2,526 in 2009). Lawrence already owned the school record for passing yards by a true freshman.
Lawrence pushed his season passing yardage total to 2,606, moving past Cullen Harper (2,601 in 2008) for ninth on the school's leaderboard for passing yards in a single season in school history.
Wide receiver Tee Higgins scored on touchdown receptions of five yards and 10 yards in the second quarter.
With his second touchdown of the game, his 10th touchdown reception of the season, Higgins broke Deon Cain's school record for receiving touchdowns by a sophomore (nine in 2016).
Higgins became only the seventh player in school history to record 10 receiving touchdowns in a single season. He is now tied with Derrick Hamilton (10 in 2003) for sixth-most in a season in school history.
Running back Adam Choice scored his career-high seventh rushing touchdown of the season on a one-yard run in the fourth quarter. His seven rushing touchdowns this season surpassed his previous mark of six, set in 2017.
Wide receiver Hunter Renfrow added to his school records for career starts by a wide receiver (45) and consecutive games with a reception (41).
Defensive tackle Dexter Lawrence pushed his season sack total to 1.5 and his career sack total to 11.0, recording a third-down sack to force a three-and-out on Pitt's first possession.
In the first quarter, linebacker Isaiah Simmons his third forced fumble of the season, the fourth of his career. The fumble was recovered by defensive tackle Christian Wilkins, his fourth career fumble recovery.
Cornerback A.J. Terrell recorded his team-lead-tying second interception of the season in the second quarter, his first since Sept. 29 against Syracuse.
Linebacker Tre Lamar added his third sack of the season in the third quarter, pulling him one sack shy of his career high from 2017 (4.0).
Linebacker Chad Smith recorded his first career fumble recovery on a fourth-down stop in the fourth quarter.
Defensive end Clelin Ferrell made his 42nd career start to pull within one of Levon Kirkland's school record for starts by a defensive end/outside linebacker (43 from 1988-91).
On his first PAT of the game, kicker Greg Huegel broke the school record for PATs held previously by Chandler Catanzaro (203).
Huegel made his 46th career start at kicker to tie Nelson Welch for third-most starts by a Clemson kicker all-time (52, Chandler Catanzaro; 47, Aaron Hunt; 46, Nelson Welch).
Punter Will Spiers recorded a season-long and ACC Championship Game record 63-yard punt in the second quarter, one-yard shy of his career long of 64 yards set at Louisville in 2017.
Defensive tackle Christian Wilkins played his 57th career game to tie fullback Chad Diehl's school record of 57 career games played from 2007-11.
Captains for the contest were defensive end Austin Bryant, defensive end Clelin Ferrell, tackle Mitch Hyatt and tight end Milan Richard.
WITH THE WIN…
Clemson won its 24th conference championship in school history. The Tigers now boast four SIAA championships, two Southern Conference championships and 18 ACC championships to their credit, and their 24 total conference championships are the most among the ACC's current membership.
Clemson secured its conference-leading 18th all-time ACC championship, three ahead of the 15 earned by Florida State.
Clemson became the first team in ACC history to win four consecutive ACC titles outright. Florida State earned at least a share of nine consecutive ACC titles from 1992-2000 but never earned more than three consecutive titles outright.
Clemson joined the 1993-96 Florida Gators as the only Power Five conference teams to win four consecutive conference championship games. (Note: Earlier in the day, the Oklahoma Sooners won their fourth consecutive Big 12 championship, only two of which included a Big 12 Championship Game victory after the conference reinstituted the championship game in 2017).
Clemson won its 53rd game in the last four years to add to existing school and ACC records for wins held by Clemson's 2018 senior class. It tied the 2014-17 Alabama Crimson Tide for the second-most wins by a senior class in FBS history. (Note: The 2015-18 Alabama class pushed its record to 54 wins with a victory on Saturday).
Clemson improved to 13-0 for only the second time in school history, joining the 2015 Tigers, who started 13-0 en route to a 14-1 finish.
The 2018 Tigers won their 13th game to take sole possession of third place for the most wins in a season in school history. It brings the 2018 team one win shy of the team record of 14 wins, set by the 2015 and 2016 Tigers.
Clemson earned its first all-time win against Pittsburgh. The Tigers entered the week 0-2 all-time against Pittsburgh.
With the win over Pittsburgh, Tigers have now won their most recent meeting against all 13 ACC institutions.
Clemson won its 13th straight game, which ties streaks from the 1939-40 and 1980-82 seasons for the third-longest winning streak in school history.
Clemson's 2018 senior class improved upon its current winning percentage since 2015 to .930, which far outpaces the school record set by the 2017 seniors (.877, 50-7). The class can now finish with a winning percentage of no worse than .914, which makes the 2018 senior class the first in school history to field a winning percentage of .900 or better.
The victory was Clemson's 101st of the decade.
Clemson won its ninth straight game in the month of December, a streak that dates back to the 2011 ACC Championship Game against Virginia Tech. Prior to the current streak, Clemson had never won more than three consecutive December games.
Clemson improved to 37-0 when scoring first since 2015.
Head coach Dabo Swinney earned his 114th career victory to pass Frank Beamer (113) for third-most career wins as head coach of an ACC program. (Note: Beamer's figure reflects his 113 wins after Virginia Tech joined the ACC as a member institution, excluding his victories as an independent or as a member of other conferences).

Tags: Clemson Football
,
Travis Etienne
,
Wayne Gallman
,
C.J. Spiller
,
Andre Ellington
,
Deshaun Watson
,
Trevor Lawrence
,
Kyle Parker
,
Tee Higgins
,
Deon Cain
,
Adam Choice
,
Hunter Renfrow
,
Dexter Lawrence
,
Isaiah Simmons
,
Christian Wilkins
,
AJ Terrell
,
Tre Lamar
,
Chad Smith
,
Clelin Ferrell
,
Levon Kirkland
,
Greg Huegel
,
Chandler Catanzaro
,
Will Spiers
,
Chad Diehl
,
Austin Bryant
,
Mitch Hyatt
,
Milan Richard