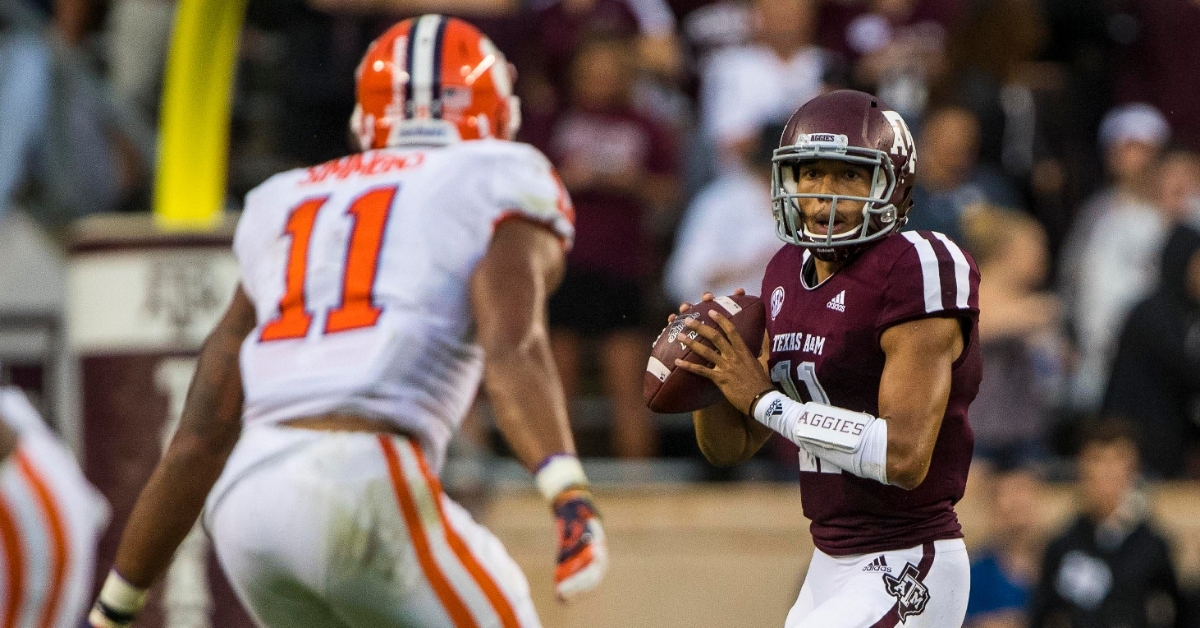 | | |
| --- | --- |
| Advanced outlook: Clemson-Texas A&M projections | |
---
| | | |
| --- | --- | --- |
| Thursday, September 5, 2019, 10:47 AM | | |
Two top-15 teams. ACC vs. SEC. Two-point game in College Station last season. And No. 1 Clemson a 17.5-point favorite over No. 11 Texas A&M on Saturday.
Those don't all seem to go together but Clemson football has made the decision-makers in the desert err on the side of caution when it comes to projected game spreads.
Why? The dominance of the Tigers with Trevor Lawrence at the helm.
Clemson has covered increasingly bigger spreads in nine of their last 11 games, including a gigantic number in the ACC opener versus Georgia Tech (-37; won by 38) and flipping a role as an underdog to a 28-point victory over Alabama in January.
Only a game into the season, we have a small sample size on just what the makeup of Clemson and Texas A&M will be. They also both started with lesser opponents and didn't have to show the full arsenal in week one. Here's how they stand in two ESPN metrics:
| Efficiency ranks | Offense | Defense | Special teams |
| --- | --- | --- | --- |
| CU ESPN eff. ranks (No. 4 overall) | 31 | 7 | 5 |
| TAMU ESPN eff. ranks (No. 9 overall) | 14 | 10 | 63 |
| CU SP+ ranks (No. 2 overall) | 10 | 15 | Not listed |
| TAMU SP+ ranks (No. 9 overall) | 46 | 18 | Not listed |
(SP+ is a metric from ESPN's Bill Connelly, formerly of Football Outsiders and SB Nation, that combines ratings for the five factors of efficiency, explosiveness, field position, finishing drives and turnovers. FPI is ESPN's Football Power Index with similar statistical factors weighing together).
You can largely throw out your images of the 2018 Clemson offense versus the Aggies in the 28-26 win, which really didn't feature much of the dynamic trio of Trevor Lawrence (only nine passes, 64 of 93 yards on a single TD to Tee Higgins), Travis Etienne (8 carries for 44 yards, TD v. 2018 No. 3-ranked A&M rushing defense) and Justyn Ross (one snap, no catches).
The Aggies defense boasts a talented roster in transition, losing its top-six tacklers from 2018 and a good chunk of that production gone upfront. If there's one spot to watch for a change from last year's game, it's the effectiveness of Clemson's ground game (3.6 yards per carry) -- especially with what Lawrence has shown early in effectiveness with the zone-read plays.
On the other side, an inconsistent Aggies QB Kellen Mond had a career effort against a vaunted Brent Venables defense, tossing for 430 yards and three touchdowns without an interception. He only passed for over 300 yards once again over the remaining 11 games that season and had a sub-60 completion percentage in six of those games.
The Aggies didn't have to show much versus Texas State in a 41-7 week one win, but Mond was an efficient 19-for-27 passing for 194 yards and three touchdowns with an interception. Mond also had at least a pair of beautifully-thrown passes that receivers didn't haul in to pad those stats a little more. He has all the tools to be one of the best QBs in college football and we will see if he can string together a pair of good games.
What helps that out is a receiver corps few can match west of the Mississippi, with the top-three targets from last year's game back and another who scored a touchdown in Quartney Davis, who saw six catches for 85 yards and another score in the opener. Six-foot-4 target Kendrick Rogers posted seven receptions for 120 yards and two touchdowns in the 2018 matchup.
Dabo Swinney has pointed to busts in pass defense as a priority to fix in 2019 with a largely veteran crew. Clemson ranked 85th last season in passes of 20 or more yards surrendered (45) and the Aggies connected on 10 of them versus the Tigers last year -- also moving the chains on a couple pass interference flags from downfield throws.
The test will also extend upfront for Clemson versus a sizable and talented A&M offensive line, which could balance out the offensive attack in this year's edition. The Aggies list not one, not two but five co-starters at running back -- led by freshman Isaiah Spiller in week one with seven carries for 106 yards.
Special teams will be an interesting X-factor one way or another Saturday after a strong effort from the Tigers in week one, landing at No. 5 nationally in special teams efficiency per ESPN. Texas A&M returns its key members of the special teams unit from last season, including a punter in Braden Mann who averaged 51 yards per attempt (averaged 55 per versus Clemson).
As far as game projections go, they are all over the board on picks in Clemson's favor.
TeamRankings.com projects a margin right around the Vegas line, by 17.5. The ESPN-flavored-now SP+ (formerly S&P+) likes the Tigers in a 37-24 predicted final score. And Football Outsiders' FEI formula picks the Tigers by 24 points.
Given the number of unknowns going in -- while the upset prescribed by the Texas A&M's Jared Hocker is probably not in the cards -- the scoring margin could be all over the board.
| Metrics outlook | Projection |
| --- | --- |
| SP+ projection | 76% Clemson (By 12.3 points) |
| ESPN FPI | 87.5% Clemson |
| FEI | 89% Clemson (by 24.1 points) |