| | |
| --- | --- |
| Star-Studded Weekend in Death Valley | |
---
| | | |
| --- | --- | --- |
| Friday, April 5, 2019, 12:27 PM | | |
Clemson's spring game could see the greatest collection of star power ever in Death Valley.
The Clemson coaching staff will host six 5-star recruits this weekend for the annual Orange and White Game and many of the prospects have the Tigers already at or near the top of their lists.
The No. 1 defensive player in Damascus (MD) defensive lineman Bryan Bresee and the No. 1 offensive player in Bellflower (CA) St. John Bosco quarterback DJ Uiagalelei are both slated to attend.
For Uiagalelei, the spring game will be another event during his five-day stay at Clemson. The California native made the trip with this father, mother, brother and one of his high school coaches and is hoping that his mom sees everything she wants to ahead of a May or June decision.
Bresee was on hand for January's elite junior day and has held Clemson is high regard since then, although his recruitment will probably still play out for a little while longer.
A pair of 5-star running backs in Demarkcus Bowman out of Lakeland (FL) and Zachary Evans out of Houston (TX) North Shore are expected to be on hand.
Bowman recently visited with his parents and left Clemson with the Tigers alone atop his list, ahead of Florida. Evans has said an offer from Clemson is one he covets, so if the visit materializes his wish could come true.
5-star Jacksonville (FL) Trinity Christian cornerback Fred Davis has been thought to have Clemson as his leader for a while now, and the Tigers could seal the deal this weekend if he decides to end his recruitment.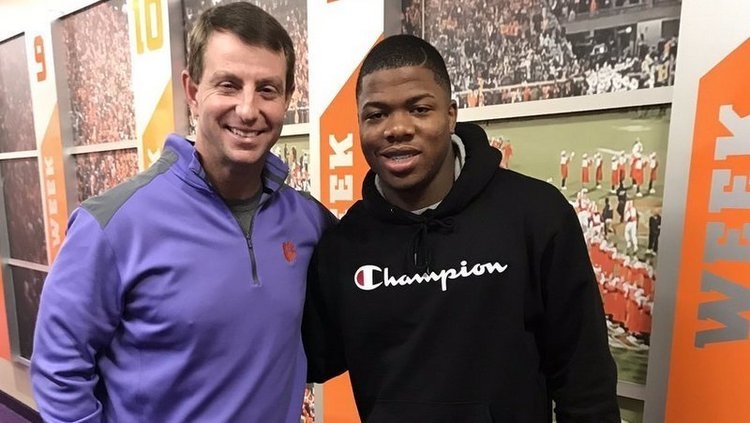 Antoine Sampah – the Woodbridge (VA) 5-star linebacker – is making his return trip to campus after visiting for Clemson's elite junior day back in January. Clemson is in Sampah's top eight along with Florida State, Alabama, North Carolina, West Virginia, Florida, Penn State and Oregon.
One recruit on commitment watch is 4-star Southlake (TX) Carroll safety R.J. Mickens, who will be returning to campus after visiting for junior day last month.
Below is a list of expected visitors, but as always the list remains fluid. We'll keep you updated with any changes throughout the weekend.
2020 Commits
Sergio Allen, 4-star LB, Fort Valley (GA) Peach County
Mitchell Mayes, 4-star OL, Raleigh (NC) Leesville Road
Walker Parks, 4-star OL, Lexington (KY) Frederick Douglass
Kevin Swint, 4-star LB, Carrollton (GA)
Paul Tchio, 4-star OL, Alpharetta (GA) Milton
Bryn Tucker, 4-star OL, Knoxville (TN) Catholic
John Williams, 4-star OL, Canton (GA) Creekview
Tre Williams, 4-star DT, Washington (DC) St. John's
2020 Prospects
Demarkcus Bowman, 5-star RB, Lakeland (FL)
Bryan Bresee, 5-star DL, Damascus (MD)
Quinn Castner, K, Fort Mill (SC) Nation Ford
Fred Davis II, 5-star CB, Jacksonville (FL) Trinity Christian
Zachary Evans, 5-star RB, Houston (TX) North Shore
Henry Gray, 4-star CB, Miami (FL) Central
Malcolm Greene, 4-star DB, Highland Spring (VA)
Jalen Harrell, 4-star CB, Miami (FL) Central
KeAndre Lambert, 3-star WR, Norfolk (VA) Maury
Diego LaMonica, TE, Miami (FL) Gulliver Prep
RJ Mickens, 4-star S, Southlake (TX) Carroll
Daniyel Ngata, 4-star RB, Folsom (CA)
Clyde Pinder, 4-star DT Tampa (FL) Armwood
Antoine Sampah, 5-star LB, Woodbridge (VA)
Trenton Simpson, 4-star LB, Charlotte (NC) Mallard Creek
Ladarius Tennison, 4-star DB, Rockledge (FL)
D.J. Uiagalelei, 5-star QB, Bellflower (CA) St. John Bosco
E.J. Williams, 4-star WR, Phenix City (AL) Central
2021 Prospects
Terrence Ferguson, OT, Fort Valley (GA) Peach County
James Gillespie, DT, Woodbridge (VA)
Tim Keenan, DT, Birmingham (AL) Ramsey
J.C. Latham, DE, Bradenton (FL) IMG
Ryan Linthicum, C, Damascus (MD)
Colston Powers, OL, Daleville (VA) Lord Botetourt
Evan Pryor, 4-star RB, Cornelius (NC) Hough
Landyn Watson, 4-star DE, Hutto (TX)
Jeremiah Williams, LB, Birmingham (AL) Ramsey
2022 Prospects
Travis Shaw, DT, Greensboro (NC) Grimsley
Elijah Zollicoffer, DT, Newton (GA) Covington

Tags: Clemson Football
,
Bryan Bresee
,
Antoine Sampah
,
Mitchell Mayes
,
Walker Parks
,
Kevin Swint
,
Paul Tchio
,
Bryn Tucker
,
John Williams
,
Tre Williams
,
Henry Gray
,
Malcolm Greene
,
Jalen Harrell
,
KeAndre Lambert
,
Daniyel Ngata
,
Ladarius Tennison
,
E.J. Williams
,
Sergio Allen
,
Fred Davis II