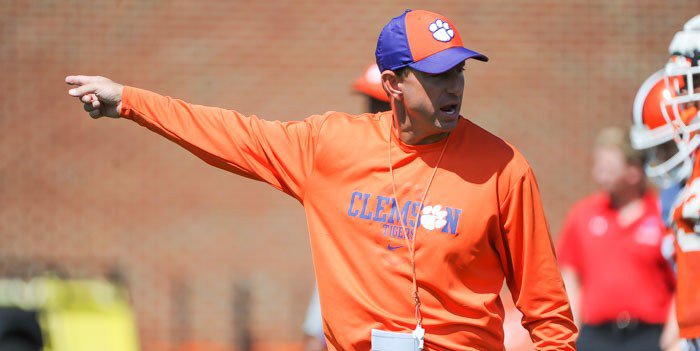 | | |
| --- | --- |
| Game Week: Swinney updates injuries, talks Auburn and Kevin Steele | |
---
| | | |
| --- | --- | --- |
| Sunday, August 28, 2016, 7:09 PM | | |
Game week is here.
Clemson head coach Dabo Swinney met with the media via conference call Sunday evening, and he said season opener's take forever to arrive while the seasons by too fast.
"We're getting ready to officially start the first game week. This game seems like it takes the longest to get to every year just because you've got more time to get to that first game with almost a month of camp and preparation," Swinney said. "All of a sudden, once you get to the first game, it's like you've got so much to do - Sunday, Monday, Tuesday Wednesday to try to get ready for that next one - it always goes so fast. We're happy that it's finally game week and we look forward to having a game to play this weekend and see where we are."
His goal this first week? Just win the opener.
"It's a long season, a lot of work in front of us and we have 12 Saturdays that we're guaranteed. Our approach doesn't change. We want to win the opener and try to get off to a good start. It will take an incredible effort to be able to find a way to win at Auburn," he said. "I've been down there many times. It's as good an environment as there is. Their fans will show up. It will be a highly contested game and I'm sure a great one to watch. We have a lot of respect for Auburn. They have a bunch of talent on that team. I know they're coming off of a disappointing season last year, but if you really pull the curtain back on their games last year, they competed their tails off and had a chance to win several more games. It truly is a fine line - a play here or a play there.
"We're coming off a great year, but none of that matters. This is about this season and these two teams. Someone will win, someone will lose but I think that both teams will have opportunities to have excellent years. We're just focused on trying to get a good plan and make sure we put our best foot forward together Saturday night. We're relatively healthy. We did lose Austin Bryant, which was a big loss for us. We have to have several guys step up and fill that void at a position where we were already thin, losing some great players like Kevin Dodd and Shaq Lawson. We're excited about it and looking forward to traveling down there on Friday and getting this thing started."
Health of the team
"Good. Good. We still have another week to go as far as practice and prep and all of that type of stuff, but right now we're in a good spot."
"Chandler (Reeves) is doing great. It was a torn ACL and we've already repaired it. We started the road to his comeback last week. It's disappointing for him, but he'll be better than ever. He had surgery on Thursday of last week. Carlos (Watkins) is fine. He hasn't missed any practice. He is ready to go. He'll start for us and we expect him to play very well. Xavier Kelly - nothing has changed with him as far as our plan for him. Right now, we're just going to keep getting him ready and probably make a decision on him here in the near future as far as a redshirt. That decision has not been made. Barring a catastrophe or something, we won't play him this week. We're going to make that decision a little bit later and evaluate where are."
Q: Does Auburn look much different to you versus the last time you faced them in 2012?
"People always change. They look different. We look different because you've got a bunch of different people. Auburn is always Auburn in that you turn on the tape and they've got dudes that can run, they've got size, and athleticism. They have been well-coached for a long time. That part of it never changes."
Q: What are some keys for your team in preparation this week?
"Just continuing dot the I's and cross the T's of what our actual plan is going to be. You spend all of camp really working on yourself and trying to get ready for the season and then last week, you kind of turn the page and really start focusing on an opponent and getting the game plan ready. For us, we want to make sure that guys have a great understanding of what we're doing and why we're doing it, how their job impacts the play or the call or whatever. We want to make sure that we're as sound as we can be going into a very difficult challenge. Again, both team have more time to prepare for this game than we will all year. There are unknowns.
"They have players we don't know a lot about and we've got players that they don't know a lot about. You think that you know, but you don't ever really know until you can see a team two or three games as far as what their personality is going to be for that given year. You look at last year and you study tape. They've got a new coordinator so we're studying a lot of LSU, but those are different people running around, so there are unknowns. You try to get yourself ready to know what you're doing and be able to apply it to whatever you may see because there will be some unknowns and adjustments that will have to be made. Getting them fresh so they don't have camp legs. I think our schedule has been good and we'll continue that process this week of getting them mentally and physically ready."
Q: You are quite familiar with Kevin Steele. How difficult a decision was it to part ways with him in 2012?
"Very difficult because I have a tremendous amount of respect for Coach Steele. He is a great football coach, a great man and has a great family that I have a tremendous amount of respect for and love for. Coach Steele was a huge part of us laying a foundation here in 2009, 2010 and 2011. He helped us win our first ACC Championship in 20 years. I have great respect for who he is and his work ethic and all of those things. It's always difficult when there is a change. It was a situation that I just felt like he needed a change and I felt like I needed a change, but it has nothing to do with how I feel about him as a man and a coach. It's pretty obvious the type of respect that people have for Coach Steele and the type of coach he is. You don't get jobs at Alabama, LSU and Auburn if you're not a heck of a coach and that's what he is."
Q: What do you remember about your last time at Auburn?
"It was kind of the story of our season that year. We didn't end up with a great record but I knew that year we were on the right track as far as the type of culture that we were building with our players and I thought that game was the epitome of it as far as how the season went. We lost five games by six points or less - two of them in overtime on the last play of the game. It's also one thing to see Cam Newton on film and another thing to see him in person. We were up 17 at one point and I knew we didn't have enough and that's what great players do. I don't think anybody knew just how good Cam Newton was.
"By the end of that year everybody did. It was a great environment. Auburn is never going to be out of it at home. You're kind of down when you get off the bus there. You've got a lot of work to do. Our guys competed hard and it was a very physical game. I remember we had opportunities to win it. We had an open guy in the endzone by himself in overtime right before the kick and we don't make the play. Then we make the kick in overtime and we flinched the ball and then we have to kick it again. Chandler Catanzaro was a freshman that year - he missed a lot of easy kicks but made a lot of long kicks. He went on to be the leading scorer in the history of our school. It was a tough game that night. I remember that locker room, but a part of our journey to be where we are. Hopefully we can find a way to come out on the right side of it this time."
Q: Your reaction to Auburn naming Sean White as their starting quarterback and losing a starter possibly to discipline"
"I don't have any reaction to that. I'm just focused on our guys. I'm not surprised they named White their starter. He played very well at times last year as a young player. I'm sure that they've evaluated that decision all off-season. You don't make that decision when they did without being confident in him. He's a highly recruited guy who's the starter at Auburn and that doesn't happen by luck. He's capable of leading that team and winning. I'm sure they'll try to see the backup in a different role. They'll probably try to get him in the game, as well."

Upgrade Your Account
Unlock premium boards and exclusive features (e.g. ad-free) by upgrading your account today.
Upgrade Now