TigerNet

is the oldest and largest Clemson Community online with 152,606 members, 58,200 news articles and 29M forum posts.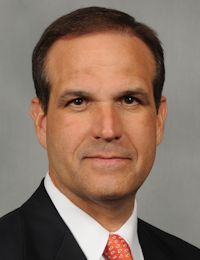 Kevin Steele
Position:
Defensive Coordinator / Linebackers
Born:
March 17, 1958 in La Jolla, CA
As a Player:
Furman in 1976, transferred to Tennessee and played in 1978,79
College:
Undergraduate degree from Tennessee in 1981
Coaching:

2009–2011:

Clemson (DC/LB)

2008:

Alabama (associate HC)

2007:

Alabama (DC)

2002–2006:

Florida State (assistant)

1999–2002:

Baylor (Head)

1995–1998:

Carolina Panthers (LB)

1989–1994:

Nebraska (LB)

1987–1988:

Tennessee (DB)

1984–1986:

Oklahoma State (LB/TE)

1983:

New Mexico State (LB)

1982:

Tennessee (OLB)

1980–1981:

Tennessee (OLB)
B I O
• Has 25 years of experience in the college ranks and four in the NFL with the Carolina Panthers.
• Has coached in 18 bowl games, including eight that are considered BCS bowls. That includes six Orange Bowls.
• Has been on 12 coaching staffs that have finished in the top 25 at six different schools.
• Rated as the #10 recruiter in the nation during a 10-year stretch (2002-11) by Rivals.com.
• His 2010 defense was 13th in the nation in scoring defense and best in the ACC.
• Helped Clemson to an ACC Atlantic Division title and top-25 AP ranking in his first year (2009). Clemson's 2009 defense finished in the top 25 in the nation in seven different categories.
• Has coached under National Championship Head Coaches Bobby Bowden, Johnny Majors, Tom Osborne, and Nick Saban in his career that dates to the 1982 season.
• Spent the 2007 and 2008 seasons at Alabama under Nick Saban and helped the Crimson Tide to the 2008 SEC Championship game. Alabama finished the regular season with a 12-0 record and finished third in the nation in total defense, fourth in rushing defense, and sixth in scoring defense in 2008.
• Spent 2003-06 at Florida State, where he was executive head coach and linebackers coach under Bobby Bowden.
• Named the nation's top recruiter by Rivals.com in 2005.
• Served as head coach at Baylor (1999-02) and assistant coach with the Carolina Panthers (1995-98).
• Coached six years at Nebraska (1989-94), as it had a 61-11-1 record and won four Big 12 titles.
• Member of the 1994 Nebraska staff that won the national title.
• Coached at his alma mater (Tennessee) in 1987 and 1988, helping it to a 10-2-1 record in 1987.
• In 1984, he helped Oklahoma State to a 10-2 record and #5 ranking in the final AP poll.

Playing Experience
Began his football career at Furman in 1976...transferred to Tennessee and played in 1978,79.

Education
Earned an undergraduate degree from Tennessee in 1981.

Personal Data
Born March 17, 1958 in La Jolla, CA...he and his wife, Linda, have a son, Gordon, and daughter, Caroline.

*Courtesy Clemson Media Guide
| | |
| --- | --- |
| | VIDEO HIGHLIGHTS |
Latest Kevin Steele News
Click the link below to read more!