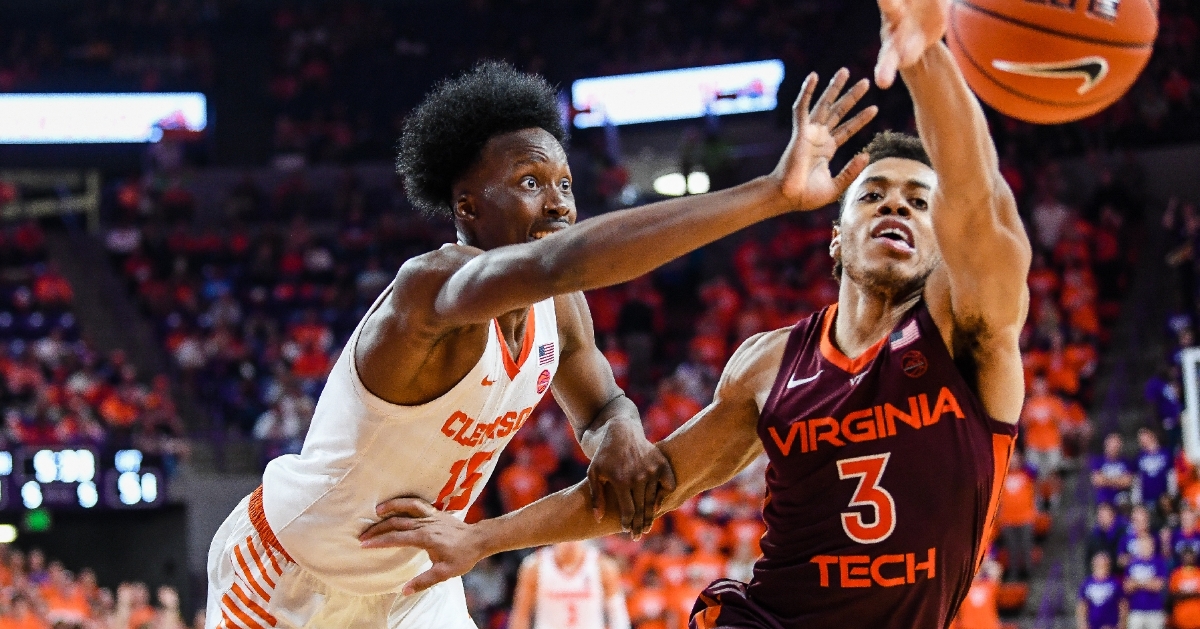 | | |
| --- | --- |
| Clemson takes on TCU in Las Vegas Sunday | |
---
| | | |
| --- | --- | --- |
| Saturday, November 23, 2019, 5:48 PM | | |
The Clemson Tigers (4-1) will take on the TCU Horned Frogs (4-0) on Sunday, Nov. 24 in its first game out West in the MGM Main Event. Tipoff from T-Mobile Arena in Las Vegas, Nevada is slated for 10:30 p.m. ET.
The contest will be televised on ESPN2 with Andy Kennedy and Tom Hart calling the action courtside, while Don Munson and Tim Bourret will call the action on the radio waves. The radio call will be available on the Clemson Tigers Network and Tunein.com.
CLEMSON BASKETBALL HEADLINES
• Clemson basketball student manager Wells Hoag was elevated to the active roster on Wednesday, Nov. 20. Hoag made his collegiate debut against Alabama A&M on Nov. 21 and played 7.5 minutes on the floor for the Tigers.
• The Tigers are outscoring opponents off turnovers this season by a decisive margin of 124-57.
• Clemson has scored 80+ points in each of its last three contests. It marks just the third time that Clemson has scored 80+ points in three-straight games under head coach Brad Brownell.
• Hunter Tyson turned in a career performance against Detroit Mercy (Nov. 17), scoring 20 points on seven made field goals, including five 3-pointers. Tyson was the first Tiger to score 20 points coming off the bench since Marcquise Reed against South Carolina (Dec. 22, 2018).
• Tyson followed up his 20-point performance with a 10-point outing against Alabama A&M. It was just his second double-digit scoring outing of the season. He's upped his shooting percentage to 46.9 percent over those two games.
• The Tigers tallied a season-high 20 assists in the 22-point victory over the Titans. The first 20-assist game for the Tigers since last year's season opener against The Citadel (Nov. 6, 2018).
• With Al-Amir Dawes and Chase Hunter primarily starting in the backcourt as freshmen, the Tigers start a sophomore, junior and a graduate transfer.
• With the exception of a graduate transfer, the Tigers' bench is primarily made up of freshmen and sophomores.
• According to Ken Pomeroy, the Tigers' boast an experience ranking of 1.30 which stands 285th in the country (out of 351 programs).
Projected lineups
(--/--) Clemson Ht. Wt. Yr. Hometown GP/GS PPG RPG APG MPG
G 2 Al-Amir Dawes 6-2 180 Fr. Newark, N.J. 5/5 11.4 3.0 3.0 29.3
G 3 Chase Hunter 6-3 180 Fr. Atlanta, Ga. 4/4 8.8 2.3 2.8 27.1
G 15 John Newman III 6-5 197 So. Greensboro, N.C. 5/5 11.2 4.2 2.6 28.9
F 13 Tevin Mack 6-6 227 Gr. Columbia, S.C. 5/5 15.0 4.0 1.6 24.7
F 25 Aamir Simms 6-8.5 240 Jr. Palmyra, Va. 5/5 9.4 8.6 1.6 28.1
--
F 5 Hunter Tyson 6-8 211 So. Monroe, N.C. 5/0 8.4 4.2 0.2 15.2
G 10 Curran Scott 6-4 205 Gr. Edmond, Okla. 5/1 6.0 2.2 2.0 18.5
G 11 Parker Fox 6-6 202 So. Reno, Nev. 2/0 1.0 0.0 0.0 4.3
G 12 Alex Hemenway 6-3 180 Fr. Newburgh, Ind. 2/0 4.5 0.0 0.0 12.0
F 20 O'Neil McBride 6-7 195 Fr. Myrtle Beach, S.C. 2/0 0.0 1.0 0.0 3.7
F 21 Khavon Moore 6-8 217 So. Macon, Ga. 5/0 2.8 4.0 1.2 13.9
G 31 Wells Hoag 6-2 180 So. Greenville, S.C. 1/0 5.0 1.0 0.0 7.5
F 32 Paul Grinde 6-10 300 Gr. Virginia Beach, Va. 2/0 3.0 0.5 0.0 4.8
C 55 Trey Jemison 7-0 256 So. Birmingham, Ala. 5/0 3.2 2.8 0.2 8.4
(--/--) TCU Ht. Wt. Yr. Hometown GP/GS PPG RPG APG MPG
G 1 Desmond Bane 6-6 215 Sr. Richmond, Ind. 4/4 17.3 5.8 3.0 35.5
G 3 Francisco Farabello 6-2 183 Fr. Canada De Gomez, Argentina 4/4 4.0 0.3 4.3 22.2
G 5 Jaire Grayer 6-5 210 Sr. Flint, Mich. 4/3 10.3 6.3 0.3 28.2
G 22 RJ Nembhard 6-5 195 So. Keller, Texas 4/4 16.3 3.3 3.0 31.6
C 21 Kevin Samuel 6-11 250 So. Codrington Village, Barbuda 4/4 13.0 9.5 0.3 26.2

Tags: Clemson Basketball
,
Hunter Tyson
,
Marcquise Reed
,
Al-Amir Dawes
,
Chase Hunter
,
John Newman
,
Tevin Mack
,
Aamir Simms
,
Curran Scott
,
Parker Fox
,
Alex Hemenway
,
Khavon Moore
,
Paul Grinde
,
Trey Jemison
,
Brad Brownell