TigerNet

is the oldest and largest Clemson Community online with 154,313 members, 58,753 news articles and 29M forum posts.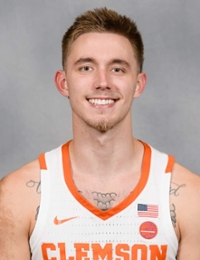 #10
Curran Scott
Guard
| | |
| --- | --- |
| Position: | Guard |
| Ht./Wt.: | 6'4, 205 lbs |
| Hometown: | Edmond, OK |
| High School: | Memorial |
| Class: | Grad Student |
| Exp: | TR |
| Years: | 2019 |
| Major: | Undeclared |
B I O
2018-19 (at Tulsa)
Appeared in 32 games and made 26 starts as a redshirt senior
Averaged 8.9 points and 2.5 rebounds per game
Shot 40.7 percent from the floor and 39.4 percent from three
41 3-pointers led the team last season
Averaged 10.2 points per game in AAC play
Scored in double-figures on 13 occasions, including two 20-point outings
Shot 44.4 percent from distance in league play
Finished the season (last five games) averaging 15.8 points per contest
Made at least two 3-pointers in 13 games.
BEST GAMES, 2018-19
Grabbed a season-high seven rebounds in the season opener against Alcorn State (Nov. 6)
Scored 14 points on 6-of-10 shooting and grabbed five rebounds against Kansas State (Dec. 8)
Netted first 20-point game of the season with 20 points against Memphis (Jan. 30) on 5-of-8 shooting and a perfect 2-for-2 from behind the arc – also finished 8-for-9 at the foul line against the Tigers
Posted four-straight double-figure scoring games at Temple (15), against Tulane (19), against ECU (23) and at Memphis (13)
Scored season-high 23 points against ECU on 8-of-12 shooting and connected on 3-of-5 3-pointers – also posted five rebounds and four assists.
2017-18 (at Tulsa)
Appeared in 31 games and made eight starts during first season at Tulsa
Averaged 5.9 points and 2.1 rebounds per game
Shot 39.8 percent from the field, including 35.3 percent from distance
Scored in double-figures on seven occasions.
BEST GAMES, 2017-18
Scored a season-high 17 points against Western Michigan (Nov. 16) on 4-of-7 shooting from the floor, including 2-for-4 from three – also finished 7-of-8 at the foul line against the Broncos
Netted 16 points against UTSA (Nov. 28) – also finished 4-for-7 from the floor and 7-for-8 from the free throw line
Made a three in 13 different games, including a season-high three makes at ECU (March 1) in a 12-point effort, finishing 3-for-4 from three and 4-for-6 from the field
Season-high six made field goals in a 14-point effort against Temple (March 4) on 6-for-9 shooting from the floor, including adding a three and a free throw – also finished with a season-high seven rebounds (two offensive).
2016-17 (at Tulsa)
Sat out the season due to NCAA Transfer Eligibility Rules.
2015-16 (at Charlotte)
Appeared in a career-high 33 games and made 18 starts as a freshman
Averaged a career-best 10.5 points per game and added 2.3 boards per contest
Totaled a career-high 44 assists and 122 free throw makes
Averaged an impressive 43.9 percent (25-for-57) from three and shot 45.2 percent (100-for-221) from the field overall
Netted double-figures on 17 occasions, including four 20-point games and a 30-point outing
Made double-digit free throws four times
Made a 3-pointer in 14 different games.
BEST GAMES, 2015-16
Posted first career 20-point game with a 21-point effort against Furman (Nov. 19) on 4-for-8 shooting from the floor, 2-for-2 from three and a perfect 11-for-11 from the foul line
Scored 20 points on 7-for-10 shooting from the field against The Citadel (Dec. 29) – finished 6-for-10 at the foul line and added three assists, a block and a steal against the Bulldogs
Scored a career-high 30 points on 11-for-20 shooting from the floor, 3-for-6 from distance and 5-for-7 from the charity stripe in 37 minutes against UAB (Jan. 16). The 11 made field goals are a career-high and so are the 20 field goal attempts
Posted a then-season-high 12 made free throws in an 18-point effort against Marshall (Jan. 21) – finished 12-for-13 from the line
Hit double-digit free throws at Florida Atlantic (Jan. 30), finishing 10-for-12 in a 16-point outing
Knocked down a career-best four 3-pointers in a perfect 4-for-4 performance against Rice (Feb. 11)
Netted two 20-point games in a three-game span
Scored 22 points against UTSA (Feb. 25) – finishing 4-for-8 from the floor and an ultra-impressive 13-for-15 from the charity stripe – the 13 made free throws are a career-best in a single game
Posted 20 points at Rice (March 3).
PREP CAREER

Graduate of Memorial High School in Edmond, Okla.
Averaged 21.9 points, 4.5 rebounds and 2.5 assists while shooting 50.0 percent from the field
Earned Oklahoma all-state honors as a senior
Ranked among the top-150 players in the nation by MaxPreps and Future150.com
Totaled more than 1,500 points in high school that included three years at Edmond Santa Fe High School
Earned three all-district honors and two first-team all-conference honors
Named the conference's Offensive Player of the Year as a junior.
PERSONAL
Son of Kim and Shawn Scott
Born July 5, 1996 (turns 23 prior to 2019-20 season).
*Courtesy Clemson Media Guide
| | |
| --- | --- |
| | VIDEO HIGHLIGHTS |
Latest Curran Scott News