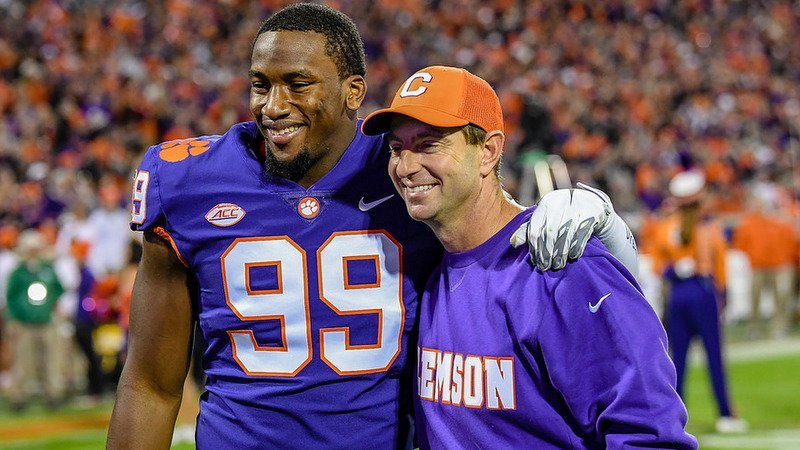 | | |
| --- | --- |
| WATCH: Ferrell on Combine - 'I've been training my whole life for this' | |
---
| | | |
| --- | --- | --- |
| Sunday, February 24, 2019, 1:58 PM | | |
Clelin Ferrell will compete with the best of the best in defensive linemen next Sunday at the NFL draft combine - four being teammates with Albert Huggins, Christian Wilkins, Austin Bryant and Dexter Lawrence.
Ferrell, who holds a number of first-round projections currently, says this moment has been a long time coming.
"I'm just going to go up there and be me," Ferrell told the NFL Network this week. "I'm not gonna go again try to be somebody I'm not. Go up there and just compete like it's a game. Obviously I'm just competing against myself and I'm just gonna go up there and do my best.
"I've been training - training my whole life for this. I'm excited - I can't wait. I'm ready to get this over with. You know training is fun but you want to go out there and perform so I'm excited to get out there for sure."
Ferrell capped his Clemson career with another slew of first-team All-American honors and the Ted Hendricks Award, as the nation's top defensive end. His performance in the National Championship versus Alabama offensive tackle and elite draft prospect Jonah Williams caught a number of eyes as well.
"It was great. Going into the game I just wanted to play for my team and I knew how big of a moment that was to win another national championship," Ferrell said. "Especially the way we finished the season last year and to go against a guy like that - you wouldn't want it any other way...You know you wanna have that best of the best matchup...It was good to go out there and play well."
Ferrell also won the first annual Tim Bourret Award as the best Clemson football representative in the media last year - and he looks ready to represent himself well in interviews with NFL teams next week.
"I'm the best fit for a team that wants a player like me," Ferrell said. "Someone that's not just a football player but a leader in the locker room. I'm someone that can kind of be infectious and only positive as far as infectious. Someone that wants for others what he wants for himself someone that's going to be relentless and not take plays off and wants to have the knowledge and the want to learn.
"Someone that wants to build something special with the team and definitely for many, many years to come. Someone who is gonna bring his hard hat to work every single day and just love being around his teammates and love to play with them."
Watch more of the interview below:
.@ClemsonFB DE @Cle_Missile talks about his performance in the National Championship, his mindset heading into the #NFLCombine and what kind of team could be a fit for him ??

??: @NFLTotalAccess pic.twitter.com/YxrV0oYZex

— NFL Network (@nflnetwork) February 22, 2019
Clelin Ferrell left his mark after three years at Clemson and is headed to the NFL. pic.twitter.com/CpUKO8R6qG

— PFF College (@PFF_College) February 26, 2019