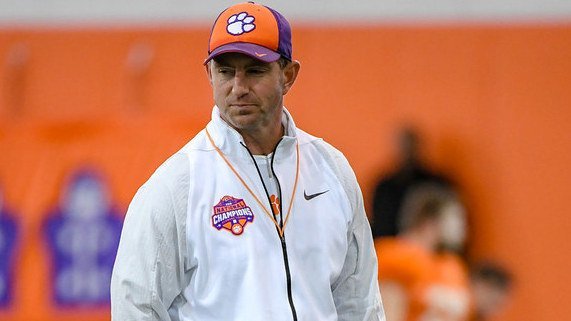 | | |
| --- | --- |
| Swinney talks 'challenges' for NCAA in changing model to pay players | |
---
| | | |
| --- | --- | --- |
| Wednesday, May 22, 2019, 12:53 PM | | |
Clemson coach Dabo Swinney caught some flack last week after a small section of an ESPN story on his new contract had a comment that he might leave Clemson if college football were to "professionalize".
Wednesday, ESPN's David Hale released the full Q&A from last week, where the majority of the conversation revolved around proposed changes to the college football model with a system of paying players.
In light of Swinney's new $93 million contract, USA TODAY columnist Dan Wolken recently criticized older comments made by Swinney regarding the proposed professionalization of college football, stating that "that's where you lose me. I'll go do something else, because there's enough entitlement in the world as it is." In the recent ESPN interview, Swinney talked the potential professional flare to college football and his coaching future again.
"Who knows? They may do away with college football in three years. There may be no college football. They may want to professionalize college athletics," Swinney told ESPN. "Well, then, maybe I'll go to the pros. If I'm going to coach pro football, I might as well do that."
The broader context from the full interview released this week shows a picture of a Clemson coach in favor of some change but aware of the challenges that could come with it. Swinney addressed the idea of paying players but then taking away the academic scholarship and aid - stating that "You can't have it both ways" and "It's a complicated issue."
"I think the game's better than it's ever been. I think the players are in a good spot," Swinney told ESPN. "I think there's definitely room for improvement and it's great we have committees that are looking for ways to burnish the student-athlete model. That's great. But to professionalize college athletics would be -- there's just a lot of challenges that come with that when it comes to equity and Title IX. And I don't think anybody will ever be fully satisfied. But I like that there are other options.
"Not everybody wants an education. I respect that. I think an education is the foundation for people's lives. It's hard without it."
One of the other options Swinney mentioned was a possible path for high school players to a spring league like the upcoming revamped version of the XFL in 2020.
"I love the fact that if someone wants to go and play right out of high school, great. They can do that," Swinney said. "It's probably not feasible from in the NFL to go straight from high school. It's incredible the development part of this game to play at the highest level. But I love that there's an opportunity if a guy doesn't want to go to college, he's got a chance to go make $100,000. But at some point, that'll end. College athletics has changed people's lives through the experience and education and preparation for life. I value that part.
"There's always an argument -- and listen, a good argument. People have every right to say coaches shouldn't make this, or players should get all this money. Everybody has their opinion and I respect that."