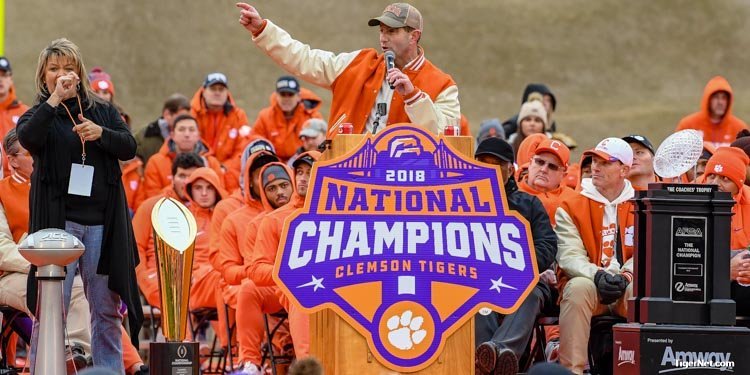 | | |
| --- | --- |
| Dabo Swinney to address S.C. Legislature joint assembly | |
---
| | | |
| --- | --- | --- |
| Monday, February 25, 2019, 11:36 AM | | |
Clemson coach Dabo Swinney is scheduled to hold court at a joint assembly before the South Carolina Legislature in Columbia on Tuesday.
Swinney will on hand for the noon session to speak for a second time in three years, where in 2017 the Tigers coach spoke about the importance of the game of football.
"There's a lot of things out there in society I don't think are a positive influence on young people, but the game of football is still a positive influence. It's hard work. It's just hard work," Swinney said. "The one thing that hasn't changed about football — styles of play come and go — but it is still hard work. It's a tremendous commitment. It teaches young people to work ethic. It teaches young people sacrifice and courage and how to win and lose. It teaches young people how to get along with somebody they may not like, but we've got a job to get done. It teaches young people how to handle adversity. To me, the game of football mirrors life like nothing else."
Video from Legislature events can be found here.
Watch the 2017 speech below: