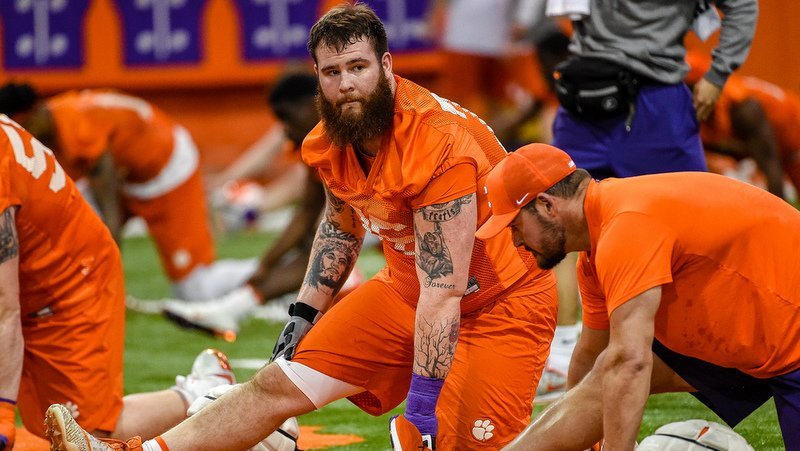 | | |
| --- | --- |
| Clemson lineman named Campbell Trophy semifinalist | |
---
| | | |
| --- | --- | --- |
| Wednesday, September 25, 2019, 12:38 PM | | |
IRVING, Texas (Sept. 25, 2019) – Once again recognizing another impressive group of scholar-athletes, The National Football Foundation & College Hall of Fame (NFF) proudly announced today the 185 semifinalists for the 2019 William V. Campbell Trophy® Presented by Mazda, including Clemson offensive lineman Sean Pollard. Celebrating its 30th year in 2019, the award recognizes an individual as the absolute best football scholar-athlete in the nation for his combined academic success, football performance and exemplary leadership.
Clemson's Christian Wilkins took home the 'Academic Heisman' last year.
The NFF will announce 12-14 finalists on Oct. 30, and each of them will receive an $18,000 postgraduate scholarship as a member of the 2019 NFF National Scholar-Athlete Class presented by Fidelity Investments. The finalists will travel to New York City for the 62nd NFF Annual Awards Dinner on Dec. 10, where their accomplishments will be highlighted in front of one of the most powerful audiences in all of sports. Live during the event, one member of the class will be declared as the winner of the 30th Campbell Trophy® Presented by Mazda and have his postgraduate scholarship increased to $25,000.
Nominated by their schools, which are limited to one nominee each, candidates for the awards must be a senior or graduate student in their final year of playing eligibility, have a GPA of at least 3.2 on a 4.0 scale, have outstanding football ability as a first team player or significant contributor and have demonstrated strong leadership and citizenship. The class is selected each year by the NFF Awards Committee, which is comprised of a nationally recognized group of media, College Football Hall of Famers and athletics administrators.
"These 185 impressive candidates truly represent the scholar-athlete ideal," said NFF Chairman Archie Manning, whose sons Peyton (Campbell Trophy® winner) and Eli were named NFF National Scholar-Athletes in 1997 and 2003, respectively. "For more than 60 years, the NFF National Scholar-Athlete program has showcased more than 800 college football players who have been successful on the football field, in the classroom and in the community. And we are excited to celebrate the 30th year of the William V. Campbell Trophy® Presented by Mazda, which honors the best of the best. This year's semifinalists further illustrate the power of our great sport in developing the next generation of influential leaders."
Named in honor of the late Bill Campbell, former chairman of Intuit, former player and head coach at Columbia University and the 2004 recipient of the NFF's Gold Medal, the Campbell Trophy® Presented by Mazda is a 25-pound bronze trophy and increases the amount of the recipient's grant by $7,000 for a total postgraduate scholarship of $25,000.This year's postgraduate scholarships will push the program's all-time distribution to more than $11.7 million.
Last week, Mazda announced a three-year partnership to sponsor the Campbell Trophy®, kicking off the automaker's Power of Potential Platform.
"The NFF would like to personally congratulate each of the nominees as well as their schools and coaches on their tremendous accomplishments," said NFF President & CEO Steve Hatchell. "We are extremely proud to highlight each semifinalist's achievements, showcasing their ability to balance academics and athletics at the highest level. The NFF Awards Committee will have an incredibly difficult task in selecting the finalists from this outstanding group of candidates."
2019 WILLIAM V. CAMPBELL TROPHY® PRESENTED BY MAZDA SEMIFINALISTS NOTES
30th year of the William V. Campbell Trophy® Presented by Mazda
61st year of the NFF National Scholar-Athlete Awards presented by Fidelity Investments
185 Nominations
3.69 Average GPA
8 Nominees with a perfect 4.0 GPA
59 Nominees with a 3.8 GPA or better
81 Nominees with a 3.7 GPA or Better
24 Academic All-America Selections
108 Captains
87 All-Conference Picks
18 All-Americans
71 Nominees from the NCAA Football Bowl Subdivision (FBS)
39 Nominees from the NCAA Football Championship Subdivision (FCS)
19 Nominees from NCAA Division II
49 Nominees from NCAA Division III
7 Nominees from the NAIA
89 Offensive Players
76 Defensive Players
20 Special Teams Players
Launched in 1959, the NFF National Scholar-Athlete Awards presented by Fidelity Investments celebrate their 61st year in 2019. The awards were the first initiative in history to grant postgraduate scholarships based on both a player's academic and athletic accomplishments, and the NFF has recognized 854 outstanding individuals since their inception. The Campbell Trophy® Presented by Mazda was first awarded in 1990 and is celebrating its 30th year in 2019. The trophy adds to the program's prestige, having previously honored two Rhodes Scholars, a Rhodes Scholar finalist, two Heisman Trophy winners and six first-round NFL draft picks.
Fidelity Investments, a leading provider of workplace savings plans in higher education, serves as the presenting sponsor of the NFF National Scholar-Athlete Awards. Since 2013, the Campbell Trophy® has been prominently displayed inside its official home at the New York Athletic Club.
The past recipients of the Campbell Trophy® Presented by Mazda, include:
1990 – Chris Howard (Air Force)
1991 – Brad Culpepper (Florida)
1992 – Jim Hansen (Colorado)
1993 – Thomas Burns (Virginia)
1994 – Rob Zatechka (Nebraska)
1995 – Bobby Hoying (Ohio State)
1996 – Danny Wuerffel (Florida)
1997 – Peyton Manning (Tennessee)
1998 – Matt Stinchcomb (Georgia)
1999 – Chad Pennington (Marshall)
2000 – Kyle Vanden Bosch (Nebraska)
2001 – Joaquin Gonzalez (Miami [FL])
2002 – Brandon Roberts (Washington U. in St. Louis [MO])
2003 – Craig Krenzel (Ohio State)
2004 – Michael Munoz (Tennessee)
2005 – Rudy Niswanger (LSU)
2006 – Brian Leonard (Rutgers)
2007 – Dallas Griffin (Texas)
2008 – Alex Mack (California)
2009 – Tim Tebow (Florida);
2010 – Sam Acho (Texas)
2011 – Andrew Rodriguez (Army West Point)
2012 – Barrett Jones (Alabama)
2013 – John Urschel (Penn State)
2014 – David Helton (Duke)
2015 – Ty Darlington (Oklahoma)
2016 – Zach Terrell (Western Michigan)
2017 – Micah Kiser (Virginia)
2018 – Christian Wilkins (Clemson)
Semifinalists for this year's award are as follows:
FOOTBALL BOWL SUBDIVISION
Isaiah Sanders, Air Force
John Lako, Akron
Jordan Fehr, Appalachian State
Cody Creason, Arizona
Kyle Williams, Arizona State
Cody Grace, Arkansas State
Jack Driscoll, Auburn
Riley Miller, Ball State
Marques Jones, Baylor
Matt Locher, Boise State
Talon Shumway, Brigham Young
Matt Otwinowski, Buffalo
Steven Coutts, California
Jordan Johnson, Central Florida
Clay Walderzak, Central Michigan
Tyriq Harris, Charlotte
Sean Pollard, Clemson
Lucas Cooper, Colorado
Quentin Harris, Duke
Alex Turner, East Carolina
Brody Hoying, Eastern Michigan
James Morgan, Florida International
Rodrigo Blankenship, Georgia
Tyler Bass, Georgia Southern
Terry Thomas, Georgia State
Dre Brown, Illinois
Nick Westbrook, Indiana
Ray Lima, Iowa State
Adam Holtorf, Kansas State
Blake Ferguson, LSU
Dustin Woodard, Memphis
K.J. Osborn, Miami (FL)
Jordan Glasgow, Michigan
Cole Chewins, Michigan State
Travis Brannan, Navy
Quinton Conaway, Nevada
Dylan Brown, New Mexico State
Jordan Steckler, Northern Illinois
Jared Thomas, Northwestern
Christopher Finke, Notre Dame
Jordan Fuller, Ohio State
Connor McGinnis, Oklahoma
Matt Ammendola, Oklahoma State
Justin Herbert, Oregon
Andrzej Hughes-Murray, Oregon State
Blake Gillikan, Penn State
Jim Medure, Pittsburgh
Markus Bailey, Purdue
Myles Adams, Rice
Parker Houston, San Diego State
Josh Love, San Jose State
Jake Bentley, South Carolina
Kirk Livingstone, South Florida
Casey Toohill, Stanford
Zack Mesday, Temple
Zach Shackelford, Texas
Braden Mann, Texas A&M
Andrew Martel, Texas at San Antonio
Hutch White, Texas State
Travis Bruffy, Texas Tech
Reggie Gilliam, Toledo
Christian Montano, Tulane
Jacoby Wildman, Utah State
Cody Markel, Vanderbilt
Jordan Mack, Virginia
Cade Carney, Wake Forest
Nick Harris, Washington
Gage Gubrud, Washington State
Reese Donahue, West Virginia
Jon Wassink, Western Michigan
Cooper Rothe, Wyoming