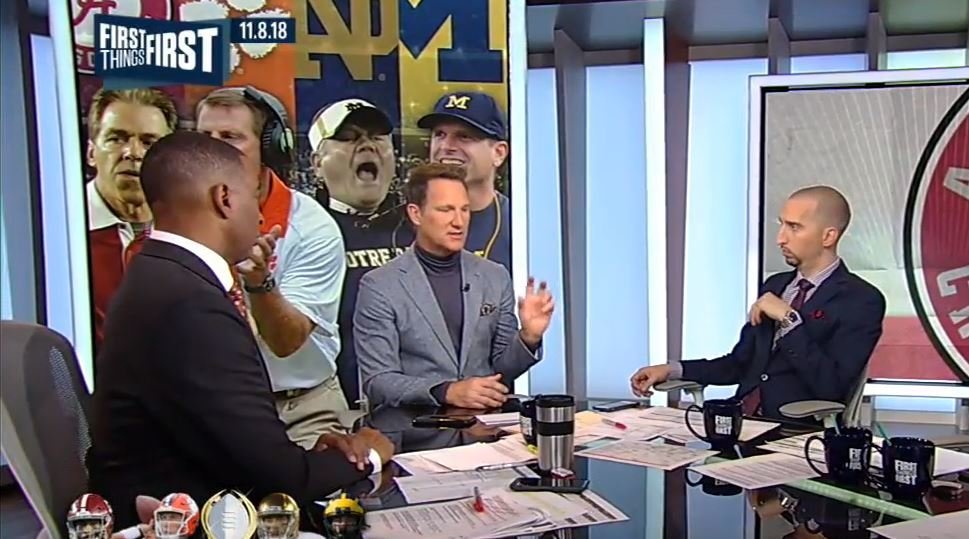 | | |
| --- | --- |
| CFB analyst: Clemson has 'formula' to beat Alabama | |
---
| | | |
| --- | --- | --- |
| Thursday, November 8, 2018, 3:48 PM | | |
Former ESPN and current Fox Sports analyst Danny Kanell has been no stranger to stirring things up in the college football world.
Kanell, however, doesn't see his latest take as all that controversial.
The former FSU QB has consistently said recently that No. 2 Clemson is playing every bit as well as No. 1 Alabama.
"I think it was common sense. I get it's Bama and I get it's Nick Saban. They've had this incredible dynasty," Kanell said on FS1 Thursday. "This isn't about knocking Bama. This is about giving Clemson credit for what they've been doing this season. You look at their defense and think it's better than Alabama's...This (Clemson) offense is as good as it gets. I wouldn't say their offense is as good as Alabama's just yet but I think when you look at the entirety of the teams - they're right there.
"I think Vegas has (Alabama) as an 8-point favorite, so clearly Bama is slightly better than them, but do you know what the spread was when Deshaun Watson beat them in the national championship game? A touchdown, right around 7.5 and 8 (points). I don't think it's crazy to say that Clemson is right there with Bama."
Fellow show panelists wondered if Kanell was looking more to Clemson's past history and not enough at the difference in Alabama's make-up, which features a different look than the Tigers have faced before with sophomore QB Tua Tagovailoa. All that notwithstanding, Kanell sees a way to beat the Crimson Tide and Clemson has what it takes.
"I think there's a formula to beat Alabama," Kanell said. "I don't think you try to slow that down. I don't think you can. I think you have to be able to score with them. The formula that has worked and gives you chance - obviously you have to have the talent. The same sort of NFL-type talent on your roster.
"You have to go up-tempo to neutralize some of the substitutions and keep that defense on their heels. You have to have a mobile quarterback who can run around when things break down and that again neutralizes the secondary. It's harder for them to cover guys. And by the way, that mobile quarterback better be an elite passer.
"You go back and look at Cam Newton, Johnny Manziel, Deshaun Watson and ole 'Swag' Kelly was in there too with Ole Miss...There is a formula that gives you a chance - that doesn't guarantee it - and Clemson has that formula."
He also sees a mental edge with Clemson.
"Last year Bama wanted revenge," said Kanell. "And they had this mindset that we're going to get revenge. Clelin Ferrell, Christian Wilkins - these first-rounders could've gone but they came back and have had Bama circled on their schedule. Saying we want to finish with something special. They came back on a mission and that's one thing that is being completely slept on.
"If you're Dabo and you're Clemson, go ahead - everybody talk about Bama and they'll try to get that fourth matchup in four years and I think college football desperately needs (that) to finish this season because Bama's dominance has been such a part of the story. I would love to see it and it would be great for college football."
Stat comparison
ESPN FPI: Alabama - 1 (31.7); Clemson - 2 (30.7)
TeamRankings SOS: Alabama - 5; Clemson - 16.
Total offense: Alabama - 1 (565.6 YPG); Clemson - 7 (538)
Yards per play: Alabama - 2 (8.17); Clemson - 4 (7.59)
Total defense: Alabama - 11 (295.4); Clemson - 3 (269.22)
Opp. yards per play: Alabama - 9 (4.56); Clemson - 2 (4)
Avg. scoring margin: Alabama - 1 (37.2); Clemson - 2 (34.5)
Red zone TD%: Alabama - 33 (68.6); Clemson - 8 (77.8)
Opp. red zone TD%: Alabama - 38 (54.2); Clemson - 14 (47.8)
3rd down offense: Alabama - 1 (56.3); Clemson - 19 (46.1)
3rd down defense: Alabama - 11 (30); Clemson - 6 (27.5)
And I'm going to say it every week until everyone realizes it's true:

Clemson is just as strong as Bama.

— Danny Kanell (@dannykanell) November 4, 2018
With only Lawrence games,

1. Bama (+31.23)
2. Clemson (+31.15)

With only Ian Book games,

5. UGA (+23.84)
6. Notre Dame (+23.78) https://t.co/9xH2aEvgl8

— Bill Connelly (@SBN_BillC) November 7, 2018