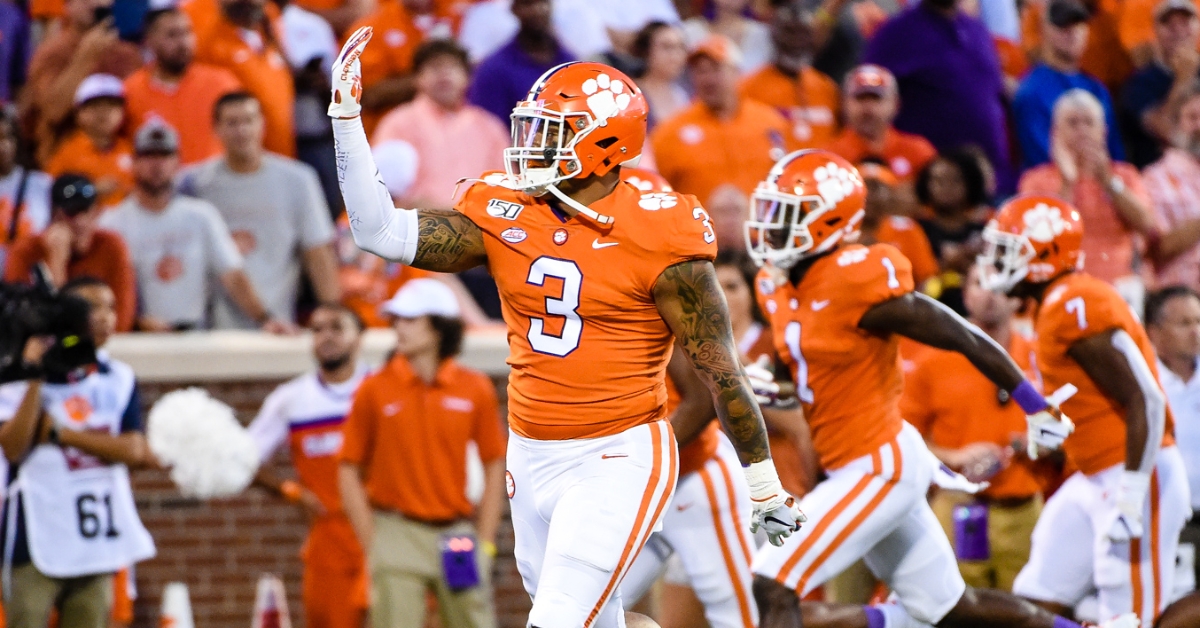 | | |
| --- | --- |
| Advanced outlook: Clemson-UNC projections | |
---
| | | |
| --- | --- | --- |
| Wednesday, September 25, 2019, 3:58 PM | | |
A lot has changed for Dabo Swinney's program since the last time Clemson played in Chapel Hill.
The upgrade in overall talent -- and to top-tier offensive and defensive systems -- since 2010 has Swinney primed for his first win in Kenan Stadium, in a game unlikely to be all that close.
North Carolina, under new coach Mack Brown, started similar to Clemson in the W/L category versus Power 5 programs in weeks one and two (24-20 over South Carolina; 28-25 over Miami), but the Tar Heels have since displayed some of the growing pains of a program in transition in two-straight defeats (24-18 at Wake Forest; 34-31 to Appalachian State).
One of their main issues comes in a new 'Air Raid' attack against a revamped Clemson defense out-performing preseason expectations.
Here's how they shape up going in:
| Efficiency ranks | Offense | Defense | Special teams |
| --- | --- | --- | --- |
| CU SP+ ranks (No. 3 overall) | 13 | 2 | 85 |
| UNC SP+ ranks (No. 65 overall) | 55 | 76 | 88 |
| CU ESPN ranks (No. 4 overall) | 12 | 2 | 104 |
| UNC ESPN ranks (No. 61 overall) | 72 | 53 | 91 |
(SP+ is a metric from ESPN's Bill Connelly, formerly of Football Outsiders and SB Nation, that combines ratings for the five factors of efficiency, explosiveness, field position, finishing drives and turnovers. ESPN's Football Power Index-based metric has similar statistical factors weighing together).
The Air Raid offense idea evokes Mike Leach and the idea of throwing the ball over the yard, but so far, UNC has focused on taking what the defense gives -- and that's meant more runs than passes, with little efficiency. UNC ranks 90th in yards per carry (3.8), averaging 41 runs to 30 passes a game -- with the NCAA counting sacks as runs certainly hurting those numbers. On those pass attempts, the Tar Heels are a respectable top-35 in yards per pass (8.7).
With senior offensive tackle Charlie Heck a game-time decision (hand), UNC is staring down the prospect of an all-underclassmen starting offensive line. Already, they rank 118th in sack rate allowed (11.7), worse on passing downs* (124th) and not much better on standard downs (108th).
That matches up with the nation's leader in sack rate (15.2), Clemson, excelling in standard downs (No. 1; 18.6) and solid on passing downs (38th; 11.1).
If UNC can protect its QB effectively enough, another area to watch defensively will be big passing plays.
North Carolina had success in throwing downfield on Miami in its last win and rank 10th in passes completed of 10-plus yards (50) and 29th in 20-plus-yarders (16). After rating 85th in 20-yard completions allowed last season, Clemson has taken drastic steps forward with top-25 rankings in 10 (22nd; 23), 20 (12th; 6) and 30-yard completions surrendered (29th; 16).
Add in a UNC defense ranked in the lower half in the FBS against Trevor Lawrence and company -- and it's not a pretty picture for the home team on Saturday.
ESPN's SP+ likes a comfortable Clemson margin but the Tar Heels covering the current spread (27 points), 41-15. Football Outsiders' FEI likes Clemson a little more with an over 30-point margin (30.5). And TeamRankings.com is in the middle with a four-touchdown spread (28 points).
| Metrics outlook | Prediction |
| --- | --- |
| SP+ projection | 94% Clemson (Tigers by 26.4) |
| ESPN FPI | 94.4% Clemson |
| FEI | 95.5% Clemson (Tigers by 30.5) |
*Passing downs are designated as second down with 8 or more yards to go or third/fourth down with five or more yards to go. All other situations are standard downs.