| | |
| --- | --- |
| Wide Receiver U: Coaches think current group of receivers can be special | |
---
| | | |
| --- | --- | --- |
| Saturday, April 21, 2018, 2:13 PM | | |
Despite losing veterans Ray-Ray McCloud and Deon Cain, there's still plenty of experience and reason for optimism at 'Wide Receiver U.'
McCloud and Cain opted to declare for the NFL Draft as juniors, but Clemson returns Hunter Renfrow, Trevion Thompson, Diondre Overton, Cornell Powell, Tee Higgins and Amari Rodgers among others. All of those guys have plenty of experience and plenty of motivation to show off their skills.
Clemson head coach Dabo Swinney said during Tuesday's ACC spring teleconference that the experience guys like Overton, Higgins and Rodgers got last year will pay dividends as they step into bigger roles in 2018.
"Even though Ray-Ray and Deon are gone, we had a lot of guys getting their first opportunities last year, like Amari Rodgers and Diondre Overton got some good experience last year," Swinney said Tuesday afternoon.
Higgins flashed in last weekend's spring game with four catches for 118 yards and a pair of touchdowns, but Swinney said everyone in the wideout group had an extremely productive spring.
"Tee Higgins was a guy that had an unbelievable spring for us," Swinney said. "Hunter Renfrow's going to be back. A kid I'm as excited about as anybody, really two guys, that's Trevion Thompson and T.J. Chase. Trevion has transformed himself, and T.J. Chase is, I think, an emerging, very, very good player for us."
Add in freshmen Derion Kendrick and Justyn Ross and Clemson's wide receiver group has the chance to be as formidable as ever.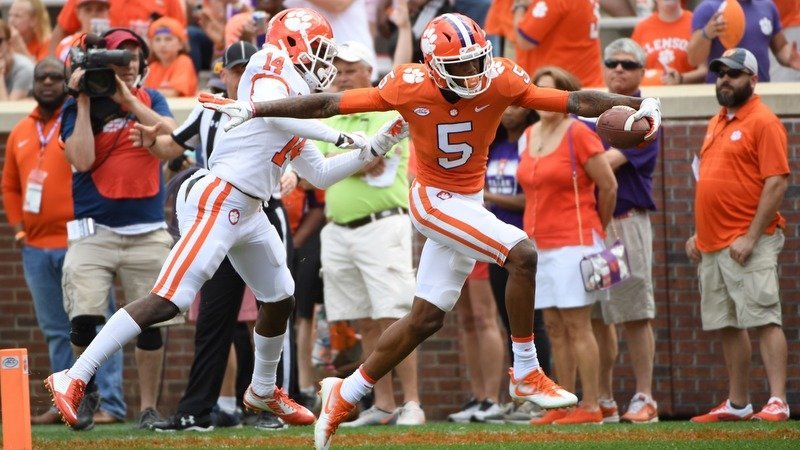 "So, it's exciting. And we've got a couple young freshmen coming in - Derion Kendrick (DK) and Justyn Ross that we think also has an opportunity to be in the mix along with Cornell Powell," he said.
Higgins caught four passes for 118 yards in the spring game, showing why he was considered a 5-star coming out of high school. Wide receivers coach Jeff Scott isn't ready to say that Higgins vaulted to the top of the depth chart, however.
"We'll take this into consideration but today is really like an exam that's worth 20% of the 100% of the grade, it's about 20% so we'll definitely go back over the next couple days and watch it and grade it out," Scott said. "It's going to be a competitive deal all the way through the summer. We weren't going into the spring game saying we were going to name certain starters, it's an important day but still one day. I want to see where we are whenever these guys come out of summer."
Clemson missed the big-play ability of Mike Williams last season and many in the program hope Higgins can be the next great "9-man" receiver. Scott said Higgins improved as the spring went on.
"I just think his consistency in his releases. Probably the hardest thing for these taller receivers is guys get their hand on them so they get pushed to the sideline and get wide," Scott said. "One of the nice catches on the sideline he made early on, last year he would've gotten pushed out of bounds right there. To be able to stay in bounds and get on the line where he needed to be to have a chance to field the ball, those are the little things fundamentally what I think he's focused on and improved the most this spring."