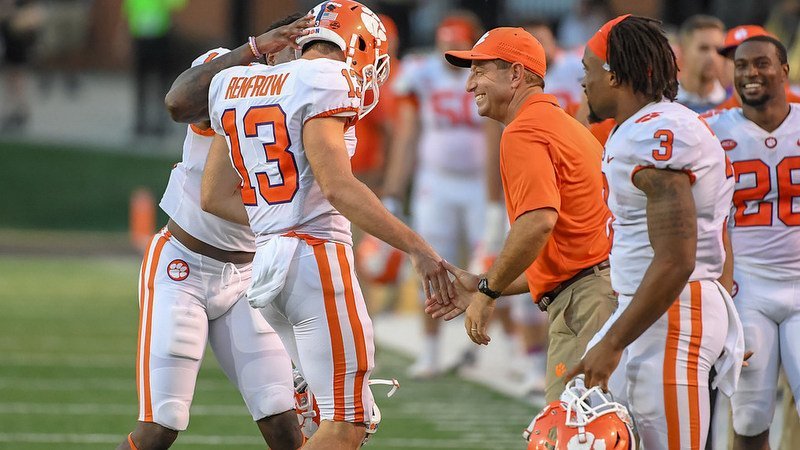 | | |
| --- | --- |
| Swinney laughs, says Wilkins is a "very jealous guy" over Hunter Renfrow at QB | |
---
| | | |
| --- | --- | --- |
| Monday, October 8, 2018, 6:50 PM | | |
Most men are jealous of Hunter Renfrow, and now that long list includes teammate Christian Wilkins.
Renfrow is a former walk-on who earned a scholarship and caught the game-winning pass in the National Championship game. He has a gorgeous fianceé, is the starting wide receiver on one of the nation's best teams and could probably run for President and take the vote in South Carolina.
The legend of Renfrow grew exponentially Saturday when he was allowed to punt late in Clemson's 63-3 victory over Wake Forest. Renfrow also took the final snaps of the game at quarterback, completing a flip pass to wide receiver Will Swinney before handing it off to running back Lyn-J Dixon for another Clemson touchdown.
On Dixon's run, Renfrow could be seen leading the way, throwing a key block 25 yards down the field.
Before the play, Wilkins could be seen lobbying head coach Dabo Swinney for a chance to get in on the offense and Swinney said Wilkins was the main one trying to get in.
"Mostly Christian. Christian has always been that guy. He wanted to go in and play running back and have us hand him the ball," Swinney told TigerNet Monday. "Of course, there was no way that was going to happen. We were negotiating on the sidelines that maybe I let him go line up at the slot tight end and run the ball away from him. But that is when Lyn-J took off and ended that discussion pretty quick. It was a lot of fun. It's just fun to see those guys so engaged in what is going on."
Wilkins is known for more than playing just defensive tackle, however. He's an honorary member of Wide Receiver U – anointed by none other than wide receivers coach Jeff Scott – and has teamed with Dexter Lawrence as a blocking back in short-yardage situations.
Wilkins has also taken a direct snap on a fake punt and turned it into a first down, caught a touchdown pass, caught a pass on a fake punt, and blocked a field goal in his time at Clemson, so he's no stranger to playing all over the field.
However, Wilkins made it known a few weeks ago that he wanted the chance to play quarterback.
"That is the most thing I'm upset with about the quarterback situation. I know Hunter will get his chance before me," Wilkins said. "I don't know what's funny. I don't find anything funny. I can run, and I can sling the ball a little bit. I feel like I feel I should at least be three or four on the depth chart. It is what it is."
Swinney jokingly told the media Monday that Wilkins is jealous of Renfrow.
"Christian is just a very jealous guy of Renfrow and Renfrow's slash abilities," he said with a smile. "He has kind of stolen some of Christian's thunder since he (Wilkins) has caught a touchdown pass and plays a little offense and he caught a big fake punt a few years. He just wants to keep up with Renfrow."