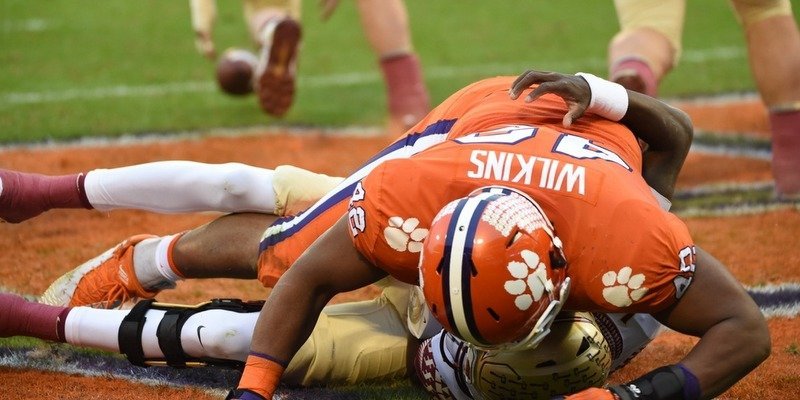 | | |
| --- | --- |
| Second Look: Grading Clemson versus Florida State | |
---
| | | |
| --- | --- | --- |
| Monday, November 13, 2017, 12:47 PM | | |
The final score – Clemson 31, Florida State 14 – captures the story in some ways and falls short in others, but the Tigers clinched a third-straight division title and can correct issues off a win, again – a trend Dabo Swinney and company will take.
Here's how the Tigers grade:
Offense: C-
Clemson's success in upcoming big games rests in the hands of Kelly Bryant, for better or worse.
By all evidence gathered to this point, Bryant is the Tigers' best option to move the ball effectively against tougher competition, which he's shown in glimpses this season yet not consistently in recent games.
The impression from Saturday is he just looks to be battling himself more than any defense at this point, which a play in the third quarter showed most.
Third-and-three in plus territory, Cornell Powell comes open streaking over the top – with no safety in sight, Bryant sees him while rolling out and just doesn't pull the trigger:
When Bryant did throw it, things didn't get much better. His struggles in deeper throws have been well-documented, and that was an area I paid close attention to for this review.
Of his 30 throws versus FSU, only nine targeted receivers more than 10 yards past the line of scrimmage, and Florida State limited those 21 short-range attempts to only 4.5 yards per pass.
In deeper shots, Bryant suffered from two drops – one by Deon Cain that was a sure touchdown and another from Hunter Renfrow – going 3-of-9 for 57 yards in passes of 10-plus yards. Hit on those connections and 5-of-9 with a touchdown isn't a bad ratio on those kinds of throws.
These were a couple of worst attempts, where one, hitting Cain while in-stride, is probably a TD:
Bryant – still a first-year starter – is going to have his issues in the pocket-passing, that's a given, but he could use some help in emphasizing his strengths, like how uncommonly-accurate he is rolling out:
He could also use the ball taken out of his hands and put into Travis Etienne's:
If you didn't know by now, Etienne has separated into by-far the best back in the rotation, anchoring a Clemson run attack that looked as potent as any game this season.
Bryant's ability as a runner is the centerpiece of that attack at the moment, which makes sense from a blocking numbers standpoint, but Etienne's ability to run through tacklers and speed to the endzone almost covers any advantage that brings.
The variety in Clemson's running game in formations and plays will be a problem for any team to defend going forward, and it opens things up for plays like this fake pitch-and-pass wrinkle:
Overall, I came out with a more positive outlook on the offense than after the NC State game. Bryant did hit downfield throws early in the game and had a score dropped by Cain late.
The red zone fumbles were probably the most troubling factor of the day, where talented FSU defensive ends blew up a pair of read option calls on the goal line.
The late Bryant fumble on a draw could've been a game-changer, and that's a case where being a little too reliant on Bryant's run game hurt in an awkward collision.
Issues like that are fixable, however, and while downfield throws will stay an adventure at points – Bryant and the Tigers aren't far from off from hitting those big plays. The next couple games will serve as a proving ground to take some momentum to Charlotte and what's looking like a showdown facing Miami's defense.
Numbers to know: 75 – Clemson's success rate* percentage in Etienne's 16 touches on offense. For reference, Tavien Feaster saw 10 touches with a zero percent success rate. 30 – Clemson's average length of TD drive, as all four TDs came from possessions starting in FSU territory. 3.8 – Clemson's dropping rate in passing chunk plays a game (15-plus yards), which is less than half of last year's season average (8.7)
* Success rate is calculated as gaining 50 percent of the yards needed to move the chains or score on first down, 70 percent of the yards on second down and 100 percent on third or fourth down.
Defense: A-
'Next man up' is a concept you hear all the time, but the Tigers tested that theory to the limit against an FSU offense with talented players-yet raw as an overall unit.
With up to five starters nursing injuries at points, Brent Venables' group largely controlled the line of scrimmage and forced a young QB in James Blackman into mistakes to keep Seminoles at bay while the Clemson offense struggled at points:
Down Mark Fields again, Trayvon Mullen was an MVP, where even one of FSU's biggest pass plays came on the heels of some tough pass interference calls. His play one example of a strong effort from a secondary overall that's really been hurting health-wise.:
The pressure and strong coverage contained FSU to two big pass plays, which each saw near-perfect execution from the Seminoles, and two more near-big plays that could've shifted momentum. But again, given how deep into the bench the Clemson defense was, some busts and big plays were a given against the talent that FSU has.
Being able to rest starters like Kendall Joseph and Dexter Lawrence this week – and maybe another game versus The Citadel coming up, is invaluable this time of year. As seen above, Albert Huggins was particularly impressive in stepping in to disrupt in the backfield.
At the second level, Dorian O'Daniel tallied two pass breakups, J.D. Davis led the team with four solo stops and
Chad Smith and James Skalski each notched three tackles. There's some depth there that helped contain one of the more dynamic backs in the ACC in FSU's Cam Akers.
The challenge ahead is just how healthy this group can get, while managing the need for a strong finish.
Numbers to know: 7 – Clemson pass breakups, tying season-highs versus NC State and Wake Forest. 1 – FSU chunk running play (10-plus yards) after averaging almost five per game coming in (4.75). 7 – Games Clemson has held an opponent to 6.5 yards per pass attempt or worse this season.
Special teams: B
The special teams group did its part to aid both the Clemson offense and defense.
A Will Spiers' punt pinning FSU at its 10 came shortly before a Tre Lamar blow to force a fumble in Seminoles' territory – paving the way for Clemson's first score of the game. A Ray Ray McCloud 35-yard punt return set up a one-play possession and 28-yard touchdown rush from Etienne. And Alex Spence did his job with a 26-yard field goal make and some solid kickoffs.
With McCloud making an impact on punt returns, an area where the Tigers could use similar improvement comes in kickoff returns. After three returns for 15 yards per Saturday, Clemson ranks 123rd nationally in yards per return (17.1). While excellent on offense, Etienne has mishandled a few returns this season, including a bobbled attempt-turned-running-into-teammate start at the Clemson 10 against FSU.
Add a little more punch in kickoff return to close the season and this special teams unit is starting to look like a pretty solid group come postseason.
Numbers to know: 35.7 – Spiers' yards per punt, which was his lowest average of the season (37.3 versus NC State the week before was his previous low). 21 – Spiers' punts inside the 20, which ranks fourth in the ACC after three Saturday.
Videos are included under fair use. Under section 107 of the Copyright Act of 1976, allowance is made for "fair use" for purposes such as criticism, comment, news reporting, teaching, scholarship, education and research.

Upgrade Your Account
Unlock premium boards and exclusive features (e.g. ad-free) by upgrading your account today.
Upgrade Now

Tags: Clemson Football
,
Kelly Bryant
,
Cornell Powell
,
Deon Cain
,
Hunter Renfrow
,
Travis Etienne
,
Tavien Feaster
,
Mark Fields
,
Trayvon Mullen
,
Kendall Joseph
,
Dexter Lawrence
,
Albert Huggins
,
J.D. Davis
,
Chad Smith
,
Will Spiers
,
Tre Lamar
,
Alex Spence
,
Brent Venables