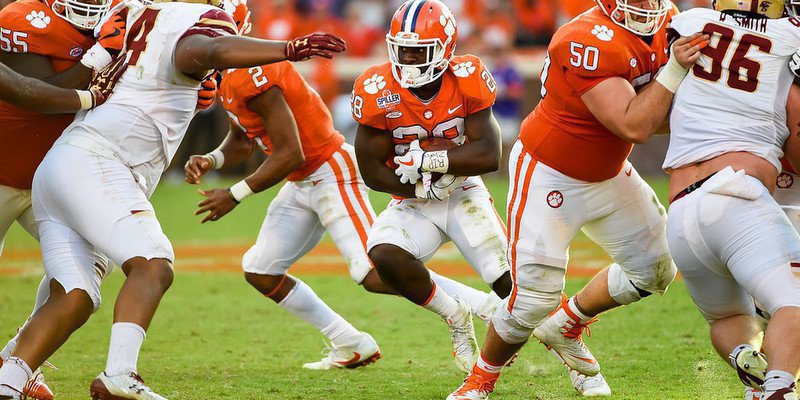 | | |
| --- | --- |
| Scott: Feaster and Etienne are above the rest | |
---
CLEMSON – Everybody wants to know if freshman running back Travis Etienne will get more of an opportunity in the coming weeks, and the coaches hear the question over and over from the media and the fans.
Co-offensive coordinator Jeff Scott even gets the question from his wife.
Etienne, the talented newcomer out of Louisiana, leads Clemson in rushing despite only playing in three of the four games. His 23 carries are good for fourth on the team (Kelly Bryant has 66 and Tavien Feaster 39), but he leads the team in yards (292) and yards per carry (12.70) and has even added four touchdowns.
Look for Etienne to get more touches as the season progresses, and Scott told the media Monday that he gets questioned about Etienne at home.
"I got the same question from my wife when I got home Saturday night. Travis, he's obviously a special talent, and I tell you what I enjoy going and watching his postgame press conferences afterward," Scott said in the indoor practice facility Monday. "Just because he is such an honest and humble young man. He's a perfect fit for our program and what we want to be about here at Clemson.
"Tavien has run the ball really well, but we've been pleased with how well he's played without the ball, especially in pass protection. You can see his confidence at a whole new level, and that's allowing him to execute and be where he's supposed to be and make good decisions. That is one reason that he went out there with that first group last week."
Feaster and Etienne have been part of a four-man rotation at running back – C.J. Fuller has 22 carries and Adam Choice has 21.
"I think going into the season, we knew we had two or three experienced guys, and then we had Travis, who is a talented guy that had to grow and develop and we had to see how that goes," Scott said. "Now after four games, I think Travis has definitely earned his stripes and we have four guys that have the knowledge and ability to be a starter. There is no doubt. C.J. Fuller has done a good job for us and has won games for us in the past. Unfortunately, he put the ball on the ground and that's something he will have to work on and get corrected. Adam Choice, it was nice to see him have a nice touchdown run."
Feaster got the start in Saturday's win over Boston College, and Scott hinted that both Feaster and Etienne will bear a majority of the load going forward.
"Tavien Feaster and Travis have both kind of elevated themselves above the rest and I think as we move forward those guys will get more opportunities. It will be fun to watch," Scott said. "Really, there is not one guy in that group that is best in every area. I think each guy has their strength and we will need all four of those guys as the season goes. I thought Tavien did a nice job in his first start and had some nice runs in there. He ran the ball hard. But there is no doubt that Travis and Tavien will each get their opportunity and be fun to watch."
Choice said that Etienne is fun to watch.
"I saw it during camp. My roommate is Kendall Joseph and he would come back from practice and tell me 'That kid is fast' and all I could say was 'I know.'" He's special, not many people can do what he does. He's great to have around, he's a great teammate, he brings laughter and comedy to our room, he's just great to have around," Choice said. "You saw what Travis did, he was getting holes that the rest of us dream of. He did some dirty work himself but he wasn't getting touched until the second or third level. The offensive line did a great job in that fourth quarter and made our job easier."
Scott said that he doesn't foresee any issues within the group.
"Coach (Tony) Elliott does a great job with that group, and that's a close group as well," he said. "They have really good chemistry. They have helped Travis a lot, trying to learn everything so fast, and it's fun for me to see them celebrating with Travis on the sideline after a couple of those touchdown runs."

Upgrade Your Account
Unlock premium boards and exclusive features (e.g. ad-free) by upgrading your account today.
Upgrade Now