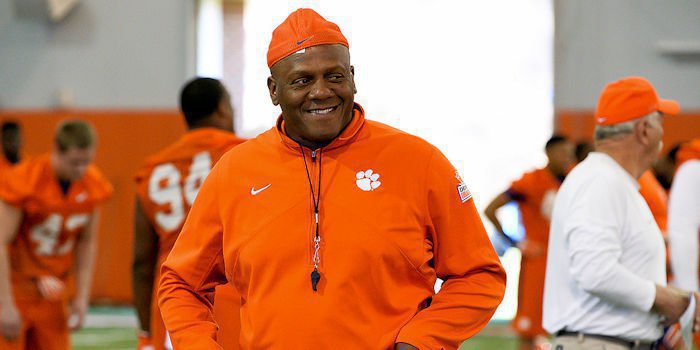 | | |
| --- | --- |
| Replacing Hobby and Brooks: What's next for Swinney and the Tigers? | |
---
Clemson head coach Dabo Swinney has been busy since the Tigers' won the National Championship, hitting the talk show circuit to further talk about the grand achievement and the recruiting trail in an effort to sign the kind of players that will keep Clemson in the mix for years to come.
Now he has to find a new coach. Or two.
Longtime defensive tackles coach Dan Brooks announced his retirement last weekend, and while Brooks will be missed there was a sense of calm around the football offices. The thought process was that Marion Hobby would step into the role of coaching the entire defensive line (something he's done before), while defensive analyst Mickey Conn was brought onto the staff as a defensive backs coach who would help secondary coach Mike Reed.
Only a few schools across the country have two defensive line coaches, but Clemson made it work with the highly-respected Brooks and Hobby. The general feeling was that they were adding another good coach in Conn (who was out on the road recruiting earlier this week) and Hobby could handle the stable of thoroughbreds on the defensive line.
Then the Jacksonville Jaguars came along and scooped up Hobby, leaving Swinney in a predicament where his defensive line is concerned. Keep in mind, we've been told that Hobby's departure caught everybody by surprise. This was unexpected, and I can tell you a list of reasons he could have for wanting to leave, including not being on the road recruiting and his desire to be a coordinator in the NFL.
In one fell swoop, Clemson's staff continuity (which has played a huge role in the on-field success) took a huge hit. Brooks came to coach the Tigers' defensive line in 2009 after 15 years at Tennessee, which included serving on the same staff as Hobby for one season. Hobby was brought on in 2011 before Reed rounded out the current defensive staff in 2013. Since 2013, there has been just one staff change, and that was replacing former offensive coordinator Chad Morris with quarterbacks coach Brandon Streeter.
So where does Swinney go from here? He has more than a few options, and I am sure we will hear more as the search goes on, but we will start with the plan of succession before the Hobby news. The plan, once Conn was brought on board from his analyst spot, was to bring Lemanski Hall on board if the new legislation to add a 10th full-time assistant is passes in the spring. Hall, a former teammate of Swinney's at Alabama who played in the NFL for nine years, has been working with the defensive line since his arrival and would have assisted Hobby with that group.
So, option number one (and the easiest) is for Swinney to promote Hall now, send him out on the road recruiting and hire a more experienced defensive line coach if the legislation passes (which it is expected to do). On Wednesday, the NCAA Division I Council supported the proposal to add a 10th assistant. It will be voted on by the Council in mid-April with a simple majority needed, and the Board of Directors meets to formalize proposals two weeks after that.
Whether Hall takes the job now or later, Swinney still needs to reel in an experienced defensive line coach. A perfect candidate will be someone who is more than an able recruiter and has ties to this area. You have to remember, coaching at this level is about recruiting as well as technique, and to me, that means someone like Rex Ryan (recently let go by the Buffalo Bills after a stint as head coach) is a non-starter.
People will also throw out the name of former star Brentson Buckner, who is currently with the Arizona Cardinals. I spoke with Buckner when we were out in Arizona, and he made it clear he wants to be a defensive coordinator in the NFL, much like Hobby, and that has been his career path since day one. He would listen to what Swinney has to say, I am sure, but this one also looks like a long shot to me. I've also got to chase down whether he has graduated or not, which would be a requirement for whoever takes the job. The people I've spoken to don't remember him graduating at Clemson even though he played his senior season. He could have completed his course work online or somewhere else, and we just don't know. I will find out.
I did some research Wednesday night, and there are just a few names I found (again, not anything I've heard because if Swinney has a list, he isn't telling anyone) that could be brought to the table.
But let's start with some of the more high-profile names you might hear.
*Brick Haley. The former defensive line coach at Texas and LSU has a great track record, but he just took the same job at Missouri (in December), and it's doubtful he would move again so soon. But you never know.
*Tracy Rocker. The current defensive line coach at Georgia, Rocker has experience in both the NFL and collegiate ranks. He was the line coach at Auburn when Nick Fairley was there, and he's respected as a recruiter. He's a Georgia guy, so I'm not sure he would leave Georgia for Clemson, but he's a name to watch.
*Chris Rumph. Don't see it. I've been told the former Clemson assistant (now at Florida) bad-mouths Clemson every chance he gets while on the recruiting trail.
*Brad Lawing. This is an interesting name, and when I texted someone late Wednesday night, I got back a mixed response. Lawing has had success wherever he's been (he's currently at FSU) and is known as a solid guy to have around. However, one person that I really trust and respect in all of this said that Dabo will probably want someone younger and who will fit in with Clemson's family atmosphere.
I have been told that while this is Swinney's decision, defensive coordinator Brent Venables will have major input into who is hired. That led me to do some research, and I will throw out a few names that I came across, simply by looking into the fact that Swinney's closest relationships in the game are with Nick Saban (Alabama), Mike Gundy (Oklahoma St.) and Stanford's David Shaw.
That led me to Joe Bob Clements. Like Venables, Clements played at Kansas St. and was a player when Venables was an assistant. He's currently on staff with Gundy at Oklahoma St., but also coached under Snyder at K-State. Clements' defensive line at Oklahoma St. has been among the leaders in tackles for loss the last few seasons. He's a wild card, to be sure, but worth maybe keeping an eye on.
Another one is current Stanford line coach Diron Reynolds. Reynolds actually hails from South Carolina -- he is originally from Aiken and graduated from Brookland-Cayce – and he played in the ACC at Wake Forest. He has NFL experience (he coached Jared Allen with the Vikings) and recently returned to Stanford after a year at Oklahoma (the year Oklahoma faced Clemson in the Orange Bowl). He would be another wild card to watch.
At this point, however, I am simply researching and seeing what names come to the front. Once we hear that candidates are beginning to emerge, we will let you know.

Upgrade Your Account
Unlock premium boards and exclusive features (e.g. ad-free) by upgrading your account today.
Upgrade Now