TigerNet

is the oldest and largest Clemson Community online with 152,586 members, 58,176 news articles and 29M forum posts.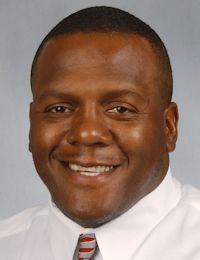 Marion Hobby
Position:
Co-Defensive Coordinator / Defensive Ends
Born:
November 7, 1966 in Irondale, AL
As a Player:
Lettered 4 times as a DE at Tennessee (1986-89), played 3 seasons (42 games) New England Patriots.
College:
B.S. degree from Tennessee in 1995
Coaching:

2011-Present:

Co-Defensive Coordinator / Defensive Ends

2008-2010:

Duke Defensive Coordinator

2006-2007:

New Orleans Saints Defensive Ends

2005:

Clemson Defensive Ends

1999-2005:

Mississippi Assistant Coach

1998:

Tennessee Strength & Conditioning

1997:

Louisiana-Lafayette Defensive Tackles

1996:

Louisiana-Lafayette Strength & Conditioning

1995

Tennessee-Martin Defensive Tackles
B I O
•Clemson has finished in the top 25 all of his five years as an assistant coach, including a No. 2 final ranking in 2015 after helping the Tigers to the National Championship Game.

•Coached First-Team All-American Shaq Lawson, a finalist for several national awards, in 2015. Lawson was responsible for 25.5 tackles for loss, while adding 12.5 sacks. He also coached Honorable Mention All-ACC performer Kevin Dodd, who had 23.5 tackles for loss and 12 sacks. The duo finished 1-2 nationally in total tackles for loss.

•His defensive ends were a big reason the 2014 defense led the nation in total defense (260.8) and tackles for loss (131), while being in the top five in many other statistical categories. He also coached Vic Beasley, who was a first-team All-American and the ACC Defensive Player-of-the-Year. Beasley set the school record with 33 career sacks.

•Named one of the top-10 recruiters in the ACC in 2013 by Rivals.com.

•His defensive ends were a big reason Clemson led the nation in tackles for loss (122) in 2013.

•Coached Beasley, a first-team All-American and Hendricks Award finalist, who had 23 tackles for loss and an ACC-high 13 sacks, in 2013.

•Beasley was a seldom-used backup in 2011, but became one of the top defensive ends in the ACC in terms of sacks in 2012. Beasley had eight sacks, fourth-most in the ACC, in only 288 snaps.

•A big reason Clemson won the 2011 and 2015 ACC titles.

•In 2011, he coached second-team All-American and First-Team All-ACC defensive end Andre Branch, who led the ACC with 17 tackles for loss and 10.5 sacks. Branch was also a finalist for the Hendricks Award.

•Returned to Clemson after spending three years (2008-10) at Duke.

•In 2008, Duke's defense held opponents to 23.4 points per game, best in 20 years, and held three opponents to less than 10, a program first since 1976.

•This is his second tour of duty at Clemson. He served as defensive line coach in 2005, helping the Tigers to an 8-4 record and a top-25 AP finish. Clemson was 11th in the nation in scoring defense.

•Has NFL experience, as he was an assistant coach with the Saints in 2006 and 2007. The 2006 Saints had a 10-6 record and won the NFC South. He coached Will Smith, who had 10.5 sacks and started in the Pro Bowl.

•Prior to coming to Clemson, he worked for David Cutcliffe at Mississippi for six seasons (1999-04). During that time, the Rebels had a 44-29 record and four bowl wins.

•Started in coaching in 1995 with the defensive tackles at Tennessee-Martin. He served two seasons at Louisiana-Lafayette as strength & conditioning coach (1996) and defensive tackles coach (1997) before spending one year at Tennessee as assistant strength & conditioning coach. Tennessee won the national title in 1998.

•First-Team All-SEC pick in 1989 and was named to Tennessee's 100-year anniversary team. A third-round draft pick (No. 74 overall) of the Vikings and later played three years (1990-92) with the Patriots.

*Courtesy Clemson Media Guide
| | |
| --- | --- |
| | VIDEO HIGHLIGHTS |
Latest Marion Hobby News
Click the link below to read more!