| | |
| --- | --- |
| Pigskin Prophet: Opening week edition | |
---
| | |
| --- | --- |
| Thursday, September 3, 2015 1:46 PM | |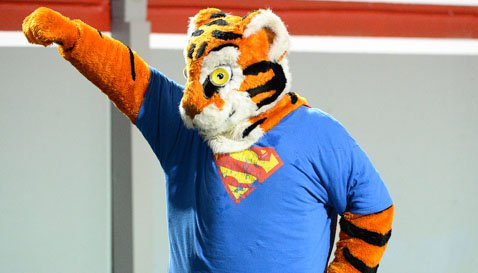 College football is back, and that means it's time to start taking a look at some of the big games that will pop up over the weekend. It all gets started on Thursday with a bevy of big games, including Carolina playing against the Gamecocks in Charlotte.
It seems like this has been the longest off-season I can remember, and the Prophet tried to keep busy by working long days in trying to help with the beautification project around the stadium in Columbia. Of course, I tried to tell 'em the best thing we could do would be to take that down that huge banner, but my suggestions were met with criticism and so I just worked.
In case you haven't heard, they've tried to "gussy up" the area around Williams-Sonoma Stadium and make it better for fans. We gathered up all of the pallets and syringes and wine bottles around the area and planted a tree or two, so that's a start. We even found another couple expressing their feelings for each other against a shed. True love down that way.
This is a huge turnaround job that will take at least 4 to 5 years. Word came down that the really old guy running this project said we only had 2 years to get it done. Guys started bailing left and right. In fact, our best worker went to work at that school in the Upstate. Eventually, the old dude said we had 4 years, but no one believes him.
Now on to the picks, and in true Crump fashion, we aren't trying to hurt anybody's feelings. It's all in fun.
THURSDAY
NORTH CAROLINA VS. SOUTH CAROLINA
I am not sold on the fact that South Carolina has magically found a defense. I get it – their players on that side of the ball are a year older but I am not sure it matters when you're slow. However, North Carolina now has to make players go to class and that has caused a ripple effect in the football program, and the Heels don't exactly have a lot of talent on that side of the ball, either. I see two pretty even teams. I see one team with a really good quarterback and one with some dude with two first names. Lot of points. Carolina wins. CAROLINA 34, GAMECOCKS 23
MICHIGAN AT UTAH
The Michigan Khaki Pants squad makes the trek to Utah to take on the Utes in the first game of the Jim Harbaugh era. Harbaugh has been all over the place since taking the job in Ann Arbor, and he's managed to pretty much make everybody outside of Michigan mad, including other head coaches. Right now, the Utes will be a little more talented, but Harbaugh is going to break out new uniforms for the Wolverines – they will all run around without a shirt for four quarters. I kid. Utes in a thriller. UTAH 26, KHAKI PANTS 20
UTSA AT ARIZONA
WHOOOO?????????????????????
FRIDAY
BAYLOR AT SMU
Congrats Chad Morris

Chad Morris
Offensive Coordinator / QBs
View Full Profile , your first game as the head coach at Pony U is against a Baylor squad that has College Football Playoff aspirations. The Bears also have a player that weighs 927 pounds and runs around like a wide receiver, and it won't be an easy night at all for The Chad. His squad will get better in time, but right now they are going to take lumps. Friday will be very lumpy. BAYLOR 56, PONIES 20
RHODE ISLAND AT SYRACUSE
I honestly feel sorry for Rhode Island, going into that awfully hot place and playing in temps that could potentially reach 68 degrees. The horror. SYRACUSE 44, RHODE ISLAND 7
SATURDAY
WOFFORD AT CLEMSON
The Terriers gave the Tigers a scare the last time they played in Death Valley, walking away with just an eight-point loss in 2011. Of course, that was against a very young defense coached by Kevin Steele

Kevin Steele
Defensive Coordinator/Linebackers
View Full Profile , who will make sure LSU gives up a ton of points this season. This year, Clemson has another very young defense but has Brent Venables

Brent Venables
Def. Coordinator / Linebackers
View Full Profile at the helm. There will be points scored for both teams, but the Tigers are just too talented on offense. CLEMSON 47, WOFFORD 13
LOUISVILLE VS AUBURN
Auburn is one of the best teams in the country simply because they play in the SEC West (snicker, snicker). Auburn and all 13 of its mascots gave up tons of points last season, so they fired Ellis Johnson and hired Will Muschamp. Muschamp stinks – putrid – as a head coach but the man can coach some defense and Auburn will take a step forward this season and only give up 74 points per game in what will once again be a true powerhouse defense (snicker, snicker). Louisville is pretty good and will surprise some people this season as long as Bobby Petrino stays away from motorcycles and volleyball players. This one should be fun, but Auburn prevails. AUBURN 34, LOUISVILLE 24
WISCONSIN VS. ALABAMA
Don't sleep on Wisconsin in this game. Alabama still hasn't proven that its defense can stop a team that doesn't play in the FCS, and the Badgers have proven they can play with anybody. I have a healthy dislike for the Crimson Tide, and it goes back to my childhood. Daddy would start muttering about the Crimson Tide and then momma would just get plain mean for a week. I never understood why. This one will be a better game than people think. ROLL TIDE 30, WISCONSIN 24
ARKANSAS ST. AT SOUTHERN CAL
Let's be honest. Everybody wins in this one if the head coach stays sober and the athletic director stays in his box. Win win. USC 47, ARKY ST 23
MONDAY
OHIO ST. AT VIRGINIA TECH
This one is the perfect way to cap off the first weekend of college football. The defending national champs (No, not South Carolina. An SEC team didn't win it for them, silly) are talented, have great coaches and even a great quarterback playing wide receiver. The Hokies knocked off the Buckeyes last season in Columbus and have visions of riding a stout defense and doing it again. The Buckeyes don't have a clue what is waiting for them in a night game in Blacksburg. First of all, Blacksburg looks better in the dark (snicker, snicker). Then the fans will gorge themselves on these big turkey legs and get grease all over their faces and this gets everybody riled up. Then when the going gets tough, they will hear the most frightening sound any of them have ever heard – a turkey gobble. I've heard it's scary. And then the fans will get out their keys and jingle them. I know. Too frightening to comprehend, ain't it? A turkey gobble and keys. Ohio St. won't be impressed. OHIO ST. 31, GOBBLERS 16