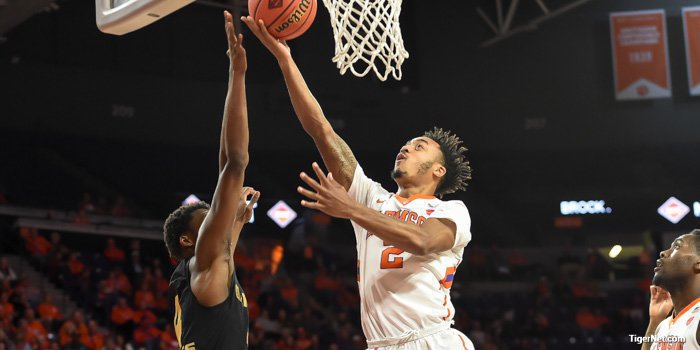 | | |
| --- | --- |
| NIT-picked: Clemson blows 20-point second half lead in embarrassing loss | |
---
| | | |
| --- | --- | --- |
| Tuesday, March 14, 2017, 9:05 PM | | |
CLEMSON – Ugly. Disastrous. Throw your adjective in there it will probably be apt.
Clemson blew a 20-point second-half lead, and Oakland outscored the Tigers 45-20 over the final 17:36 as the seventh-seeded Grizzlies defeated Clemson 74-69 in the first round of the National Invitation Tournament in Littlejohn Coliseum Tuesday night.
The Tigers finish the season with a 17-16 record, while Oakland will advance to the Sweet 16 of the NIT and will play the winner of Richmond and Alabama.
Jaron Blossomgame led Clemson with 24 points in his final appearance in a Clemson uniform. Shelton Mitchell was the only other Tiger in double figures, scoring 13. The smaller Grizzlies out-rebounded Clemson 45-32.
Clemson had a chance to cut the Grizzly lead to two with 26 seconds to play, but Sidy Djitte was called for offensive goaltending and the Tigers couldn't recover.
"That was a disappointing end to our season. I feel bad for our seniors," head coach Brad Brownell said. "I didn't do a good job. I couldn't get our team in the second half to play the way we needed to play. I thought we did a lot of really good things in the first half and ended it in great style with a nice set play and basket by Gabe (DeVoe). But, unfortunately, we couldn't get our energy back up in the second half. The game showed our deficiencies. Defensively, we just stopped playing a little bit, and, when guys get down like that, good players can relax and shoot and play with confidence. We let a couple guys make a couple shots. We couldn't get some rebounds. Then, as the game wore on, obviously, we got tight. We just didn't make any plays."
Brownell said he was disappointed for his senior.
"So, again, I'm disappointed, and I feel really bad for Jaron (Blossomgame) and Sidy (Djitte). I thought those two guys played really well in a lot of ways," he said. "It's fitting for Jaron to finish his career with 24 points and eight rebounds. It's also fitting for Sidy to get 11 rebounds. Avry (Holmes) obviously didn't have the type of game that we would've liked for him to have, but he had a really good career and scored over 1,000 points and shot the ball exceptionally well all season. So I'm down and disappointed for them, and, obviously, we let a great opportunity to play more big games get away from us with a poor second half."
The Tigers jumped out to an early 11-5 lead, but the Grizzlies came back to take a 15-13 lead with just over 11 minutes to play in the half. The Tigers held a 25-22 lead with just over five minutes remaining, but the rest of the half was all Clemson.
The Tigers led 31-24 at the 4:23 mark, but closed out the half on a 12-0 run. The final points were scored by Gabe DeVoe, who came off a screen and drained a long 3-pointer as time ran out on the clock and Clemson led 43-24 at intermission.
The Golden Grizzlies didn't go away, however. Oakland went on a 6-0 run over a two-minute span midway through the second half, and when Martez Walker hit a 3-pointer from the left side with 13:20 to play Clemson's lead stood at 52-39.
That forced Brownell to call a timeout, but the Grizzlies continued to chip away at Clemson's lead. Sherron Dorsey-Walker hit a 3-pointer with just over 10 minutes to play, and Clemson's lead was back in single digits at 58-51. Donte Grantham hit a 3-pointer on the other end, but the Grizzlies reeled off seven straight points and it was 61-58 with 8:19 remaining in the game.
Thirty seconds later, Dorsey-Walker hit a 3-pointer, and the teams were tied at 61-61. Sidy Djitte committed a foul on the offensive end, and Dorsey-Walker hit another shot as the Grizzlies held their first lead (63-61) since early in the first half.
Oakland continued to outwork the Tigers and put the finishing touches on a 20-4 run with just over two minutes remaining to lead 71-63. Blossomgame hit a layup that made it 71-65, and Oakland called a timeout. Both teams missed shots, and Mitchell went to the line to shoot two shots with 1:17 remaining after he was fouled on a drive to the basket. Mitchell hit both, and Oakland led 71-67.
The Tigers allowed 37 seconds to run off the clock (because of the foul rules), and took over with 40.8 seconds to play after a missed shot by the Grizzlies. Reed drove to the basket, and as his shot circled the rim and was about to fall in, Djitte hit the ball and knocked it through. He was called for offensive goaltending, and Oakland had possession and the lead with 26.1 seconds to play.
Walker was fouled with 23.2 seconds remaining, and he hit both foul shots for a 73-67 lead. Avry Holmes' 3-pointer from the corner missed everything, and as Oakland gathered in the rebound the small crowd headed for the exits.
Brownell said the rebounding disadvantage was due to Oakland's screen game.
"We got lost more off of Oakland's screening action in the second half than we did in the first half," he said. "Sometimes, our post players were extending and helping on screening action, so, when the shots went up, their guy now had inside position. It just goes back to energy and competitive fight. I couldn't get them to get back into in the second half, and that's on me. We let a good team hang around for awhile and gain confidence, and they beat us."
He then said the end of the season was a disappointment.
"I'm disappointed in the way we played. We played a lot of good basketball for a good part of this season," Brownell said. "We had a very good non-conference record, even when we didn't have a couple of guys. We certainly didn't have a great record in the league, but, in many of the conference games, in the last minute, we were within a possession of the game. What is really disappointing and hurts is that you played some of your worst basketball in the last 20 minutes of the season. We played good basketball the first 20 minutes, and, then, in the last 20 minutes, we didn't play. And, again, that's my responsibility."
It's been real Clemson. Was a great experience for me and will remember all the good memories. Always will be a Clemson Tiger! Go Tigers ???? pic.twitter.com/WGARlqnj10

— Avry Holmes (@holmes_avry) March 15, 2017

Upgrade Your Account
Unlock premium boards and exclusive features (e.g. ad-free) by upgrading your account today.
Upgrade Now