TigerNet

is the oldest and largest Clemson Community online with 152,606 members, 58,200 news articles and 29M forum posts.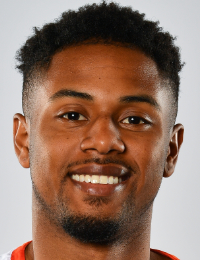 #4
Shelton Mitchell
Guard
| | |
| --- | --- |
| Position: | Guard |
| Ht./Wt.: | 6-4, 200 lbs |
| Hometown: | Waxhaw, NC |
| High School: | Vanderbilt |
| Class: | Grad Student |
| Exp: | 2VL |
| Years: | 2015 - 2018 |
| Major: | Sports Communication |
B I O
Overview
Just completed second season for the Tigers after transfering from Vanderbilt University … first played for the Tigers in 2016-17 after sitting out a season as a redshirt, per NCAA rules … dynamic point guard with an ability to facilitate the basketball for teammates or score in bunches … has thrived in his two seasons at Clemson, despite a torn meniscus suffered the week leading up to the opener against Georgia in 2016-17 … also had minor surgery following the season to clean up the injury … has appeared in 93 career games, with 70 starts … has 850 points and 325 assists to his credit … career 41.4 percent shooter overall and 81.0 percent at the free throw line … prior to his lone season in Nashville, played at Cuthbertson High School (N.C.) and Oak Hill Academy (Va.) as a prep star … signed a financial aid agreement with Clemson after official visit in April … recruited by assistant coach Steve Smith … majoring in sports communication.

2017-18
Appeared in 33 games for the Tigers, primarily as the starting point guard with 32 starts, while playing 33.4 minutes per contest … was named to the ACC All-Tournament Second Team for his performances in Brooklyn … averaged 18.5 points, 3.0 rebounds and shot 47.8 percent from the floor, 45.4 percent from three and 92.3 percent at the line … for the season, averaged a career-best 12.2 points and 3.0 rebounds per game … tallied 119 assists to lead the team … posted at least five assists in a game on 11 occasions en route to setting a new career mark with 119 dimes during the season … turned in a 13:4 assist to turnover ratio during the NCAA Tournament … scored 20+ points on three occasions, including tying his career-high with 23 points against New Mexico State in the opening round of the NCAA Tournament … posted double-figure points on 26 of 33 games played … shot a career-high 85.7 percent at the free throw line … ranked third in the ACC in free throw shooting and led the Tigers at the line.

BEST GAMES, 2017-18
Tied his career-high with 23 points against New Mexico State in the opening round of the NCAA Tournament, shooting 8-for-13 from the field, including 2-for-3 from behind the arc and a perfect 5-for-5 at the charity stripe … tied a career-best with seven rebounds against Notre Dame … grabbed at least five rebounds in a game on seven occasions … posted first 20-point outing in a blowout win over Samford with 20 points … also scored 21 points in the ACC Tournament quarterfinals against Boston College on 6-for-12 shooting, including going 7-for-8 at the line.

2016-17
Started 27 of 29 games, missing the first four contests of the season due to a knee injury … second-leading scorer on the squad with an average of 10.8 points per game … led all Tigers with 103 assists … top three-point shooter in terms of accuracy, he shot 45.3 percent overall and made 29-64 attempts behind the arc … shot 45.9 percent overall, the top figure by a Clemson guard since Cliff Hammonds shot over 46 percent in 2007-08 … a reliable free throw shooter, he shot 80 percent at the charity stripe in 94 trips to the line … led or tied for the team lead in assists in 19 games … scored double figures in 19 games, second-most on the team … surged toward the end of the season, finishing with double figures in the scoring column in the team's last 11 games and 13 of the last 14 overall … in all, averaged 14 points per game over Clemson's last 14 contests … a strong contributor in his first ACC Tournament, he averaged 19.5 points per game and made 13-23 field goals (6-8 from three) in two games.

BEST GAMES, 2016-17
Best effort came at Duke, where he poured in a career-high 23 points and led the Tigers from a double-digit deficit to have a shot to tie or win the game at the buzzer … made 8-15 field goals, including both of his three-pointers, and 5-6 at the line in the game with the Blue Devils … followed in the ACC Tournament with another outstanding effort against the Blue Devils, scoring 17 points on 5-10 shooting (3-3 from three) … posted 22 points in ACC Tournament win over NC State, the most points in a tourney debut from a Tiger since Glenn Corbit scored the same amount against the Wolfpack in the 1985 event … scored 13 points, with seven rebounds and five assists in win over Mercer … notched 18 in important road win over Alabama, he was 6-10 against the Crimson Tide and added five rebounds … posted 13 points against North Carolina, the eventual NCAA Tournament champion … made 3-6 from three against the Tar Heels, his home state team … posted 10 assists, a career-high, in home game against Virginia Tech … posted 12 points and six assists, with zero turnovers, in win over Pittsburgh at Petersen Events Center … posted 15 points in home win over Georgia Tech … tallied 10 points and eight assists, without a turnover, against Syracuse … posted 15 points in home win over Wake Forest and hit career-best 9-10 free throws … notched 14 at Virginia Tech and followed with 15 against Florida State at home … posted 16 in home win over NC State, making 7-10 field goals … finished regular season strong with 14 points in 30 minutes against Boston College … posted 13 in NIT loss to Oakland, but was hurt by injury after landing awkwardly following a shot in the first half.

2015-16
Redshirted

2014-15 (at Vanderbilt)
Started 11 of 31 games for Vandy, who advance to the postseason NIT … averaged 4.3 points and 3.3 assists per game … his 103 assists were one of the top totals in Vandy history for a freshman, and ranked second on the squad … played 20.0 minutes per game … shot 71.4 percent at the free throw line … top game was Jan. 3 versus Yale, he posted 15 points and eight assists … both figures were season highs … followed with 10-point, four-assist outing against Auburn in the SEC opener … posted seven points and seven assists against Tennessee State (Nov. 23) … scored seven and added six assists versus Purdue (Dec. 13) … posted five points in 18 minutes at Georgia (Jan. 27) … notched seven points and six assists against South Dakota State (March 20) in the NIT.

Before Clemson
Rated as a four-star prospect (No. 76 overall) in the class of 2015 by Rivals.com … also the No. 76 overall prospect according to Scout.com … rated as a top-15 point guard prospect by both services … played three seasons at Cuthbertson High (Waxhaw, N.C.) before transferring to Oak Hill Academy as a senior, where he suffered an injury-plagued final campaign … scored over 1,400 career points at Cuthbertson, averaging 19.2 points and 4.5 assists per game … NCPreps.com AA Player of the Year as a junior in 2012-13 … Charlotte Observer Region Player of the Year as well … chose Vanderbilt over Wake Forest and others during his initial recruitment … born Jan. 26, 1995.

*Courtesy Clemson Media Guide
S T A T S
Mitchell Career Statistics

Year

GP-GS

Min/Avg

FG-FGA

Pct

3FG-FA

Pct

FT-FTA

Pct

Off/Reb/Avg

A-T

BS-ST

PF-D

Pts/Avg

2014-15*
31-11

620/20.0

45-123
.366
7-31
.226
35-49
.714
5/58/1.9
103-60
3-4
34-0
132/4.3
2016-17
29-27

783/27.0

105-229
.459
29-64
.453
75-94
.798
11/68/2.3
103-59
2-19
48-0
314/10.8

Totals

60-38

1403/23.4

150-352

.426

36-95

.379

110-143

.769

16/126/2.1


206-119


5-23


82-0

446/7.4
| | |
| --- | --- |
| | VIDEO HIGHLIGHTS |
Latest Shelton Mitchell News
Click the link below to read more!