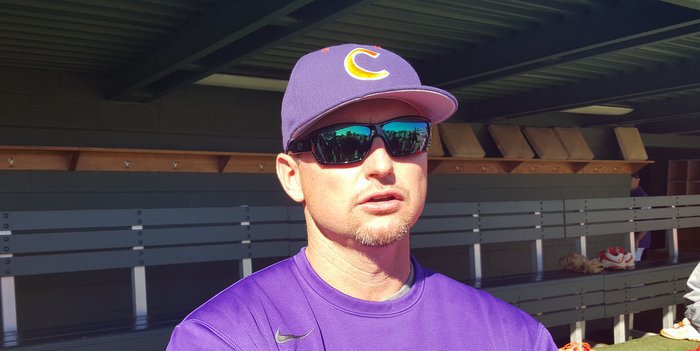 | | |
| --- | --- |
| Monte Lee says Tigers "absolutely" deserve to host NCAA Regional | |
---
| | | |
| --- | --- | --- |
| Monday, May 23, 2016, 1:38 PM | | |
The Clemson baseball team capped a furious stretch of baseball to end the regular season with a three-game sweep at Notre Dame this past weekend, pushing the Tigers to 38 wins and a top ten RPI ranking. Is it good enough to host a NCAA Regional?
Head coach Monte Lee says yes.
The Tigers finished the regular season with wins in 12 of their last 16 games, and their 38 wins is good for third in the Atlantic Coast Conference behind Louisville (46) and Miami. The Tigers currently sit 10th in RPI, and Lee says the Tigers deserve to host a regional for the first time since 2011 when UConn beat Clemson twice (7-6 and 14-1) to advance to the Super Regional.
"I absolutely do. I think if you look at our wins versus Top 50, wins versus Top 100, the ACC is the No. 1 RPI conference in the country," Lee said Monday. "If we're 10 in the RPI, absolutely. You look at our RPI, our RPI has been hovering around that 10 number pretty much the whole year. We've been up there for a good portion of this year in the top 10, the top 12 in RPI. We've got 38 wins, the third most in the league, and another thing the selection committee looks at is how you finish. It's how have you played in your last 10 games? We've played some of our best baseball here in the last 10 games of the season."
The Tigers won each of their last four weekend series, including series wins over Florida St. and N.C. State.
"We've had a very good regular season, 38-18. Our guys finished very, very well," Lee said. "Towards the end of the season we won our last four weekend series in a row with three of them being in ACC play to finish strong in conference play. We had a number of guys who have great years. Offensively, Seth Beer is one of the best freshmen in the country, along with Chris Okey. Both of those guys had outstanding years. Pitching wise, Pat Krall had an amazing year for us. Overall, our guys have had a great year and are playing good baseball coming down the stretch. Hopefully, we can carry that into the ACC Tournament."
The Atlantic Coast Conference Baseball Championship begins Tuesday at Durham Bulls Athletic Park, but the sixth-seeded Tigers won't take the field until Thursday when they take on third-seeded Virginia in the 11 a.m. game. The Cavaliers are just as hot as Clemson, entering tournament play with a 36-18 record, including a 19-11 mark in ACC play and the Cavs have won 11 of their last 12 games.
Lee says Clemson's late-season run was fueled by pitching – against Notre Dame, Clemson's starting pitching fashioned a 0.77 ERA in 23.1 innings, giving up 16 hits, striking out 22 while walking only one.
"Our pitching staff did a really good job over the course of the last 15 games. I think every game that we won we gave up five runs or less so our pitching staff became more consistent starting pitching wise," Lee said. "Defensively, we played better. We limited our walks and free bases over the course of the last 15 games and I think that was the recipe for us finishing strong. Pitching and defense got better and we found ways to win games."
Lee also said the Tigers were able to "stay the course" during a rocky stretch during the middle of the season.
"One of the things that helped us is our guys stayed the course throughout the year. We had a great start and then in the middle of the season we struggled for a number of weeks. I think the biggest thing is our guys just stayed the course," he said. "We never got too high or too low. We stayed confident and we kept plugging away every day. We tried to make the best of the opportunity we had to play and find a way to win. Our guys stayed very process oriented and goal oriented and just kept competing. I think that's been the name of the game for us. I felt good about us going down the stretch simply because I knew we hadn't lost any confidence in each other as a team."
Taking two of three from a top ten Florida St. team in early May started Clemson's current streak.
"I think the series that really helped us to get it going was the Florida State series. We won that Florida State series, I think it helped us tremendously and then we beat NC State," Lee said. "Then, we kind of got on a roll. We beat Georgia Southern on a non-conference weekend and we finished strong at Notre Dame and swept Notre Dame. I think more than anything it was a combination that our guys kept plugging away."