TigerNet

is the oldest and largest Clemson Community online with 152,606 members, 58,200 news articles and 29M forum posts.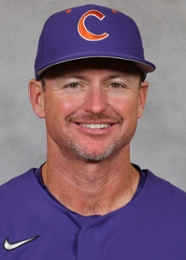 Monte Lee
| | |
| --- | --- |
| Position: | Head Coach |
| Born: | Feb. 9, 1977 in Spartanburg, S.C. |
| As a Player: | Four-year letterman at College of Charleston (1996-99) |
| College: | Bachelor's degree in elementary education at College of Charleston (2000) |
B I O
In his first five seasons as head coach at Clemson, Monte Lee has a 182-86 (.679) record, as the 182 wins are tied for 13th most in the nation during that time period. Lee led the Tigers to the NCAA Tournament each of his first four seasons (2016-19) at Clemson, one of only 13 schools that were selected to the NCAA Tourney each of those four seasons. Lee is also 80-54 against ACC teams. Lee has coached eight All-Americans in his five seasons at Clemson, including at least one All-American in all five seasons as well as three-time All-American and National Player-of-the-Year Seth Beer (2016-18). A total of 26 Tigers have been drafted 29 times, as three Tigers were drafted twice, and four Tigers have signed as a free agent as well. The 29 draft picks are tied for 11th most in the nation and are third most in the ACC from 2016-20. In 12 seasons as a head coach, including seven at College of Charleston (2009-15) and five at Clemson (2016-20), Lee has a 458-231 record (.665), including a 51-24 mark in one-run games, 12 winning seasons and eight NCAA Tournament appearances. Clemson under Lee has also seen the Tigers excel in the classroom. The program was in the top-10 percent of their sport in the eligibility, graduation and retention metric each of his first four academic years (2015-19) in Tigertown. Clemson, the only ACC school lauded for 2018-19 (most-recent report), was one of just 14 Division I programs and one of only four Power Five Conference programs recognized in each of the four most-recent APR reports. The program also earned a perfect 1,000 APR score in each of Lee's first four seasons at Clemson. In his first season at Clemson, Lee directed the Tigers to the 2016 league championship by going 4-0 against four regional teams in the ACC Tournament at Durham, N.C. It was Clemson's first ACC title since 2006 and was a big reason the Tigers earned the No. 7 national seed in the NCAA Tournament, the first time they hosted a regional since 2011. They followed that with a 42-win season in 2017, marking the first time Clemson amassed 40+ wins in back-to-back years since 2010,11, and hosted a regional for the second year in a row. Then in 2018, Clemson totaled 47 wins, its most since 2006, and hosted a regional for the third straight year. The 2019 squad was ranked in at least one poll for each of the first 10 weeks of the season, extending the program's streak to 55 weeks from 2016 to 2019. Clemson reentered the polls in 2020 and finished the year ranked in all six final polls. In all, Lee's Tigers have been ranked in the top 25 in 65 of the 82 polls The 2020 Tigers had a 14-3 record, including a 6-0 record in one-run games and 3-1 mark in two-run games. Clemson was 3-0 in its only ACC series against Boston College, as the season was suspended March 12 and later canceled due to a coronavirus (COVID-19) pandemic. Clemson's sophomore-laden lineup in 2020 was led by sophomore Kier Meredith, who hit .364 with a .465 on-base percentage. Sam Weatherly, who was a third-team All-American and third-round draft pick, was 2-0 with an 0.79 ERA, .096 opponents' batting average and 43 strikeouts in 22.2 innings pitched. Carson Spiers was 3-0 with four saves and allowed just five hits and no earned runs in 15.1 innings pitched. Spencer Strider was a fourth-round draft pick as well. In 2019, the Tigers jumped out to a 24-7 record after a three-game sweep of No. 3 North Carolina and series win over No. 8 Louisville. The Tigers, who were 9-8 against top-25 teams and 6-3 versus top-10 teams, were selected to the NCAA Tournament. Six Tigers earned All-ACC honors, tied for most in the league, and five Tigers were drafted, including first-rounder Logan Davidson. Grayson Byrd was an All-American and First-Team All-ACC selection who totaled 16 homers, including 11 in the last 18 games. Davidson was a first-team Academic All-American, just the third in school history, thanks to his 3.99 cumulative GPA and graduating in only three years. Davidson, who totaled 42 career homers, had a 56-game on-base streak in 2019 and became the first Tiger in history to total both double-digit homers and double-digit steals in three different seasons. Davis Sharpe earned freshman All-America honors as well. The 2018 Tigers recorded their most ACC regular-season wins (22) since 2006 and won a share of the ACC regular-season title and its first outright ACC Atlantic Division championship, also firsts for the program since 2006. The Tigers won their final 11 ACC road games and registered three ACC road sweeps for the first time since 1995. The Tigers also set school records for one-run wins (16) and fielding percentage (.975), and tied for third in the nation in home runs (98). Three Tigers earned All-America honors in 2018, including Beer and Davidson. Beer, a first-team All-American, was fifth in the nation in homers (22) and became only the second three-time All-American in school history. Davidson totaled 15 homers and had a stellar .971 fielding percentage at shortstop. Chris Williams totaled 18 homers and an ACC-high 72 RBIs, while Kyle Wilkie ended the season on a 29-game hitting streak. Every pitcher who started a game on the mound in 2017 did not return in 2018, but the 2018 pitching staff still had a 3.65 ERA and 21 saves, tied for second most in Tiger history. Ryley Gilliam was a second-team All-American and First-Team All-ACC selection who had a 1.41 ERA and 11 saves. Ryan Miller and Spiers were also stellar out of the bullpen and were big reasons Clemson was seventh in the nation in wins. After the 2018 season, Clemson had seven draft picks, tied for 13th most in the nation. Beer became Clemson's first first-round draft pick since 2012 when he was chosen in the first round by the Houston Astros. The 2017 Tigers totaled 73 home runs, a .381 on-base percentage and .970 fielding percentage. Reed Rohlman was a second-team All-American and First-Team All-ACC selection who batted .361 and had a 20-game hitting streak. Beer was a Dick Howser Trophy semifinalist and second-team All-American who led the team in homers (16), RBIs (53) and on-base percentage (.478). The pitching staff was one of the most consistent aspects of the 2017 team, as it easily led the nation in strikeout-to-walk ratio (3.93), while its 8.88 strikeouts per nine innings pitched was its best mark since 1996. Clemson had a 3.59 ERA and 562 strikeouts against only 143 walks. Pat Krall, a Senior CLASS Award finalist, was a Second-Team All-ACC selection, while Charlie Barnes was a Third-Team All-ACC pick. After the 2017 season, nine Tigers were selected in the major league draft, tied for fourth most in the nation and tied for most in the ACC. It was also the most Tigers drafted since 2009 and tied for third most in school history. All nine were first-time draft picks, evidence of Lee's ability to develop players. Among the 44 wins in 2016, its most since 2010, Clemson had 24 come-from-behind victories and 14 one-run wins against only six one-run losses. The 2016 Tigers, who were ranked No. 15 in the final USA Today coaches poll, won 11 of their last 13 games, which included a 10-game winning streak, for the first time since 1991. He was also named midseason national coach-of-the-year by D1Baseball. Clemson was second in the nation in walks (359) and slugged an ACC-high 75 home runs, tied for seventh most in the nation, in 2016, more than doubling its previous season's total, thanks in large part to Beer, who won the Dick Howser Trophy as national player-of-the-year and was a first-team All-American. Beer, who batted .369 with 18 home runs, 70 RBIs, a .700 slugging percentage, 62 walks and a .535 on-base percentage, became the first freshman to win the national award and the first freshman to be named ACC Player-of-the-Year. Chris Okey, who hit .339 with 15 homers and 74 RBIs, and Krall, who had a 10-2 record, five saves and an ACC-best 1.67 ERA, also earned first-team All-America honors. It marked the first time the Tigers had three first-team All-Americans in one season. Okey was a second-round draft pick after the season, Clemson's highest-drafted catcher in history. Lee was named Clemson's head coach on June 18, 2015 by Director of Athletics Dan Radakovich. Lee led the Cougar program to a 276-145 (.656) record and four berths in the NCAA Tournament, including 2014 and 2015. Lee received national acclaim in 2012 when he was named one of Baseball America's top-10 head coaches in the nation under the age of 40. He led the Cougars to the Gainesville (Fla.) Regional title in 2014 and advanced to the Lubbock (Texas) Super Regional after capturing the Colonial Athletic Association Tournament championship. In his seven years at College of Charleston, Lee coached four conference players-of-the-year, two conference pitchers-of-the-year and two conference freshmen-of-the-year. Lee won 200 games at College of Charleston faster than any coach in school history. His teams consistently ranked among the nation's best offenses. Lee's 2015 College of Charleston team had a 45-15 record and ranked in the top 25 for much of the season, including No. 20 in the final USA Today coaches poll. He earned CAA Coach-of-the-Year honors, while Taylor Clarke (pitcher) and Blake Butler (player, defensive player) received top conference honors. The Cougars narrowly missed hosting a regional, but advanced to the Tallahassee (Fla.) Regional title game. In 2012, the Cougars won a share of the SoCon regular-season title and earned an at-large bid to the NCAA Tournament. They were fifth in the nation in home runs, the fourth year in a row they finished in the top five in that category. On May 7, 2012, College of Charleston defeated Clemson 4-2 at Doug Kingsmore Stadium, the program's first win over the Tigers. In his second season in Charleston in 2010, he directed the Cougars to a 44-19 record and an appearance in the NCAA's Myrtle Beach (S.C.) Regional final. Prior to his time at College of Charleston, Lee was an assistant at South Carolina for six seasons (2003-08), serving as the volunteer assistant coach for five years before becoming the recruiting coordinator in 2008. During his time in Columbia, the Gamecocks had a 266-130 record, made six NCAA Tournament appearances, earned four super regional berths and made two trips to the College World Series. He began his coaching career as an assistant (2001,02) at Spartanburg Methodist College. The 2002 squad totaled a school-record 51 wins, while the 2001 team played in the NJCAA College World Series. Lee also was the head coach of the South Carolina Diamond Devils AAU team in 2002 after serving as an assistant coach in 2001. Lee was a standout outfielder for the Cougars from 1996-99. In 206 career games, he hit .333 with 156 runs, 240 hits, 50 doubles, six triples, 22 homers, 150 RBIs, 88 walks and 66 steals. He was in the top 10 in school history in career doubles, total bases and RBIs. In 2004, he was inducted as an inaugural member of College of Charleston's Baseball Wall of Fame at Patriots Point Stadium. He became the first position player drafted in Cougar history when the St. Louis Cardinals selected him in the 39th round in 1999. He played 82 games over two years (1999,00) in the minors. Lee, who received academic all-district honors as a senior, earned his bachelor of science degree in elementary education from College of Charleston in 2000 after playing four seasons of baseball and two years of football at Lugoff-Elgin High School in Lugoff, S.C. He was born Monte Wesley Lee II on Feb. 9, 1977 in Spartanburg, S.C. Lee is married to Eryn Garn Lee and the family has four daughters, Madie, Shelby, Blaire and Alexa.

*Courtesy Clemson Media Guide
| | |
| --- | --- |
| | VIDEO HIGHLIGHTS |
Latest Monte Lee News
Click the link below to read more!