| | |
| --- | --- |
| Thomas making the most of opportunity | |
---
| | |
| --- | --- |
| Wednesday, September 21, 2011, 6:39 PM | |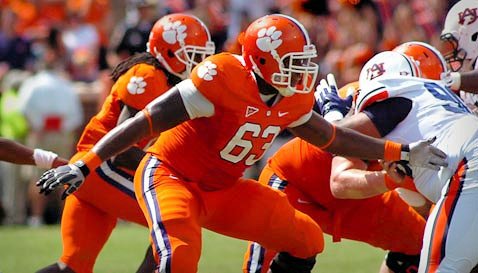 CLEMSON — "It's time to grow up."
Those were the words said by Clemson offensive coordinator Chad Morris as he looked redshirt sophomore offensive lineman Brandon Thomas

Brandon Thomas
RS So. Offensive Line
#63 6-4, 300
Spartanburg, SC
View Full Profile in the eyes early in Saturday's first quarter contest against Auburn.
Starting left guard David Smith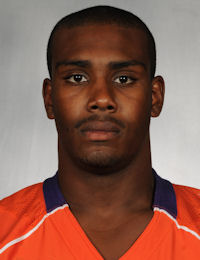 David Smith
RS Sr. Offensive Line
#73 6-5, 315
Greenville, SC
View Full Profile stood on the sidelines with his shoulder in a sling, and backup Mason Cloy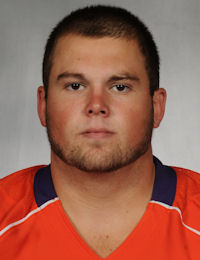 Mason Cloy
RS Sr. Offensive Line
#62 6-3, 295
Columbia, SC
View Full Profile had just left the sideline to head to the locker room with his own injury. That left the responsibility of playing the rest of the game on the healthy shoulders of Thomas, an enigmatic talent who has teased coaches with flashes of greatness but has also frustrated them with his work ethic.
As Thomas headed to the field, senior right tackle Landon Walker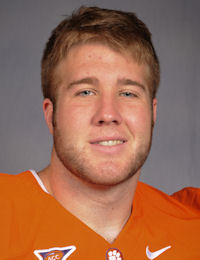 Landon Walker
RS Jr. Offensive Line
#72 6-6, 310
North Wilkesboro, NC
View Full Profile also had words of wisdom for the Spartanburg native.
"Go out there and have fun," Walker said. "The game is a lot easier than practice. You have been playing this game for a long time, and you know how to play football. Just go out there and have fun."
Thomas played 89 snaps against Auburn – he only had 136 snaps in 10 games a year ago – as the Tiger offense racked up 624 yards of total offense, and Thomas said it was the best feeling he's had since he arrived at Clemson as one of the nation's top offensive line prospects.
"That was fun," he said earlier this week. "I hope I can do it again sometime."
That "sometime" will probably be this week as the Tigers host 11th-ranked Florida St. in a key division matchup. Morris said earlier this week that based on the way Thomas played in those 89 snaps, the job is his to lose.
"I think, based on what we saw, that he's earned it," Morris said. "He still missed a few things, as we all did, but I think he's definitely proven himself in a live situation, what he's capable of doing."
Thomas was expected to compete with Phillip Price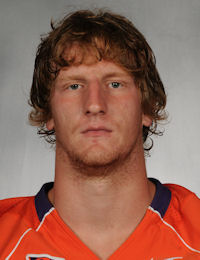 Phillip Price
RS Sr. Offensive Line
#79 6-5, 300
Dillon, SC
View Full Profile for the starting spot at left tackle over the summer and into fall camp, but Price won the job easily, leaving Clemson coaches wondering if Thomas would ever live up to his potential.
Swinney said late last week that the coaches were trying to find a way to jerk Thomas "through the knothole" and take advantage of the opportunity set before him, and Swinney even had a one-on-one meeting with the 6-3, 300-pounder last week.
"I said, 'Do you have any idea how good a player you can be, if you commit to the things we're trying to do with you?'" Swinney said during his Tuesday press conference. "Take advantage of your opportunity."
Thomas admitted this week that he lost out to Price because of his own inconsistency.
"Early on, I haven't been really playing the best," Thomas said. "I've been making a lot of mental mistakes. I think that's what they [the coaches] are looking for, for me to calm down and relax and play like I know I can play. When I lost the job, I felt like it was my fault. I came in thinking, 'Keep working hard, help the team however I can.'
"I know I've been up and down. That's the big problem with me, I think. I play good sometimes, and then I have mental busts on stuff I shouldn't have busts on. It's a big thing for me, but I'm working on it now, and I think I'll be better."
Getting better started Saturday.
"When I went in there, I kind of felt like, 'Wow, this is a new beginning for me. I'm not used to going in games early," Thomas said. "Later on in the game, I went out there, walking with a swagger, walking with the first team. I felt more comfortable. It gives me motivation to work harder. After the game, I was like, 'I can do this. I can play.' It just gives me motivation."
And now, he says, he has an opportunity he doesn't want to waste.
"I guess I can say this is a big opportunity for me and I am going to try and make the most of it."