| | |
| --- | --- |
| Can Clemson offense withstand any more injuries? | |
---
| | | |
| --- | --- | --- |
| Monday, October 20, 2014, 5:12 PM | | |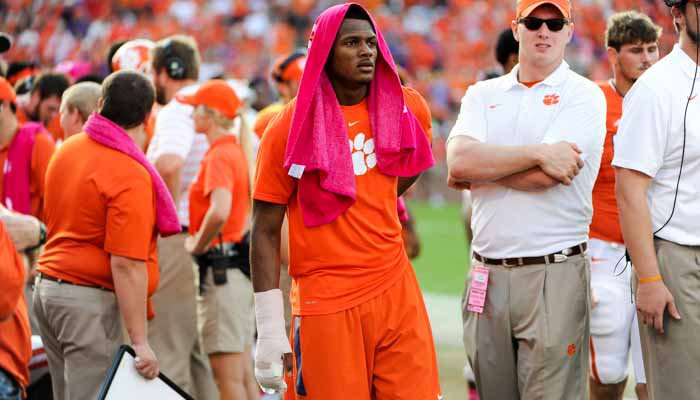 CLEMSON – Chad Morris

Chad Morris
Offensive Coordinator / QBs
View Full Profile sat in the WestZone Monday morning, and a subtle shake of his head belied the fact that he was trying to grasp the state of his offense heading into game number eight of the season.
The word he kept using was "depleted" and depleted accurately describes the state of the offense as the Tigers prepare to play Syracuse Saturday night in Death Valley in a 7 p.m. kickoff. However, the word I might use is "unbelievable" as injuries, transfers and overall attrition have thinned the ranks until this offense is a mere shell of what it was last season and not even close to what we thought it could be just a few weeks ago.
Heading into the season, the Tigers already had to deal with the losses of all their top skill players – Tajh Boyd

Tajh Boyd
Quarterback (2009 - 2013)
#10 6-1, 225
Hampton, VA
View Full Profile , Sammy Watkins

Sammy Watkins
Wide Receiver (2011 - 2013)
#2 6-1, 205
Fort Myers, FL
View Full Profile , Martavis Bryant

Martavis Bryant
Wide Receiver (2011 - 2013)
#1 6-5, 200
Calhoun Falls, SC
View Full Profile and Roderick McDowell

Roderick McDowell
Running Back (2009 - 2013)
#25 5-9, 195
Sumter, SC
View Full Profile – and two important pieces on the offensive line in Tyler Shatley

Tyler Shatley
Offensive Guard (2009 - 2013)
#62 6-3, 295
Icard, NC
View Full Profile and Brandon Thomas

Brandon Thomas
Offensive Line (2009 - 2013)
#63 6-3, 305
Spartanburg, SC
View Full Profile . Alone, those kinds of losses would make any offensive coordinator cringe.
The attrition began in the spring when head coach Dabo Swinney

Dabo Swinney
Head Coach
View Full Profile dismissed quarterback Chad Kelly

Chad Kelly
RS Fr. Quarterback
#11 6-2, 210
Buffalo, NY
View Full Profile , and the offensive line took a minor hit when seldom-used reserve Jerome Maybank

Jerome Maybank
Offensive Guard (2011 - 2013)
#72 6-3, 345
Pawleys Island, SC
View Full Profile transferred out during the summer.
The hits continued in fall camp when it was learned that running back Zac Brooks

Zac Brooks
Jr. Running Back
#24 6-1, 199
Jonesboro, AR
View Full Profile – in line to become the starter – suffered a season-ending foot injury just 10 days before the opener at Georgia. A day later, it was announced that right tackle Shaq Anthony

Shaq Anthony
Offensive Tackle (2011 - 2014)
#76 6-4, 276
Williamston, SC
View Full Profile – in line to become a starter but suspended for the opener at Georgia – would transfer out of the program. A week later it was announced that tackle Oliver Jones

Oliver Jones
RS So. Offensive Tackle
#65 6-5, 313
Ninety Six, SC
View Full Profile – a player that Swinney said came on in the spring – would miss the season with a torn ACL.
We already knew that running back Tyshon Dye

Tyshon Dye
RS Fr. Running Back
#23 5-11, 214
Elberton, GA
View Full Profile would miss at least half of the season recovering from a torn Achilles, and then wide receiver Charone Peake

Charone Peake
RS Jr. Wide Receiver
#19 6-3, 204
Moore, SC
View Full Profile suffered a setback to his injured knee and missed significant portions of camp. Peake played in the season's first three games, but hasn't seen the field since the Tigers lost at Florida St., and the wide receiver corps took another hit when Swinney announced after the Georgia game that Kyrin Priester

Kyrin Priester
Wide Receiver (2014)
#17 6-1, 186
Lilburn, GA
View Full Profile had been dismissed. That's two receivers that the coaches were counting on to be big contributors, and they had a total of eight catches combined (all Peake) before the bad news began to break.
The tight ends were another group that was supposed to be deep, but senior Cooper suffered a freak injury warming up for the opener at Georgia and is just now rounding into shape. His presence allowed the coaches to move Stanton Seckinger

Stanton Seckinger
RS Jr. Tight End
#81 6-4, 241
Isle of Palms, SC
View Full Profile to wide receiver to add depth to that position – but the loss of Jordan Leggett

Jordan Leggett
So. Tight End
#16 6-5, 251
Navarre, FL
View Full Profile last Saturday means that Seckinger will slip back into his role as a tight end.
Get the picture? And that doesn't even begin to take into account the emergence – and subsequent injury – to freshman quarterback sensation Deshaun Watson

Deshaun Watson
Fr. Quarterback
#4 6-3, 204
Gainesville, GA
View Full Profile . Watson was injured early in the win over Louisville and was replaced by senior Cole Stoudt

Cole Stoudt
Sr. Quarterback
#18 6-4, 231
Dublin, OH
View Full Profile who was – you guessed it – injured and hadn't practiced the previous week because he couldn't raise his arm above his head. Stoudt told us this week he won't require a shot before Saturday's game, but the Tigers are just one play away from seeing Nick Schuessler

Nick Schuessler
RS So. Quarterback
#12 6-3, 195
Grayson, GA
View Full Profile in the game. Considering that the Tigers saw Stoudt, Kelly and Watson as the top three heading into the spring, the fact that Schuessler is even in the conversation tells you just how thin things have become.
On the offensive line, once the Tigers got over the loss of Anthony and Jones, the hits began to accumulate. Joe Gore

Joe Gore
RS Jr. Offensive Tackle
#73 6-5, 283
Lake Waccamaw, NC
View Full Profile had earned the right tackle spot after the departure of Anthony, but he was replaced after a subpar effort in the first two weeks by Kalon Davis

Kalon Davis
RS Sr. Offensive Guard
#67 6-5, 340
Chester, SC
View Full Profile . Prior to the game against N.C. State on October 4th, Swinney announced that Gore would be out for a few weeks with appendicitis. In the game against the Wolfpack, another key piece on the line joined the list of the walking wounded when center Jay Guillermo

Jay Guillermo
RS So. Center
#57 6-3, 314
Maryville, TN
View Full Profile left with a broken foot. His return is uncertain, but Gore should be back this week.
As a result, Clemson played just five offensive linemen against Louisville and the same five played every snap last week at Boston College. Since 2000, Clemson has played just five linemen in a game six times, and two of those games have come in the last two weeks. Ironically, the Tigers are 6-0 in those games but those aren't the kinds of stats you want to brag about.
Of course, the injury news at Boston College wasn't good as Leggett left the game in the first half with what turned out to be a torn meniscus and his return date is still up in the air. Running back Adam Choice

Adam Choice
Fr. Running Back
#26 5-10, 211
Thomasville, GA
View Full Profile suffered a torn ACL early in the game, and he won't play again until the spring at the earliest, leaving the Tigers with just three healthy backs to finish out the game against the Eagles. In addition to those two, Swinney said that wide receiver Adam Humphries

Adam Humphries
Sr. Wide Receiver
#13 5-11, 193
Spartanburg, SC
View Full Profile didn't take any snaps in the second half, and safety Robert Smith

Robert Smith
Sr. Safety
#27 5-11, 211
St. George, SC
View Full Profile didn't play in the second half after suffering a knee injury. Of course, Smith isn't an offensive player, but it still shows the amount of attrition suffered by this group this season.
Walk-on running back Kurt Fleming

Kurt Fleming
Fr. Running Back
#40 6-0, 233
Louisa, VA
View Full Profile - who had seen a few snaps this season - might have earned a little more playing time with the loss of Choice. However, personal reasons caused him to quit the team further depleting the running back group.
The good news is that the Tigers are still 5-2, and will be favored each of the next two weeks by double digits. Included in that timeframe is an open week, more time for this group to heal. The Tigers will get Dye back this week, and at some point over the next month the Tigers should get Leggett, Guillermo, Watson and Gore back on the field. Ideally, the Tigers would win the next four games – Syracuse, Wake Forest, Georgia Tech and Georgia St. – and have most of those guys back on board for the season finale against South Carolina and the bowl game.
The bad news is the lack of news on Peake. We asked Morris about Peake's injury Monday, and he shook his head and said he wasn't at liberty to discuss the situation. That's not good news, any way you look at it. It's another hit in a season of hits for this offense, but they've shown resilience and managed to find ways to get enough points to win, helping out a defense that has been outstanding.
The fans will complain and fuss about play calling and schemes, but it's a wonder that Morris knows who he can put out on the field each week. Imagine what the 2012 season would have been like if the Tigers had lost Boyd, Watkins, Ellington, McDowell, Thomas, Brandon Ford

Brandon Ford
Tight End (2008 - 2012)
#80 6-4, 240
Wando, SC
View Full Profile and several key reserves over the course of the season. Probably wouldn't have been pretty.
This team is 5-2 and poised to win. If – and that's a big if – someone can find a cure for the injury bug that has been a plague since August.

Tags: Clemson Football
,
Shaq Anthony
,
Brandon Thomas
,
Tajh Boyd
,
Kalon Davis
,
Brandon Ford
,
Roderick McDowell
,
Tyler Shatley
,
Joe Gore
,
Adam Humphries
,
Jerome Maybank
,
Charone Peake
,
Robert Smith
,
Stanton Seckinger
,
Nick Schuessler
,
Martavis Bryant
,
Cole Stoudt
,
Jay Guillermo
,
Oliver Jones
,
Zac Brooks
,
Chad Kelly
,
Sammy Watkins
,
Tyshon Dye
,
Jordan Leggett
,
Kyrin Priester
,
Deshaun Watson
,
Adam Choice
,
Kurt Fleming
,
Chad Morris